Teachers' pay rise to stay capped at 1%, Government announces
Teachers' pay has been frozen since 2010, and the latest announcement means another real-terms pay cut for more than half a million teachers in England and Wales
Ashley Cowburn
Political Correspondent
Monday 10 July 2017 18:47 Comments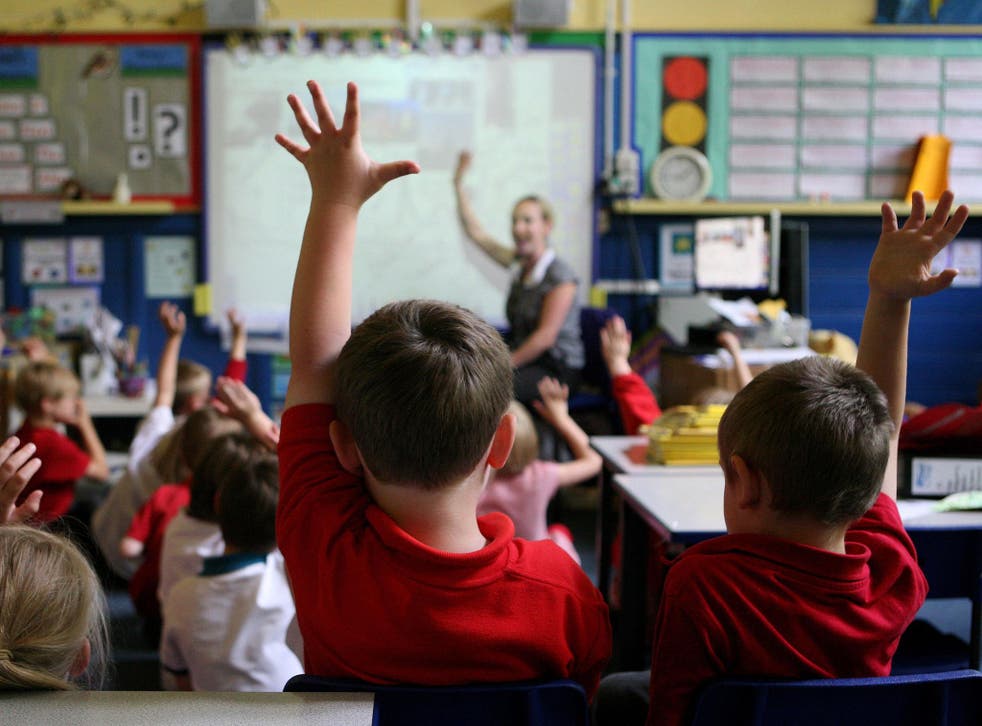 Theresa May is on collision course with teachers after it emerged their pay rises will remain capped at 1 per cent as the Government sticks firm to its austerity programme.
The decision comes amid mounting pressure on the Prime Minister to abandon the pay cap after new research suggested nearly a quarter of those who have qualified in the teaching profession since 2011 have left the job.
Announcing the move to stick to the cap, the Education Secretary, Justine Greening, said the Government has accepted the recommendation of the School Teachers' Review Body (STRB), which said there should be a 1 per cent increase for all pay ranges.
In a written statement, Ms Greening said the recommendations, due to be introduced in September, are "consistent with the Government's 1 per cent public sector pay policy".
A DfE spokeswoman said: "We recognise and value the hard work of teachers which is why we have accepted the pay deal proposed by the independent STRB, in line with the 1 per cent public sector pay policy. This will ensure we continue to strike the balance between being fair to public sector workers and fair to taxpayers."
But Kevin Courtney, general secretary of the National Union of Teachers (NUT), described the announcement as a "missed opportunity" that the Government "will come to regret as teach recruitment and retention crisis gets worse".
He continued: "Teachers' pay increases have fallen behind inflation by 13 per cent since 2010 while this public sector pay policy has been applied. This latest pay announcement will mean that figure increases to over 15 per cent. The pay being offered to newly qualified teachers would be over £3,500 higher if the pay cap had never been applied and schools would have far fewer difficulties in recruiting new graduates.
"The Government's attack on national pay scales and its pursuit of performance related pay at a time of funding cuts in schools has meant that teachers are increasingly unlikely to get pay progression either. The result is that the Government's own figures show that average pay for classroom teachers has only gone up by £300 – less than 1 per cent – since 2010."
Inflation jumped unexpectedly to 2.9 per cent in May, its highest level in almost four years.
Downing Street said the Government would consider potential wage increases – beyond the cap imposed by the former Chancellor George Osborne – on a "case-by-case" basis after a string of cabinet ministers signalled backing for an end to the blanket 1 per cent cap on all public sector workers, which is due to remain in place until the end of the decade.
But the decision to keep the cap will be seen as a sign that the Government intends to stick to its austerity plans, despite pressure after a better-than-expected election result for Jeremy Corbyn's anti-austerity Labour, which has pledged to scrap the cap.
In 2016 the STRB said a pay increase significantly higher than 1 per cent was required in the current Parliament in order to recruit and retain enough teachers over the coming years. But the then-Education Secretary, Nicky Morgan, decided not to act on this advice.
Last week firefighters were offered a 2 per cent increase, leading to the Fire Brigades Union describing the public sector pay cap as "dead in the water". Unlike teachers, however, the fire service is not covered by a pay review body and is subject to collective bargaining through a joint national council.
Mary Bousted, general secretary of the Association of Teachers and Lecturers, criticised the Government for putting out the recommendation later this evening than had been expected. "Today's late release of the STRB report is yet another example of Theresa May's Government attempting to bury bad news," she wrote on Twitter.
Russell Hobby, general secretary of the National Association of Head Teachers (NAHT), said: "For many teachers, this marks the seventh successive real-terms cut in their pay. We will not be able to attract the best and brightest to teaching if we constantly cut their pay."
Last week, Mrs May told MPs at Prime Minister's Questions that upcoming recommendations from review bodies – including the STRB – would be "very carefully considered".
But she also left little doubt her position chimes with that of Chancellor Philip Hammond, who has warned a relaxation of pay restraint would require extra borrowing or tax rises to avoid increasing the deficit.
Jeremy Corbyn accused her of "recklessly exploiting the goodwill of public servants" by continuing with a policy which delivers a real-terms pay cut to millions of workers.
Register for free to continue reading
Registration is a free and easy way to support our truly independent journalism
By registering, you will also enjoy limited access to Premium articles, exclusive newsletters, commenting, and virtual events with our leading journalists
Already have an account? sign in
Join our new commenting forum
Join thought-provoking conversations, follow other Independent readers and see their replies