Thatcher put money ahead of morality, says Clegg
Liberal Democrat leader keen to link Tories with divisive policies of the past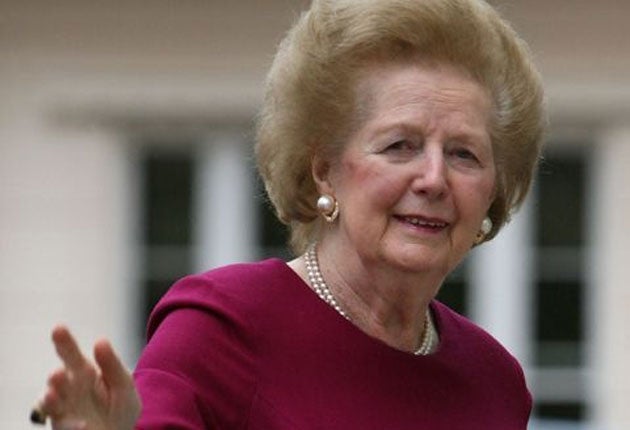 Nick Clegg has launched an outspoken attack on life in Britain under Margaret Thatcher and blamed the former prime minister for sewing the seeds of the current economic crisis.
Speaking to Liberal Democrat activists last night, Mr Clegg, blamed Baroness Thatcher for creating a "brutal" and "soulless" Britain, and condemned the former leader for her brand of "cut-throat, sink-or-swim materialism".
In what many in Westminster will see as an attempt to brand the Tories as the wrong party to deal with the recession, the Liberal Democrat leader described Mrs Thatcher's Britain as a place where profit was worshipped above all else.
"When the right won out, the reality was brutal," he said in a speech ahead of the Liberal Democrats' spring conference in Harrogate. "I remember very distinctly this sense that we were being told we should all place money above morality; put profit ahead of people; that we shouldn't worry about selling out. Because, at the end of the day, there was no such thing as society. But I looked around me and thought: no, there has to be more to life than this. There is more to us than this. Justice, fairness, community. We weren't ready to give in to that soulless, unforgiving Britain. That dog-eat-dog, get-rich-quick, look-after-number-one Britain. We didn't want to live in Thatcher's Britain.
"The false idols of trickle-down economics worshipped by Tories and New Labour alike have turned to dust."
The attack comes at the end of a week marking the 25th anniversary of the miners' strike, in which thousands of colliers engaged in a year-long dispute with the Thatcher government.
Close advisers to Mr Clegg believe the public are still not enthused with David Cameron's party, despite disillusionment with the Government. They are keen to link the Tory leadership with the unpopular policies of the past.
Mr Clegg also spoke at length about the birth of his new son, Miguel, admitting that it had taken its toll on his sleep patterns. "I won't lie. Yes, I am functioning on just a few hours sleep," he said.
"And thank you to the more honest of you who have kindly told me I look knackered. But what I really feel is energised. These first weeks really are extraordinary. Not simply because you are confronted with this tiny person who is completely dependent on you. But also because, despite the exhaustion, despite the fact you surge from one emotion to the next, the world suddenly seems so much more straightforward."
Mr Clegg will use his speech to the party tomorrow to call on the Government to cut short its "pointless" £12.5bn VAT cut and demand the money be spent on directly creating about 94,000 jobs to help Britain move to a low-carbon economy.
Every school and hospital in Britain would be insulated over the next five years under the party's plan, with £1bn earmarked to complete a fifth of the work this year, creating 6,500 jobs. It would also create 60,000 jobs by building 40,000 zero-carbon social homes, and 15,000 jobs by funding the insulation of a million homes.
Tomorrow, Vince Cable, the party's Treasury spokesman, will use his speech to start a new attack on the "bonus culture", and call on all highly paid employees to disclose their pensions and perks. Currently, only company directors have to disclose the information.
Blair and Brown on Thatcher
Tony Blair
"Mrs Thatcher was a radical, not a Tory. [She] got certain things right: a greater emphasis on enterprise, rewarding – not penalising – success"
Gordon Brown
"[She] understood the need for change. I also admire the fact that she is a conviction politician"
Join our commenting forum
Join thought-provoking conversations, follow other Independent readers and see their replies