The heir to Blair: PM makes 'moral case' for attack on Syria
No sign that Britain will wait for mandate from UN Security Council as David Cameron faces crucial test of authority with Parliament recall for debate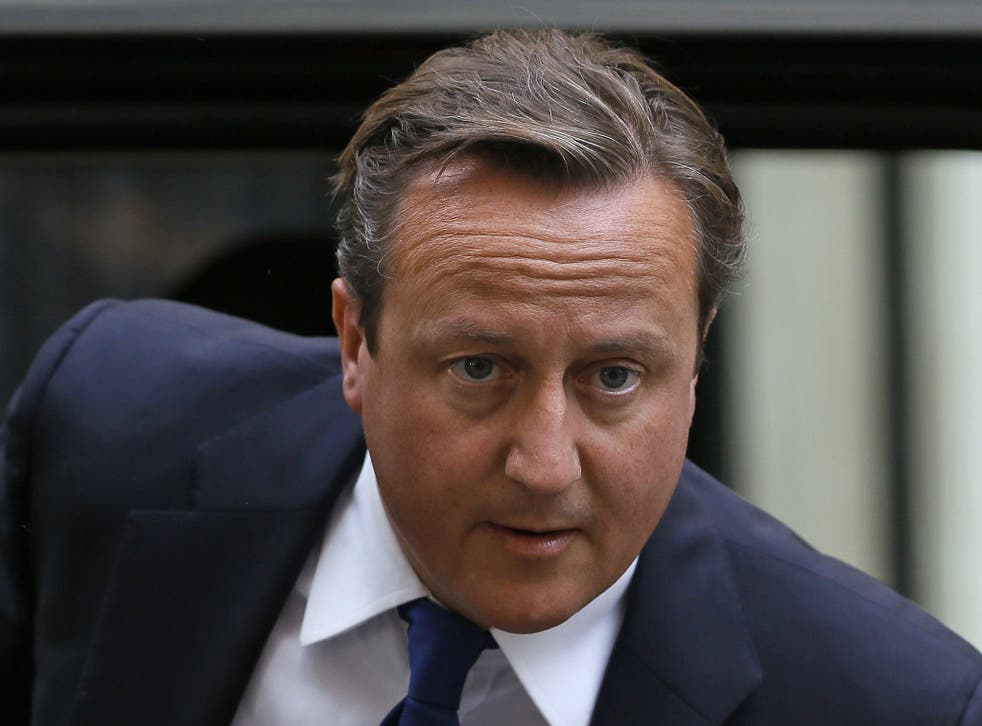 Britain has a responsibility to take action to punish the "morally indefensible" use of chemical weapons by the Syrian regime even without a UN mandate, David Cameron has suggested.
In his first public comments on the crisis, the Prime Minister has said that the Government was considering "legal and proportionate" means to "deter and degrade" Assad's chemical weapons capability.
But Mr Cameron and his deputy, Nick Clegg, appeared to imply that such action could take place without a mandate from the UN Security Council – or without waiting for weapons inspectors to report on their examination of the site of the alleged attack in Damscus last week, during which hundreds are reported to have died. Foreign Office lawyers and the Attorney General, Dominic Grieve, are understood already to have examined the legal route for military intervention in Syria using a controversial UN " humanitarian" exemption that allows action without the Security Council's authority.
Britain is to seek UN Security Council backing for "all necessary measures to protect civilians" in Syria in a draft resolution that will be put forward to a meeting of the five permanent members in New York this evening.
A Downing Street spokeswoman said: "Britain has drafted a resolution condemning the attack by the Assad regime, and authorising all necessary measures under Chapter 7 of the UN Charter to protect civilians from chemical weapons.
Western intervention in Syria is likely to take the form of limited cruise missile strikes against regime targets and sites identified with chemical weapons sites. It is expected to take place within the next 10 days.
Mr Cameron will today chair a National Security Council meeting to discuss possible military plans drawn up in response to the alleged chemical weapons attack. The Prime Minister spoke to US President Barack Obama ahead of the NSC meeting, a Downing Street spokesperson confirmed, where both leaders "agreed that all the information available confirmed a chemical weapons attack had taken place, noting that even the Iranian president and Syrian regime had conceded this." Mr Cameron and Mr Obama also "both agreed they were in no doubt that the Assad regime was responsible", the spokesperson added.
UK Foreign Minister William Hague, who is attending today's meeting, also called for the United Nations Security Council to "rise to its responsibilities by condemning these events [in Syria] and calling for a robust international response".
Writing for the Daily Telegraph, he said: "We cannot allow the use of chemical weapons in the 21st century to go unchallenged. That would send a signal to the Syrian regime that they will never face any consequences for their actions, no matter how barbarous. It would make further chemical attacks in Syria much more likely, and also increase the risk that these weapons could fall into the wrong hands in the future."
In echoes of Tony Blair's argument that there was a "moral case" for the war in Iraq even without a UN mandate, Mr Cameron said the use of chemical weapons was "morally indefensible" and Britain could not "let that stand". But unlike Mr Blair he insisted Western action was "not about getting involved in a Middle Eastern war".
"I understand people's concerns about war in the Middle East, about getting sucked into the situation in Syria," he said. "This is not about wars in the Middle East, this is not even about Syria. It's about the use of chemical weapons and making sure as a world we deter their use and deter the appalling scenes we have all seen on our TV screens."
"It must be right to have some rules in our world and try to enforce those rules," Mr Cameron added. "Any action we take or others take would have to be legal, would have to be proportionate, it would have to be specific to deter and degrade the future use of chemical weapons."
The Prime Minister said there was never 100 per cent certainty or a single piece of irrefutable evidence of their use, but said the world had agreed almost a century ago they should not be used.
But his stance was attacked by the former Chief UN Weapons Inspector at the time of the Iraq War. Hans Blix said Mr Cameron " doesn't seem to care much about international legality".
"As far as they are all concerned, a criminal act has been committed so now they must engage in what they call retaliation," he said.
"I don't see what they are retaliating about. The weapons weren't used against them. If the aim is to stop the breach of international law and to keep the lid on others with chemical weapons, military action without first waiting for the UN inspector report is not the way to go about it."
Although action based on self-defence has been dismissed as inappropriate by London and Washington, senior Foreign Office lawyers and Mr Grieve believe humanitarian intervention, based on " overwhelming humanitarian necessity", was correctly applied by Tony Blair when he authorised force in Kosovo in 1999, and can be used again.
Mr Cameron initially focused on the "humanitarian" exemption to plan action in Libya, but eventual UN backing rendered it unnecessary.
Following the Kosovo action, the Foreign Affairs Select Committee criticised the "humanitarian" justification as being " illegal" but nevertheless backed its use as "legitimate".
Russia has dismissed the use of the humanitarian route as illegal. The country's deputy Prime Minister, Dmitry Rogozin, went further by accusing the West of behaving like a "monkey with a grenade" over Syria.
Mr Cameron also announced that MPs would be given a vote on a motion during an emergency sitting of the House of Commons on Thursday to discuss Syria.
After speaking to Mr Cameron, Labour leader Ed Miliband said he would consider giving Labour backing to action but only on the basis it could proved to be legal.
"The use of chemical weapons on innocent civilians is abhorrent and cannot be ignored," he said. "When I saw the Prime Minister this afternoon I said to him the Labour Party would consider supporting international action but only on the basis that it was legal, that it was specifically limited to deterring the future use of chemical weapons and that any action contemplated had clear and achievable military goals. We will be scrutinising any action contemplated on that basis."
The Deputy Prime Minister Nick Clegg added that he agreed with Mr Cameron on the need for action.
"If we stand idly by we set a very dangerous precedent indeed, where brutal dictators and brutal rulers will feel they can get away with using chemical weapons on a larger and larger scale in the future," he said.
"So what we're considering is a serious response to that. What we are not considering is regime change, trying to topple the Assad regime, trying to settle the civil war in Syria one way or another. That needs to be settled through a political process."
But the Prime Minister is likely to face significant opposition to any intervention and is likely to face intense questioning over how he can justify the legality of any action without a UN mandate.
Richard Ottaway, chairman of the Commons Foreign Affairs Committee, said international law had changed since intervention in Kosovo, when intervention was justified on the basis overwhelming humanitarian need.
"That doctrine [now] only supports intervention with the backing of a UN resolution, so if China and Russia veto any resolution, then clearly an intervention would not have the legal authority," he told the BBC.
He added: "Unlawful is probably a slightly exaggerated phrase. I think there is no legal support for an intervention of this nature rather than describing it as illegal."
Andrew Bridgen, who sent a letter signed by 81 fellow Conservatives to Mr Cameron demanding a vote earlier this year, said: "The House is going to seek assurance on the grounds for action, that there is compelling evidence it is the Assad regime that launched the chemical attacks - that will need to be proved and explained.
"We will need the aims of any action and limits and scope of action, and information on who else will be involved."
Syria and Iraq: The parallels
Is/was intervention legal?
David Cameron
The Prime Minister knows that intervention in Syria is highly unlikely to be authorised by a United Nations resolution because Russia and China would veto it. He insists that any military action will be legal, proportionate and a specific response to last week's attack on Syrian citizens with chemical weapons. UK officials argue that Syria has breached the 1993 Chemical Weapons Convention which bans them, and that justifies action. But legal doubts remain.
Tony Blair
The former Prime Minister, who backed intervention in Syria today, failed to secure a further UN resolution authorising action in Iraq and relied on a previous one passed after the Gulf War. Lord Goldsmith, his Attorney General, denied claims he was pressurised by Blair allies to change his legal advice to give the all-clear for war but doubts about its legality have never been lifted.
Are/were the weapons' inspectors getting enough time?
David Cameron
The PM wants to study the report by UN inspectors who on Monday visited the site of last week's attack, though it is unclear whether they will be able to give a definitive verdict. But Hans Blix, who was the chief UN arms inspector in Iraq, warned today that the "political dynamics" in Syria are running ahead of the "due process".
Tony Blair
The former PM clashed with Mr Blix, who complained he was denied the "space and time" needed to search for Saddam Hussein's weapons of mass destruction. Mr Blair was convinced, wrongly, that Iraq possessed them but was frustrated at the regime's alleged obstruction of the inspectors' work and their failure to find a "smoking gun" that would have justified war.
Has/had Parliament been properly consulted?
David Cameron
The PM today tried to defuse growing demands for Parliament to be consulted by recalling MPs from their summer break four days early to discuss Syria on Thursday. But some Conservative MPs are demanding a Commons vote to authorise specific action; they doubt they will be granted that in case Mr Cameron suffered a humiliating defeat.
Tony Blair
The former PM conceded a Commons vote on Iraq after Cabinet pressure and did win Parliament's backing for his Government's position. But during the build-up to the invasion, he was criticised for ignoring critics among MPs and denying a proper Cabinet debate. The long-delayed Chilcot inquiry into the conflict is looking closely at whether Mr Blair promised the US President George Bush that Britain would join military action a year before it happened.
Is/was his party behind him?
David Cameron
No. Many Tory MPs are worried that "mission creep" will suck Britain into an Iraq-style quagmire and want clear goals. They want hard proof that the Assad regime was behind last week's attack. In June, more than 80 Tories demanded a Commons vote before the UK sent arms to the anti-Assad rebels, helping to deter Mr Cameron from such a course.
Tony Blair
No. Some 139 Labour MPs voted against the Iraq war in March 2003, the largest ever rebellion against a Labour Government. Mr Blair won the crucial Commons vote by 412 votes to 149, was forced to rely on the support of most Conservative MPs. The Liberal Democrats opposed the war but Nick Clegg is arguing that Syria is very different and is backing Mr Cameron.
Is/was public opinion behind him?
David Cameron
It is not yet clear whether the British people will support limited action over chemical weapons. But after Iraq and Afghanistan, they are likely to be cautious about any intervention. A YouGov survey at the weekend found that three-quarters (74 per cent) oppose sending British troops to fight alongside anti-Assad forces and two-thirds (66 per cent) are oppose giving them full-scale military supplies.
Tony Blair
Before the 2003 invasion, opinion polls showed that a majority of people supported military action, some by a 2-1 margin. But the bloody aftermath and the failure to find weapons of mass destruction turned opinion round. A YouGov survey marking the war's 10th anniversary this year found that 55 per cent thought the military action was wrong and 30 per cent right.
Are/were we America's poodle?
David Cameron
The PM's aides insist not, arguing that there is a growing international coalition for action to be taken against President Assad. Mr Cameron has been at the forefront of demands to help the Syrian rebels. So has France, which strongly opposed the Iraq war. British officials point to the Arab League's belief that the Assad regime was responsible for last week's attack.
Tony Blair
The former PM always denied the charge but never escaped its shadow. His close personal relationship with George Bush fuelled such suspicions, as did his desire to slay the ghosts of Old Labour's anti-Americanism. He could have pursued a "European solution" to Iraq but decided to "be there" if the US acted, even turning down a last-minute offer by the US President to let the UK opt out.
Andrew Grice
Register for free to continue reading
Registration is a free and easy way to support our truly independent journalism
By registering, you will also enjoy limited access to Premium articles, exclusive newsletters, commenting, and virtual events with our leading journalists
Already have an account? sign in
Register for free to continue reading
Registration is a free and easy way to support our truly independent journalism
By registering, you will also enjoy limited access to Premium articles, exclusive newsletters, commenting, and virtual events with our leading journalists
Already have an account? sign in
Join our new commenting forum
Join thought-provoking conversations, follow other Independent readers and see their replies