The Lords on trial: Westminster hit by attempt to wreck gay marriage bill - and by fast-track plans for register of lobbyists
Prime Minister faces another headache if wrecking amendment to stop the Same Sex Couples Bill passes
Andrew Grice
Tuesday 04 June 2013 16:36 Comments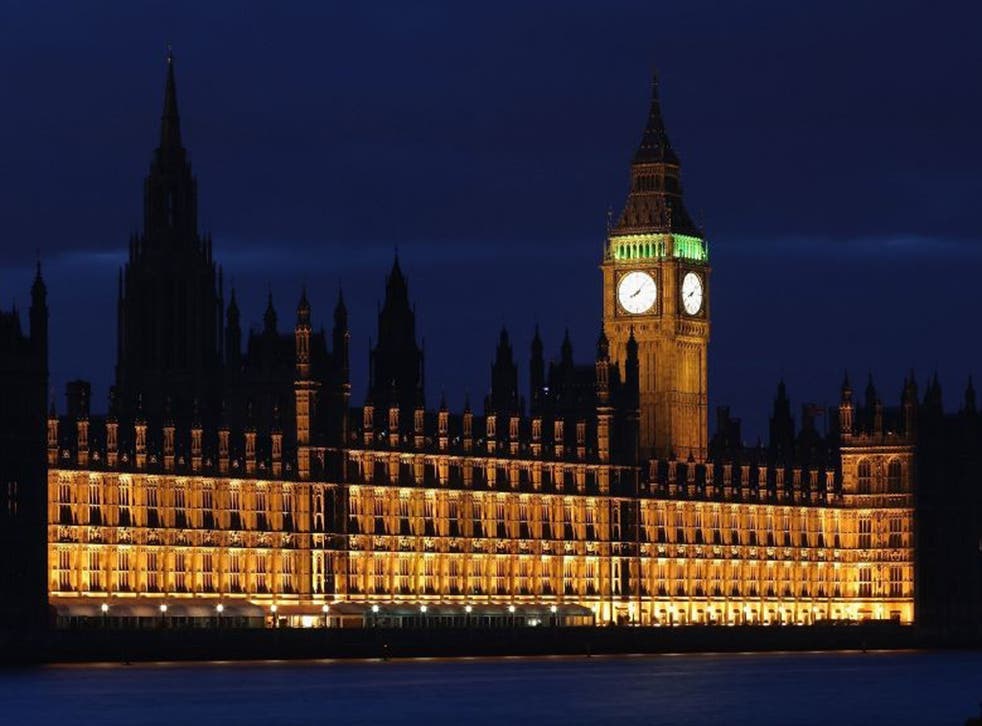 Peers from all parties have warned the House of Lords it would exceed its powers if it derailed plans to legalise gay marriage because the move has already won the overwhelming backing of MPs.
The Lords will vote on Tuesday night on a wrecking amendment to stop the Marriage (Same Sex Couples) Bill. If passed, the motion would give David Cameron another headache as it would embolden Tory MPs who oppose the Bill if he pressed ahead with it.
Some peers believe the result is too close to call. But Cameron aides expressed confidence that the wrecking move would be defeated and refused to speculate about the Prime Minister's actions if it succeeded.
The vote is being held at a torrid time for the Lords, amid allegations that three peers broke parliamentary rules on lobbying.
Mr Cameron promised on Monday to publish legislation by next month to bring in a statutory register of lobbyists. Two Labour peers have been suspended from the party following the claims, while an Ulster Unionist peer has resigned his party whip.
The controversial gay marriage wrecking move was proposed during a passionate Lords debate by Lord Dear, a crossbencher and former Chief Constable of the West Midlands. He angered peers who support gay marriage by warning that the proposal could provoke a public backlash against gay people.
He said: "I fear the Bill, should it become law, could well create such opposition to homosexuals in general that the climate of tolerance and acceptance in this country, that we have all championed and supported and seen flourish over the years, could well be set back by decades."
Insisting the measure would overturn centuries of tradition by altering the concept of marriage, Lord Dear added: "It seeks to divide a nation with an argument that hides behind the concept of equality, when in reality it is about sameness and it stands on its head all considerations of electoral mandate."
But Lord Black of Brentwood, a gay Tory peer and executive director of the Telegraph Media Group, hit back at Lord Dear in a powerful speech. "This is 2013," he said. "Gay people don't want to be tolerated in this society. They want to be equal in this society."
Lord Black told peers that although he was in what Lord Dear called a "tiny minority", he was "the same as you except that I happen to love a man". He said his decision to enter a civil partnership with his partner, Mark Bolland, in 2006 had strengthened and deepened their relationship in a way he had not thought possible at the time. "This measure will not undermine marriage. It will strengthen it. I know that to be true because I have felt it."
Labour's Lord Smith of Finsbury, who was the first MP to come out as gay, said some of the remarks by the Bill's opponents were "mistaken, misguided and sometimes rather hurtful" and had underlined the need for it. "This is about love, commitment and mutual respect," he said, adding that it would challenge prejudice.
Lord Smith said peers would be ill-advised to block a measure that had been so strongly supported by the elected Commons. The same point was made by Lord Fowler, the former Conservative cabinet minister, who said: "I think we would be profoundly wrong if not politically suicidal to vote against such a second reading." He described gay marriage as "a fundamental moral issue".
Baroness Barker, a Liberal Democrat, who told peers she had had a female partner for many years, said the Bill reflected "the wishes of people who don't today just want to tolerate the views of lesbians and gay men but want to celebrate and support them as people in their own right".
She said: "I look forward to joining with people on all sides of this House to ensure gay people and their families are afforded the dignity and respect that others take for granted and that families, faiths and communities can grow stronger together as a result."
But Baroness Knight of Collingtree, a Conservative, countered: "Of course homosexuals are very artistic and delightful people, too. But marriage is not just about love. It's about a man and a woman, created to produce children, producing children...
"This Bill is pretending it can turn men into women; or that children do not need a father."
The Most Rev Justin Welby, the Archbishop of Canterbury, opposed the Bill but did not support Lord Dear's move to kill it at its second reading. He said the Bill distinguished between same and different-gender marriage, "thus not achieving true equality… the result is confusion. Marriage is abolished, redefined and recreated."
The Archbishop admitted: "The Church has often not served the LGBT communities in the way it should. I must express my sadness and sorrow at that considerable failure. It is also necessary to express total rejection of homophobic language, which is wrong and, more than that, sickening."
Register for free to continue reading
Registration is a free and easy way to support our truly independent journalism
By registering, you will also enjoy limited access to Premium articles, exclusive newsletters, commenting, and virtual events with our leading journalists
Already have an account? sign in
Join our new commenting forum
Join thought-provoking conversations, follow other Independent readers and see their replies