Theresa May ducks key debate on new immigration rule that will see teachers, charity workers and NHS staff deported
Exclusive: Despite being named personally in a petition signed by more than 100,000 people, Home Secretary sends in a junior minister to defend her 'destructive and discriminatory' policy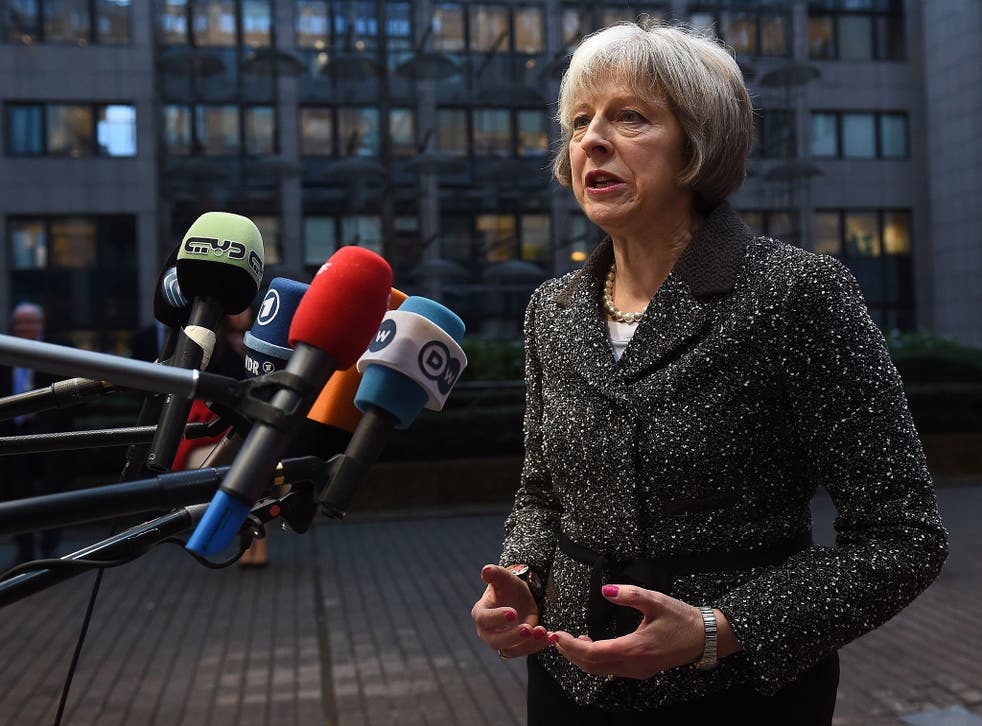 Theresa May refused to attend a debate in Parliament designed to scrutinise one of her most controversial changes to immigration rules, The Independent can reveal.
The Home Secretary has been urged to rethink a £35,000 pay threshold for skilled migrant workers that could see tens of thousands of teachers, charity workers, NHS staff and tech entrepreneurs deported from Britain if they fail to make enough money.
The debate was held in Westminster Hall on Monday after more than 100,000 people signed an online petition expressing anger at the measure, which Labour has called "ill-considered, destructive and discriminatory".
Despite being named personally in the petition, Ms May did not attend the debate and instead sent junior minister Richard Harrington, with James Brokenshire busy with another engagement.
A source admitted it might "seem strange" Ms May was sending Mr Harrington in her stead – given his unrelated portfolio as the minister for Syrian refugees.
But when asked why the Home Secretary was unable to attend in person, a Home Office spokesman said: "We don't comment on what she is or isn't doing at any given time."
Britain's rising immigrant stars

Show all 8
Monday's debate represented the first time MPs were given the chance to scrutinise the £35,000 threshold for non-EU workers, which was pushed through without a Commons vote as part of a raft of changes to immigration rules in 2012.
If uncontested, it will come into effect next month – and campaigners say it could cost the Treasury more than £500 million in lost economic contributions.
Labour's immigration spokesman Keir Starmer, who attended the debate, has previously said his party has "real concerns" over how key industries would be affected by the threshold.
Under the news rules, overseas workers who have lived in the UK for five years will have to prove they will be paid the new minimum threshold in order to stay in the country.
Those who fail to demonstrate earnings of more than £35,000 will be denied settlement in the UK and will face deportation.
The Stop35k campaign, whose members set up the original petition on the Government website, says it understands the desire to reduce migration – but argues that a £35,000 minimum salary across all industries is far too high.
Shannon Harmon, a spokeswoman for the group, said it was "troubling" that Ms May was refusing to engage with the debate.
She told The Independent: "'It is unfortunate that Theresa May will not attend in person after so many thousands of people have spoken out against one of the Government's most uneconomic policies.
"Richard Harrington is a fantastic public servant as minister for the Syrian immigration crisis, but his choice as the Minister to respond to this debate illustrates a distinct lack of understanding by the Government of the issue."
She said: "This policy will cost the UK hundreds of millions of pounds the Government keeps telling us they can't afford. It will displace valuable workers, and the fact that Theresa May is not willing to engage is extremely concerning."
For more information on the people who face deportation if the £35,000 threshold is introduced, click here. The debate is being streamed on the Parliament website here.
Join our new commenting forum
Join thought-provoking conversations, follow other Independent readers and see their replies