Article 50: What Theresa May and her cabinet warned about Brexit before the EU referendum
Less than a year ago the Prime Minister and Chancellor stood before audiences and set out why Brexit would be 'dangerous' and a 'leap in the dark' for Britain
May Bulman
Wednesday 29 March 2017 14:40 Comments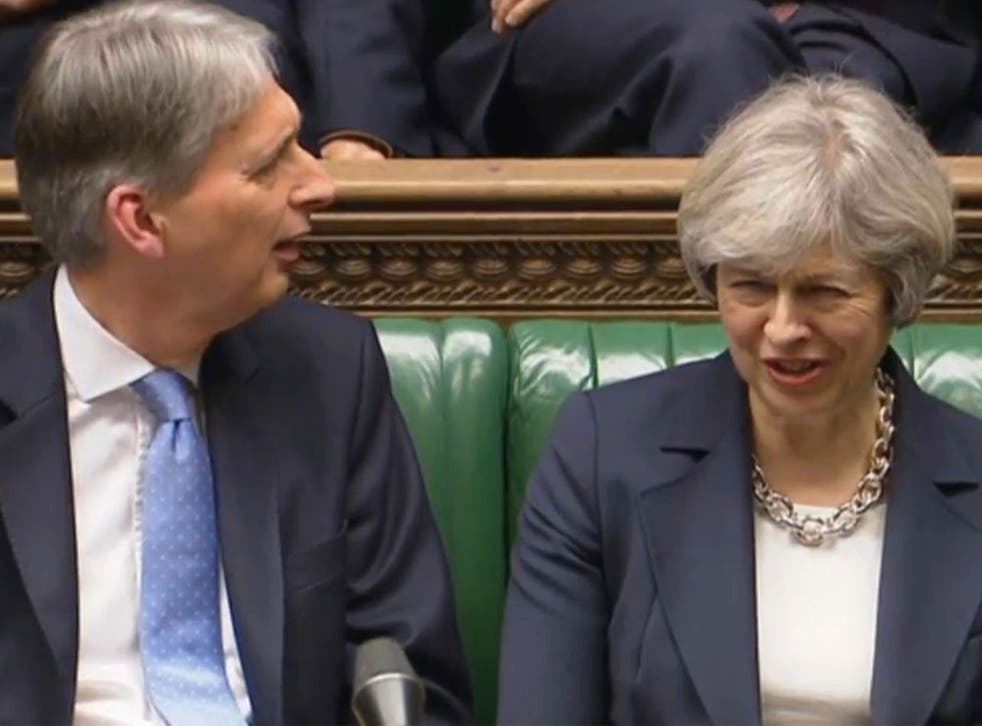 After taking office, Prime Minister Theresa May has driven the country towards the triggering of Article 50 - the formal process for Britain to leave the European Union (EU).
Ably supported by Chancellor Philip Hammond, she has made the case for the UK to leave the bloc of 27 nations.
Before the 23 June referendum however, they told audiences that Brexit would be "dangerous" and a "leap in the dark" for Britain, strongly arguing for the country to remain in the EU.
Despite joining the Leave campaign, Foreign Secretary Boris Johnson had written a series of pro-Europe articles, including one for The Telegraph that said it would cause business uncertainty. He also told a reporter in 2014 that "in his ideal world" Britain would remain in the EU.
Here
are some of the distinct and clear-cut arguments Britain's most powerful politicians put forward
for remaining part of the EU
, as they stand poised to lead the country straight into the "dangers" they once warned against.
Theresa May
Addressing audience at the Institute of Mechanical Engineers in central London.on 25 April 2016
"I believe it is clearly in our national interest to remain a member of the European Union… Remaining inside the European Union makes us more secure, it makes us more prosperous."
Security
"My judgement, as Home Secretary, is that remaining a member of the European Union means we will be more secure from crime and terrorism... If we were not part of [European law enforcement organisations] Britain would be less safe."
"I know some people say the EU does not make us more secure because it does not allow us to control our border. But that is not true… Our response to Paris and Brussels cannot be to say that we should have less cooperation with countries that are not only our allies but our nearest neighbours."
Economic opportunity
"As Britain is the leading country in Europe when it comes to the digital economy that is an enormous opportunity for us all.
"The economic case for remaining inside the European Union isn't just about risk, but about opportunity. And it isn't just about fear, but about optimism – optimism that Britain can take a lead and deliver more trade and economic growth inside Europe and beyond."
Brexit Concerns

Show all 26
"If we were not in the European Union… There would be little we could do to stop discriminatory policies being introduced, and London's position as the world's leading financial centre would be in danger."
Trade
"We export more to Ireland than we do to China, almost twice as much to Belgium as we do to India, and nearly three times as much to Sweden as we do to Brazil. It is not realistic to think we could just replace European trade with these new markets."
"Given that British exports in goods and services to countries outside the EU are rising, one can hardly argue that the EU prevents this from happening. Leaving the EU, on the other hand, might make it considerably harder."
"The EU trade deals Britain has been driving… would be in danger of collapse. And while we could certainly negotiate our own trade agreements, there would be no guarantee that they would be on terms as good as those we enjoy now.
"There would also be a considerable opportunity cost given the need to replace the existing agreements – not least with the EU itself – that we would have torn up as a consequence of our departure."
"If we do vote to leave the European Union, we risk bringing the development of the single market to a halt, we risk a loss of investors and businesses to remaining EU member states driven by discriminatory EU policies, and we risk going backwards when it comes to international trade."
Break-up of the Union
"It is sometimes suggested that Brexit could lead to other countries seeking to leave the European Union. Some even believe that Brexit might be a fatal blow to the whole EU project. And some, I know, think that this would be a good thing. But I'm afraid I disagree.
"The disintegration of the EU would cause massive instability among our nearest neighbours and biggest trading partners. With the world economy in the fragile state it is, that would have real consequences for Britain."
Scotland
"If Brexit isn't fatal to the European Union, we might find that it is fatal to the Union with Scotland. The SNP have already said that in the event that Britain votes to leave but Scotland votes to remain in the EU, they will press for another Scottish independence referendum... If the people of Scotland are forced to choose between the United Kingdom and the European Union we do not know what the result would be.
"But only a little more than eighteen months after the referendum that kept the United Kingdom together, I do not want to see the country I love at risk of dismemberment once more… I do not want the European Union to cause the destruction of an older and much more precious Union, the Union between England and Scotland."
Philip Hammond
Speaking as Foreign Secretary at Chatham House on 2 March 2016
"The Government's clear view is that we are stronger, safer and better off remaining within a reformed European Union.
"Stronger, because our global influence is enhanced by being a leading member of the world's largest trading bloc, safer because of the work we do together with EU partners to strengthen our defences against organised crime and terrorism, and better off because of our access to a market of 500 million consumers.
Economy and trade
"A vote to leave on 23 June would trigger a two year window, under the terms of the Treaties, for the UK to negotiate the terms of our exit from the EU. […] Our economy would literally be on hold, whilst our competitors, including our European competitors, forge ahead.
"And at the end of two years, there is no guarantee at all that we would have reached agreement, but our exit would be automatic unless every single member of the remaining EU agreed to an extension.
How Brexit affected Britain's favourite foods from Weetabix to Marmite

Show all 8
"Our access to the Single Market would cease. Our trading agreements with more than 50 markets around the world would lapse, with an immediate and negative effect on confidence, on growth, on investments, and on jobs.
"Years of uncertainty for Britain, just as we are getting back on our feet."
Risks
"Balancing the burdens and the benefits, none of the options that are remotely likely to be deliverable comes close to matching the deal that we already have on the table."
"Why would we take a leap in the dark? Why would we risk the effect of years of uncertainty on the British economy? Why would we take that chance with our children's future - risking our influence, our prosperity and our security?"
"When by voting to remain, we can have the best of both worlds in a reformed EU; rather than the worst of both outside. A powerful voice inside Europe; instead of a lonely voice outside. A Great Britain, stronger, safer and better off within the EU."
Boris Johnson
In an interview with Spiegel newspaper
"There would be several disadvantages [to leaving the EU]. First, we wouldn't be able to stick up for what we believe in. Secondly, we would face some penalties. And then there is the Scottish factor. If we get out, what happens in Scotland?"
"My ideal world is, we're there, we're in the EU, trying to make it better."
In biography of Churchill published in 2014
"It was his (Churchill's) idea to bring those countries together, to bind them together so indissolubly that they could never go to war again - and who can deny, today, that this idea has been a spectacular success?
"Together with Nato the European Community, now Union, has helped to deliver a period of peace and prosperity for its people as long as any since the days of the Antonine emperors."
Daily Telegraph column in February 2016
"It is also true that the single market is of considerable value to many UK companies and consumers, and that leaving would cause at least some business uncertainty, while embroiling the Government for several years in a fiddly process of negotiating new arrangements, so diverting energy from the real problems of this country – low skills, low social mobility, low investment etc – that have nothing to do with Europe."
Register for free to continue reading
Registration is a free and easy way to support our truly independent journalism
By registering, you will also enjoy limited access to Premium articles, exclusive newsletters, commenting, and virtual events with our leading journalists
Already have an account? sign in
Join our new commenting forum
Join thought-provoking conversations, follow other Independent readers and see their replies