Poll: A majority of the British public call for more spending ahead of the Autumn Statement
Exclusive survey by ComRes also showed the public trust Theresa May and Philip Hammond to run the economy more than their Labour rivals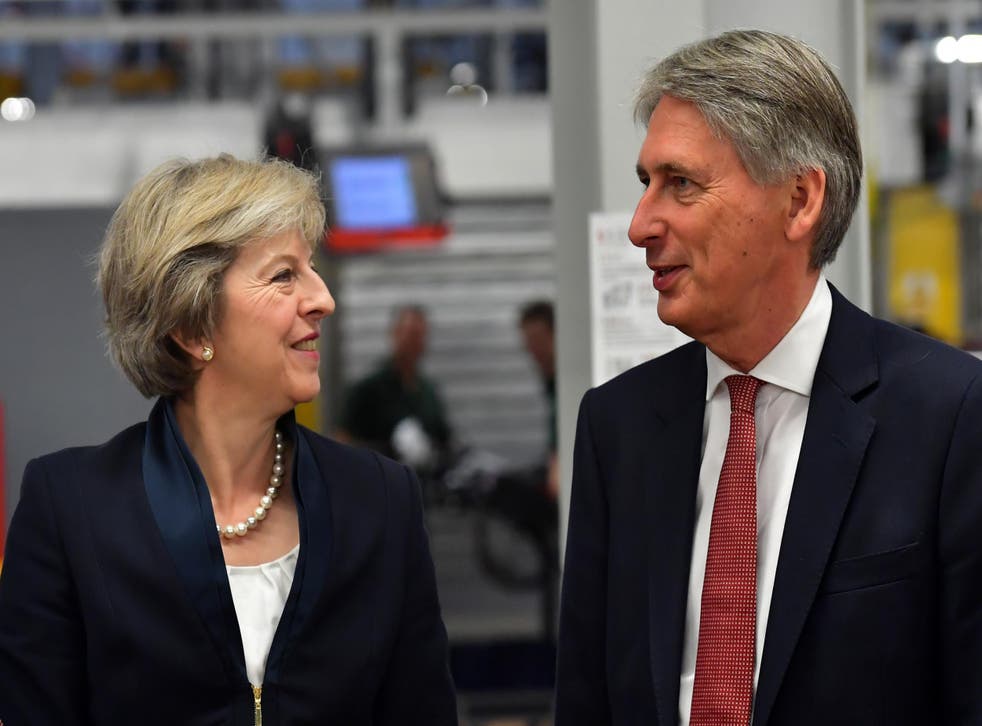 A majority of the British public want an end to the age of austerity and for Theresa May to focus the Government on boosting public spending, a poll for The Independent has revealed.
The ComRes survey showed more than half of people think the Treasury should loosen its purse strings in coming years, while less than a quarter back more cuts.
But people's ongoing feeling of uncertainty around Brexit is also laid bare, as they support delaying the biggest spending decisions until the UK has agreed an EU withdrawal deal.
Theresa May asked why she sacked George Osborne
It comes just weeks ahead of Chancellor Philip Hammond's critical first Autumn Statement, in which he will shine a light on the Government's economic strategy for facing what he has admitted could be tough times ahead.
In a boost for both the Prime Minister and Mr Hammond, a clear majority of people told ComRes pollsters they trusted the pair to run the British economy more than Labour rivals Jeremy Corbyn and John McDonnell.
Almost half also said they had more faith in Ms May and Mr Hammond than predecessors David Cameron and George Osborne.
Since coming to power Ms May has signalled a shift away from the monetary policy that defined the Cameron/Osborne era.
The Prime Minister used her October conference speech to say that while super-low interest rates and quantitative easing had been necessary medicine in the wake of the 2008 crash, they had also resulted in "bad side effects" for working families, who did not own assets and were trying to save.
Her shift even led to a clash with Bank of England Governor Mark Carney, who has since announced he is to leave his job in 2019.
At the same Tory conference, Mr Hammond indicated he was ready to start borrowing more money to pay for big infrastructure schemes.
Some 53 per cent of people said they agreed with the statement "the Government should prioritise increasing public spending over the next few years", compared to just 23 per cent who agreed with "The Government should prioritise cutting public spending over the next few years.
With Mr Hammond having warned of a "roller coaster" economic journey as Brexit talks begin, the same amount of people, 53 per cent, thought the biggest decisions should be delayed until a deal is set in stone with EU states, while 30 per cent thought they should go ahead.
Meanwhile, 55 per cent agreed with the sentence "I trust Theresa May and Philip Hammond more than Jeremy Corbyn and John McDonnell to run the country's economy", compared to just 22 per cent who thought the opposite.
What experts have said about Brexit

Show all 11
Ms May and Mr Hammond enjoyed a greater lead on the economy over their Labour rivals than Mr Cameron and Mr Osborne had.
The current Prime Minister and Chancellor also beat their predecessors on the economy by 48 per cent to 18 per cent.
The country was evenly split when it came to deciding priorities in any Brexit deal with EU states. Some 42 per cent backed single market access over immigration control, and 43 per cent supporting the opposite position.
ComRes interviewed 2,038 GB adults online on 9 and 10 November 2016. Data were weighted to be demographically representative of all GB adults. ComRes is a member of the British Polling Council and abides by its rules. Full tables on the ComRes website.
Register for free to continue reading
Registration is a free and easy way to support our truly independent journalism
By registering, you will also enjoy limited access to Premium articles, exclusive newsletters, commenting, and virtual events with our leading journalists
Already have an account? sign in
Join our new commenting forum
Join thought-provoking conversations, follow other Independent readers and see their replies