Theresa May says Britain will not 'cherry pick' which parts of EU it wants access to after Brexit
Prime Minister says she wants 'comprehensive, bold, ambitious free trade' deal ahead of talks with French PM 
Benjamin Kentish
Thursday 16 February 2017 23:49 Comments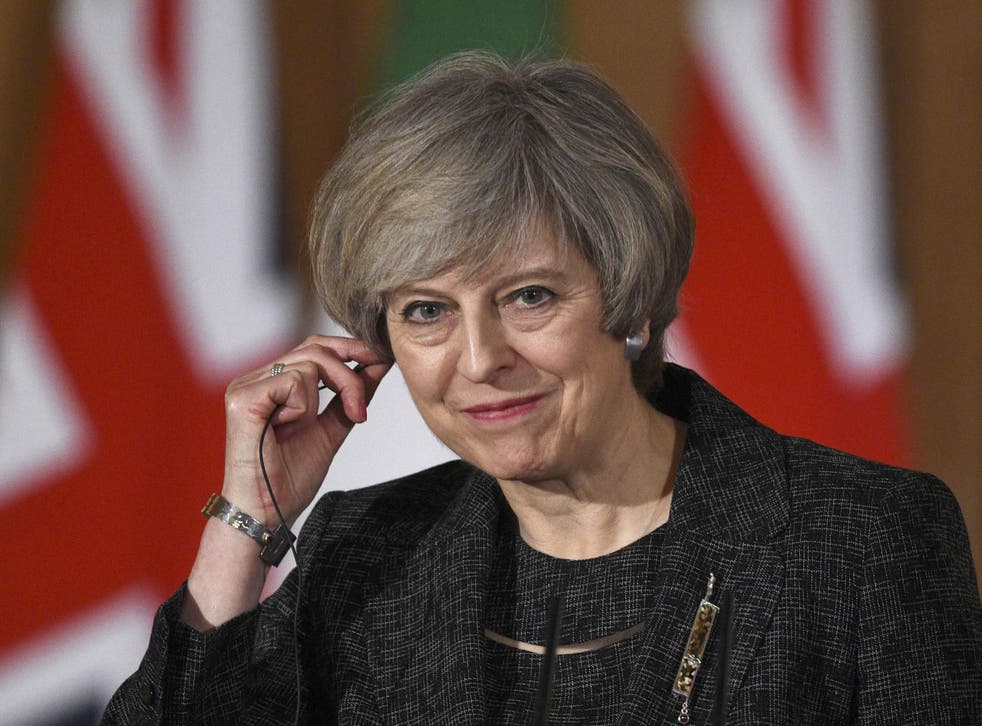 Britain will not try to "cherry pick" which parts of the European Union it maintains access to after Brexit, Theresa May has said.
The Prime Minister defended her decision to withdraw the UK from the single market and try to negotiate a trade deal with the EU, saying this did not amount to trying to unfairly keep hold of the best aspects of membership.
Her comments came as she prepares to host Bernard Cazeneuve, the French Prime Minister, for talks at Downing Street on Friday.
Ms May has previously said she wants the UK to maintain the "greatest possible access" to the EU trading bloc – triggering warnings from other European leaders that she would not be able to "cherry pick" during Brexit negotiations.
The Prime Minster has denied this is her aim. Writing in French newspaper Le Figaro, she said: "As we leave the EU, we will seek the greatest possible access to the European single market through a new, comprehensive, bold, ambitious free trade agreement.
"This cannot, however, mean retaining membership of the single market.
"We do not, to borrow the phrase, seek to cherry-pick which bits of membership we desire."
In the article, Ms May also argued it was in France's interest to help Britain secure a trade deal with the EU, because French companies benefit from €50 billion of annual trade between the two countries.
What experts have said about Brexit

Show all 11
"UK companies are responsible for an estimated 230,000 jobs in France, and French companies for about 370,000 jobs in the UK," she wrote.
The Prime Minister also stressed the UK will remain an "open and tolerant" country and that French people will "always be welcome in Britain".
She reiterated her aim of guaranteeing the rights of EU nationals already in the UK, including more than 300,000 French people, and said she hopes France will do the same for Britons living there.
"I will make securing this reciprocal agreement a priority as soon as the negotiations begin, because this is in everyone's interests," she said.
Brexit Bill backed: Theresa May allowed to start EU exit negotiations
Ms May's discussions with Mr Cazeneuve are likely to focus on Brexit and Russia. The Prime Minister warned of Moscow's "aggressive and destabilising" actions in Ukraine, which she said have resulted in a "drastic deterioration" in the country.
The fight against terrorism is also likely be on the agenda after two years in which France has suffered several deadly attacks.
Ms May said the UK would "continue to stand shoulder to shoulder with France" and added: "In this period of change for my nation, Britain may be leaving the European Union as an organisation, but we will be stronger than ever as a dependable partner for our friends in France and across Europe, working to enhance the security and prosperity of all our citizens.
"As I said in my first speech as Prime Minister in the British Parliament, we share a firm belief in the values of liberte, egalite and fraternite. And together with France, a global Britain will always defend them."
Register for free to continue reading
Registration is a free and easy way to support our truly independent journalism
By registering, you will also enjoy limited access to Premium articles, exclusive newsletters, commenting, and virtual events with our leading journalists
Already have an account? sign in
Join our new commenting forum
Join thought-provoking conversations, follow other Independent readers and see their replies