Theresa May condemns 'utterly outrageous' Fifa poppy ban for England and Scotland players
To cheers in the Commons, the Prime Minister tells Fifa: 'Before they start telling us what to do, they jolly well ought to sort their own house out'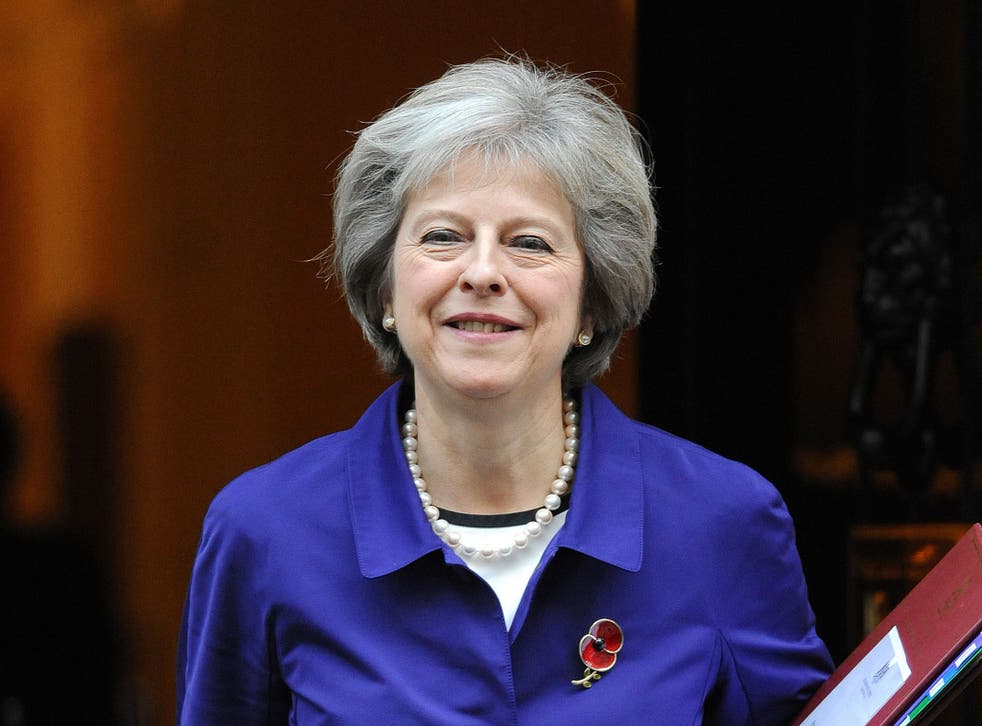 Theresa May has condemned the "utterly outrageous" ban on England and Scotland players displaying poppies during next week's Remembrance Day clash.
The Prime Minister launched a blistering attack on football's governing body Fifa, which has turned down a request because of its strict restrictions on symbols on shirts.
To huge cheers in the Commons, Ms May turned on Fifa for "telling us what to do" when it has been mired in its own long-running corruption scandal.
Later, one former Cabinet minister, John Whittingdale, went further – calling on England and Scotland to risk a points deduction rather than comply with the ruling.
The Prime Minister told MPs: "I think the stance that has been taken by Fifa is utterly outrageous.
"Our football players want to recognise and respect those who have given their lives for our safety and security. I think it is absolutely right that they should be able to do so."
Ms May said it was a matter for the English and Scottish Football Associations, but pointed to the "clear message" being sent out by MPs that "we want our players to be able to wear those poppies".
And, in a direct attack on Fifa's record, she added: "Before they start telling us what to do, they jolly well ought to sort their own house out."
Fifa says England and Scotland cannot wear armbands featuring poppies because it falls under its ban on any political, religious or commercial messages on kits during matches.
Damian Collins, the Conservative chairman of the Commons' Culture, Media and Sport select committee, has already written to Fifa president Gianni Infantino asking him to think again.
Former RAF pilot and prisoner of war John Nichol has launched a petition against the decision, writing: "The poppy is not a political statement at all. It could not be further from a political statement."
And the Welsh FA has also written to Fifa asking for permission to wear poppies on armbands during their game against Serbia in Cardiff on 12 November.
The Prime Minister is not expected to attend the match at Wembley, or to intervene directly with Fifa before 11 November.
However, her spokeswoman said afterwards that the Football Association is in constant contact with the governing body, as pressure grows for the decision to be overturned.
In November 2011, England and Scotland were allowed to wear black armbands embroidered with poppies after Prince William and David Cameron appealed to Fifa.
Speaking on BBC 5 Live immediately after Prime Minister's Questions, Mr Whittingdale – a former Culture, Media and Sport Secretary – urged the teams to make a stand, if necessary,
He said: "For them to try and brand the poppy as a political symbol shows a total misunderstanding. I think there are a number of reasons why we are already profoundly unhappy with Fifa's behaviour and conduct and this adds to that list."
Asked if the teams should risk the punishment of a points deduction by ignoring Fifa, Mr Whittingdale replied: "Yes."
Register for free to continue reading
Registration is a free and easy way to support our truly independent journalism
By registering, you will also enjoy limited access to Premium articles, exclusive newsletters, commenting, and virtual events with our leading journalists
Already have an account? sign in
Register for free to continue reading
Registration is a free and easy way to support our truly independent journalism
By registering, you will also enjoy limited access to Premium articles, exclusive newsletters, commenting, and virtual events with our leading journalists
Already have an account? sign in
Join our new commenting forum
Join thought-provoking conversations, follow other Independent readers and see their replies