Theresa May denies knowing about Damian Green sexual harassment claims
Tory activist Kate Maltby claims she warned Downing Street of his 'pattern of behaviour' towards women last year
Lizzy Buchan
Political Correspondent
Friday 22 December 2017 11:31 Comments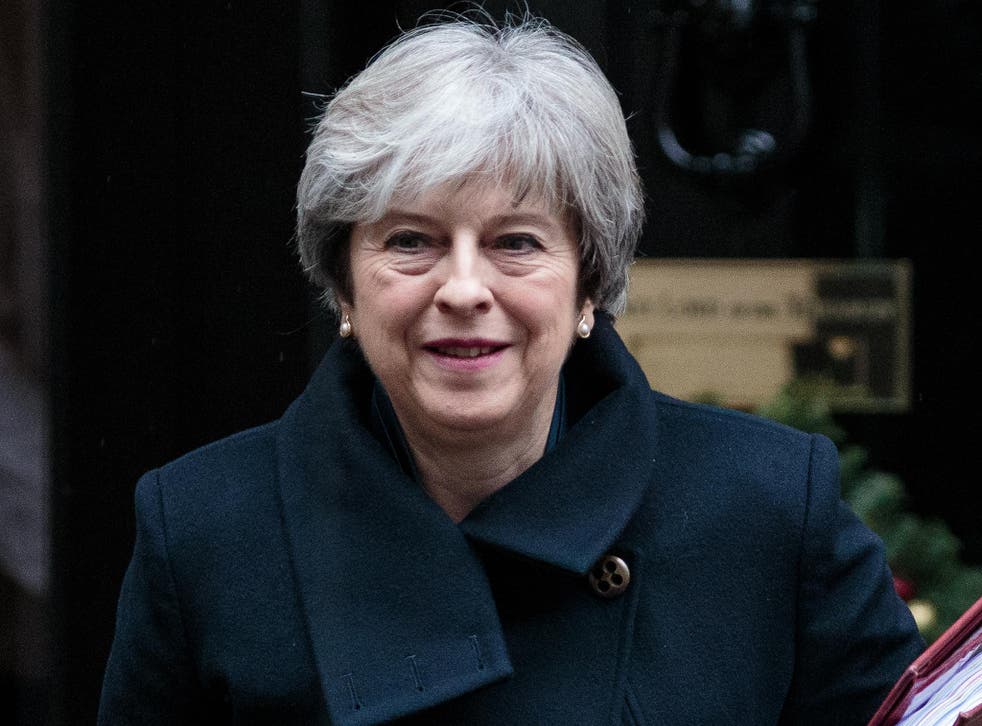 Theresa May has denied knowing last year about allegations of inappropriate behaviour by her former deputy Damian Green towards a young Tory activist.
Writer Kate Maltby said she had warned Downing Street about the former First Secretary of State's "pattern of behaviour" towards women in 2016, after she claimed he had made unwanted advances towards her.
Her accusations triggered a Whitehall investigation into Mr Green's conduct, which eventually led to him being sacked from the Cabinet for making "misleading statements" about pornography found on his Commons computer.
However the Prime Minister told reporters on a trip to Cyprus that she did not know the allegations until she read about them in a newspaper article.
She said: "I first learnt of these allegations when Kate Maltby wrote about them in The Times.
"I recognise that Kate Maltby was obviously extremely distressed by what has happened. Damian Green has recognised that. He said that in the letter that he wrote to me.
"He has apologised and I think that's absolutely the right thing to do."
Damian Green leaves home and refuses to comment after porn sacking
Ms Maltby originally claimed he "fleetingly" touched her knee during a meeting in a pub in 2015, and a year later sent her a "suggestive" text message after she was pictured wearing a corset in a newspaper. Mr Green has always disputed the claims.
She now alleges that she told a Downing Street aide about her claims against Mr Green in September 2016, and she was informed it was part of a pattern of behaviour, and that "the Prime Minister knows".
She told The Daily Telegraph: "I would never, never have told my story about Damian Green if I did not believe I was exposing a pattern of behaviour of which I thought the Prime Minister was personally aware."
In a separate interview with the BBC, she said: "The reason that I didn't tell many people about the first encounter, the encounter which I felt the political mentorship, or even a job in the Conservative Party, was being offered at the same time as a sexual suggestion.
"The reason I didn't tell many people then, except my parents, is that I wondered if it was a one-off ... and, eventually, I spoke to a very senior and long-serving aide of Theresa May."
Asked if she had told the Cabinet Office investigation, headed by senior civil servant Sue Gray, that Downing Street was aware "there was an issue" with Mr Green's behaviour towards women, Ms Maltby said: "I gave evidence to the inquiry, as soon as I sat down with Sue Gray, that, to the best of my knowledge, Downing Street was aware.
"But this whole story has been about power imbalances. This whole story is about power.
"Damian Green became a very, very powerful person. I was aware that there seemed to be ... an improper mixing of mentorship and sexual advance within the Conservative Party.
"In his case I was aware that he was the Deputy Prime Minister and I was aware that No 10 knew about it.
"I wrote about the problem of sexual harassment in Westminster because I knew it was a persistent problem ... but, I also knew of similar experiences with many other people in Westminster across all parties."
UK news in pictures

Show all 50
A Downing Street source said: "The Cabinet Office conducted a thorough investigation into a number of allegations about Damian Green. The inquiry findings were published yesterday.
"The PM has made it clear that everyone should be able to work in politics without fear or harassment – that is why she has brought forward a new Code of Conduct for the Conservative Party, and set up a cross-party working group to make recommendations about the Houses of Parliament."
The report said it was "not possible to reach a definitive conclusion on the appropriateness of Mr Green's behaviour with Kate Maltby in early 2015, though the investigation found Ms Maltby's account to be plausible".
Leaving office on Wednesday, Mr Green said: "I deeply regret the distress caused to Kate Maltby following her article about me and the reaction to it.
"I do not recognise the events she described in her article, but I clearly made her feel uncomfortable and for this I apologise."
Register for free to continue reading
Registration is a free and easy way to support our truly independent journalism
By registering, you will also enjoy limited access to Premium articles, exclusive newsletters, commenting, and virtual events with our leading journalists
Already have an account? sign in
Join our new commenting forum
Join thought-provoking conversations, follow other Independent readers and see their replies