Theresa May urged to confront Donald Trump over 'return of torture' when she flies in for talks
The President is poised to lift a ban on overseas CIA 'black site' prisons – as the Prime Minister prepares to meet him in America for trade talks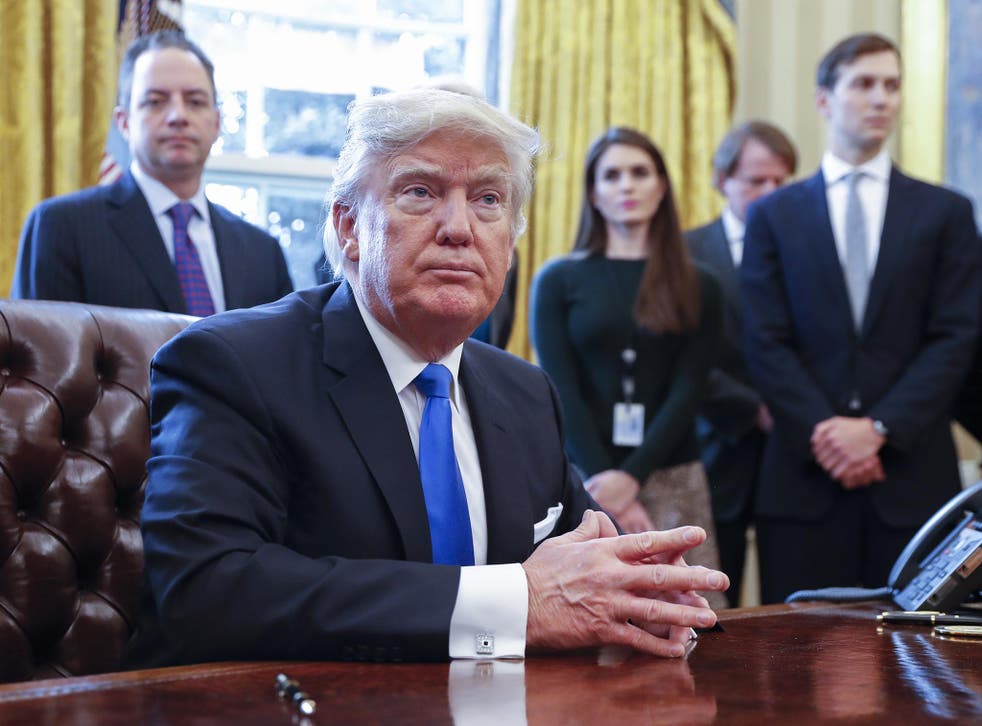 Theresa May is under pressure to confront Donald Trump over his stance on torture, as she prepares to jet in for make-or-break trade talks.
The Prime Minister will leave London on Thursday morning and fly straight to Philadelphia where she will address the annual congressional Republican Retreat, the first serving Head of Government or State from outside the US to do so.
Ms May believes politicians at the event could be critical to securing the UK a trade deal with the US after Brexit.
In her speech, she is expected to say: "As we end our membership of the European Union – as the British people voted with determination and quiet resolve to do last year – we have the opportunity to reassert our belief in a confident, sovereign and Global Britain, ready to build relationships with old friends and new allies alike.
"So as we rediscover our confidence together – as you renew your nation just as we renew ours – we have the opportunity, indeed the responsibility – to renew the special relationship for this new age. We have the opportunity to lead, together, again."
The PM will meet Mr Trump for discussions in the Oval Office amid a growing storm over the President's plans to lift a ban on overseas CIA "black site" prisons. Mr Trump is expected to rip up restrictions put into place by Barack Obama – after earlier stating he wanted to bring back waterboarding and a "hell of a lot worse".
The move threatened to disrupt Ms May's hopes of smooth White House talks to pave the way for a rapid trade deal, once Brexit is completed.
In the Commons, Andrew Tyrie, a senior Conservative MP, urged her to put torture on the agenda for her landmark first meeting with the President.
He said: "President Trump has repeatedly said that he will bring back torture as an instrument of policy.
"When she sees him on Friday, will the Prime Minister make it clear that in no circumstances will she permit Britain to be dragged into facilitating that torture, as we were after 11 September?"
In reply, Ms May said: "I assure my right honourable friend that our position on torture is clear – we do not sanction torture and do not get involved in it. That will continue to be our position."
Later, after reports suggested President Trump was preparing an executive order to reopen "black site" prisons, that message was toughened up by the Prime Minister's spokeswoman.
She said Ms May had been "very clear" on the issue, adding: "We don't condone torture or inhumane treatment in any form."
However, the spokeswoman declined to say whether the Prime Minister would take the opportunity to raise the issue, adding: "There are going to be issues where we differ in our approach and view from President Trump."
In Washington, the President claimed his Defence Secretary had convinced him to tone down his position on torture.
"Give me a pack of cigarettes and a couple of beers," Mr Trump claimed General James Mattis said, during their November meeting, "and I do better with that than I do with torture".
But, Elisa Massimino, president of campaign group Human Rights First, told The New York Times that the draft order was "flirting with the return to the 'enhanced interrogation programme'" seen under George Bush.
The controversy blew up after Ms May also refused to guarantee she will not water down food standards, or open up the NHS to US firms, in any trade deal.
At Prime Minister's Questions, she faced repeated queries about how much she is prepared to give away in her face-to-face talks.
Jeremy Corbyn urged her to rule out any deal that would give US healthcare giants a toehold in the NHS – after similar concerns over an aborted EU-US agreement.
And the SNP raised fears that such a deal will open the door to British supermarkets being stocked with meat produced in unhygienic ways currently outlawed across the EU.
However, Ms May declined to discuss details of her hopes for her trip to Washington, instead saying they were to "increase prosperity and bring growth".
She told Angus Robertson, the SNP leader at Westminster: "It is very simple – we want to achieve an arrangement that ensures the interests of the United Kingdom are there and are put first."
She did add: "I can ensure the right honourable gentleman that, in doing that, we will put UK interests and UK values first."
Join our new commenting forum
Join thought-provoking conversations, follow other Independent readers and see their replies