Downing Street dismisses early election speculation as 'nonsense'
Government says 'position hasn't changed' after Sunday Express report claimed senior Conservatives had been discussing snap election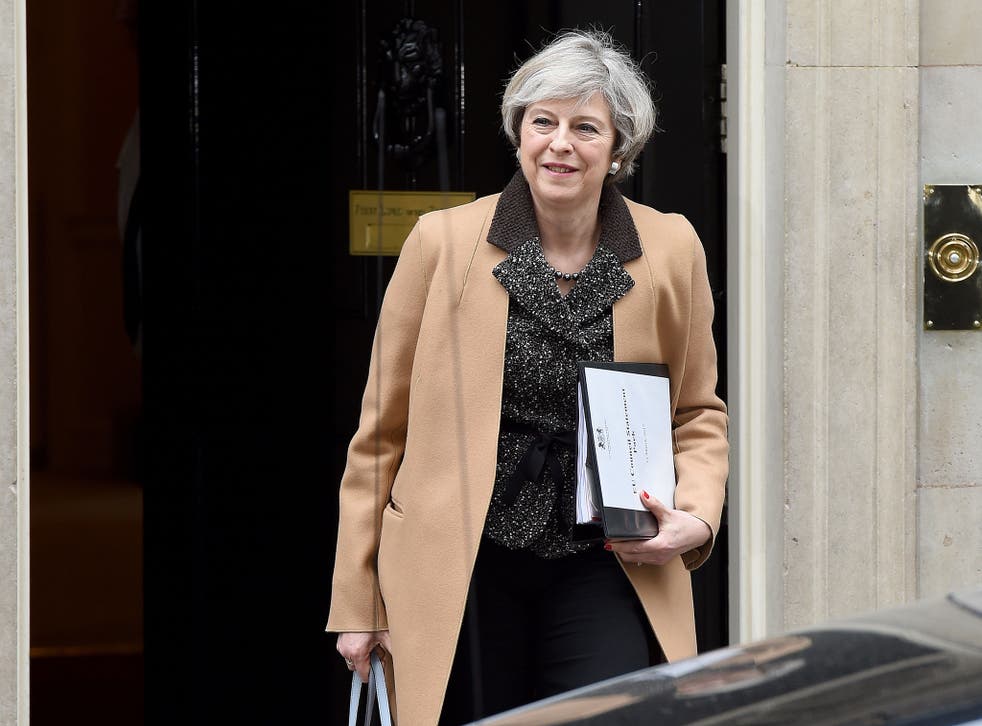 Speculation over an early election has been dismissed by Downing Street as "nonsense" as reports emerged of May 4 being floated as a date for Theresa May to seek a mandate for Brexit and her domestic policies.
In order to increase her working majority of 17 in the Commons, Tory MPs have been privately voicing the urgency for a snap election. They believe they would be able to achieve a greater majority at the ballot box by capitalising on current divisions in the Labour party.
Despite a torrid week for the Government – after the Chancellor was forced into an embarrassing U-turn over a key policy in his Budget and the Prime Minister struggled with a constitutional standoff with Nicola Sturgeon – the Conservatives are still 17 points ahead of Labour in the latest ComRes poll.
But Downing Streets sources dismissed the election speculation as "nonsense".
One insider told The Independent the Government's position "hasn't changed". They added: "We don't think there should be an early election".
The Prime Minister has also been resolute in her stance that there will be no general election before 2020 since her ascent to Downing Street in the summer of 2016.
It comes after a report in the Sunday Express claiming senior figures in the Conservative party had been discussing a snap election. It added the party's chairman Patrick McLoughlin and the chief whip had held private conversations over May 4 as a potential date for Ms May to go the country.
Under the Fixed-Term Parliaments Act elections are held every five years, meaning there can be no election before 2020. The legislation, however, can be unpicked with the support of two thirds of MPs.
Andrew Gwynee, Labour's election chief, said on Sunday that the Labour party has been on an early-election footing since Christmas. "We're preparing a war-chest for that eventually in case that does come".
Diane Abbott, the party's Shadow Home Secretary, also told The Independent that Labour would defy the odds and win a general election whenever Ms May decides to hold one.
She added: "We are preparing. Actually the party is quite well set, financially, because of the huge expansion of membership. And also when we had the last leadership election people were having to pay £25 to vote – so we've cleared up all our debt and we're are in the best financial situation we have been in for some time. Financially, we're in a good place."
UK news in pictures

Show all 50
"We're going to be ready for the election whenever it comes and I believe we can win yes... I don't want to engage in prophecy I'm just saying we are going to be ready for the election whenever it comes and I believe that we can win."
Responding to the speculation, Nick Clegg, the former Liberal Democrat leader, said: "We couldn't do much worse than we did last time, so of course I would welcome an early election".
Join our new commenting forum
Join thought-provoking conversations, follow other Independent readers and see their replies