DUP to vote with Labour on NHS pay and tuition fees as split with Tories emerges
Decision exposes first cracks in the controversial 'cash for votes' deal which kept the Prime Minister in Downing Street
Rob Merrick
Deputy Political Editor
Wednesday 13 September 2017 15:36 Comments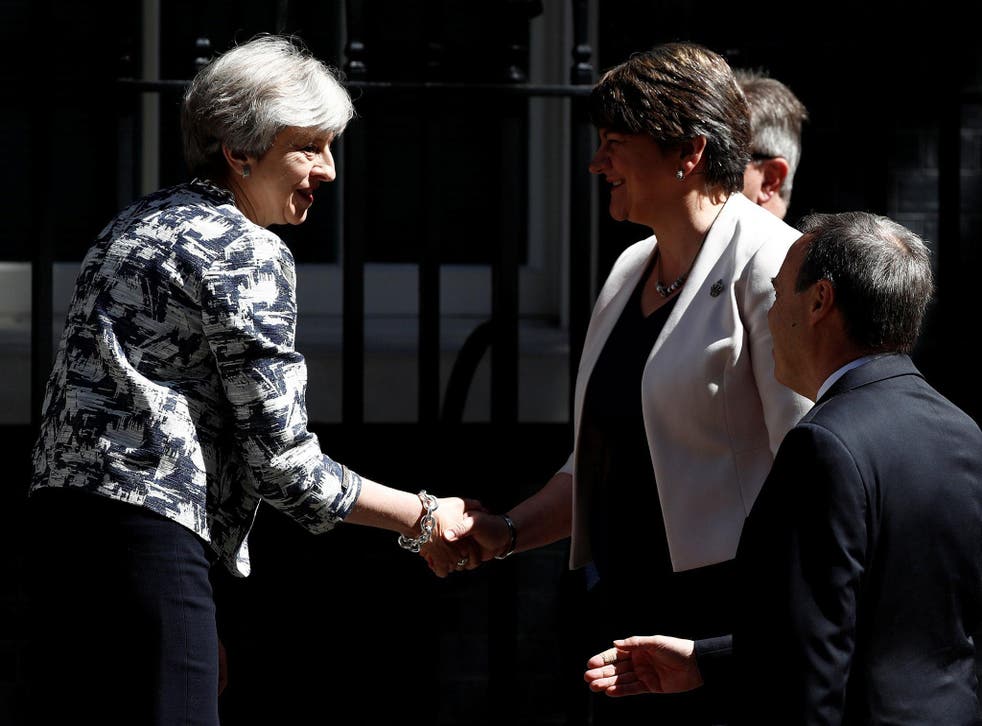 Theresa's May fragile grab on power has been laid bare after the Democratic Unionist Party announced it was voting with Labour on two crunch issues.
The party propping up the Conservatives will dramatically switch sides by backing Jeremy Corbyn's bid to secure higher NHS pay and block hikes in student fees.
The Tories are now expected to sit in their hands in the two votes – allowing the motions to pass in the belief they do not bind the Government to act.
The DUP's decision exposes the first cracks in the controversial "cash for votes" arrangement which kept the Prime Minister in No 10, after her general election debacle.
Embarrassingly, it comes just one day after the Government "rigged" Parliament by seizing control of all committees – based on the claim it has a Commons majority.
But that majority will fall apart when Labour forces votes, later today, on a "fair pay rise" for NHS workers and against year-on-year tuition fee increases.
Some of the ten DUP MPs were among those to sign a Commons motion, earlier this year, against the pay cap in the NHS.
As the debate opened, Ian Paisley, a DUP MP, said: "I must say that myself and my colleagues are minded to support the motion....put before the House this evening."
It is understood the Northern Ireland Party will also vote for the second of Labour's two opposition day motions today – an attempt to strike out annual tuition fee hikes.
Fees, which were trebled to £9,000 by the Cameron-Clegg coalition, rose to a maximum of £9,250 this term, including for current students, and will rise by inflation every following autumn.
Under the "confidence and supply" deal, the DUP agreed to back the Conservatives only on finance bills, Brexit legislation and protecting "national security".
It said the party's support on other issues would be decided on a "case-by-case basis" – making the agreement much weaker than a formal coalition.
Jeffrey Donaldson, the DUP MP for Lagan Valley, denied that supporting Labour on NHS wages and lower tuition fees put the deal signed in June in jeopardy.
"We made clear to her majesty's government on issues like this we reserve the right to vote on the basis of our own manifesto," he told The Guardian. "This doesn't threaten the deal at all."
Health Secretary Jeremy Hunt told the Commons that Labour's motion calling for a fair pay rise for NHS workers and an end to the one per cent cap was "bogus".
"The consequences of losing financial discipline for a government are not just pay freezes and one per cent caps, but a million unemployed as a result of that recession we had post 2008," he said
Register for free to continue reading
Registration is a free and easy way to support our truly independent journalism
By registering, you will also enjoy limited access to Premium articles, exclusive newsletters, commenting, and virtual events with our leading journalists
Already have an account? sign in
Join our new commenting forum
Join thought-provoking conversations, follow other Independent readers and see their replies