Theresa May fails to give assurance that no civilians have been killed by British made missiles in Yemen
'How can she possibly – in good conscience – continue selling them to Saudi Arabia?'
Ashley Cowburn
Political Correspondent
Wednesday 19 October 2016 13:38 Comments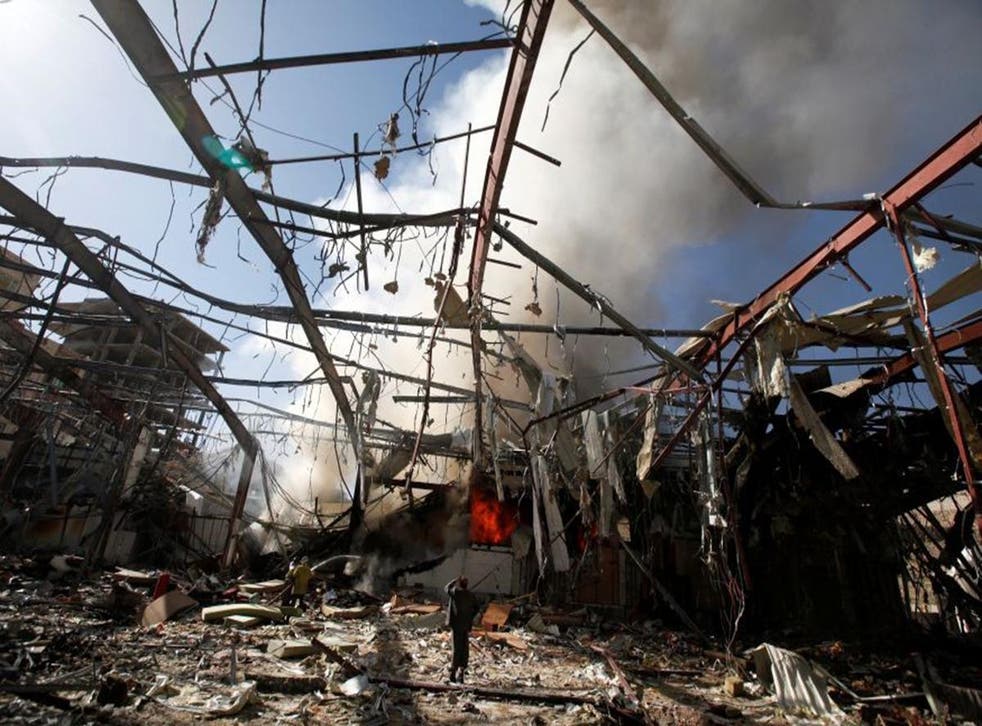 Theresa May has failed to assure MPs that civilians have not been killed by British manufactured bombs dropped by Saudi Arabia on Yemen.
The Prime Minister was asked twice by Angus Robertson, the SNP's leader in the Commons, to provide an assurance that the Paveway IV bombs, manufactured in Britain, and under licence from the Government to the oil-rich kingdom, have not killed civilians in Yemen.
"Thousands of innocent civilians have now been killed by Saudi airstrikes," Mr Robertson added.
But Ms May appeared to avoid the question, claiming: "We have one of the toughest regimes in the world in relations to arms exports. When these allegations arise then we have been pressing… the Saudi Arabian government have properly investigated these issues."
Mr Robertson the pressed again on the same question. "It's beyond doubt that Saudi air forces bombing Yemen, flying planes that are made in Britain, by pilots that are trained in Britain and they are dropping missiles that are made in Britain. I asked her a direct question and she couldn't answer it," he said.
He added if Ms May "doesn't know the answer to the question how can she possibly – in good conscience – continue selling them to Saudi Arabia?"
She responded: "The point I made is a very simple one – that we press for proper investigations into what has happened on those incidents before we reach a decision or a conclusion on what has happened in relation to those incidents. We do have a very strong relationship with Saudi Arabia that is important for this country – it is important in terms of dealing with counter terrorism and a number of other issues.
Last week arms campaigners demanded, in the wake of one of the deadliest massacres of Yemen's ongoing civil war, that arms exports from Britain "must end now". It followed an attack, two weeks ago, which is strongly believed to have been carried out by the Saudi-led coalition air force, killing at least 140 people and injured as many as 600 more at a funeral. Mohammed Abdul-Salam, the Yemeni rebel government's spokesman in Sana'a said the airstrike was an act of "genocide" by the Saudi-led alliance, which is fighting the rebels.
Andrew Smith of Campaign against the Arms Trade (CAAT) added: "The humanitarian situation in Yemen is dire and getting even worse. Innocent people are dying every day. The UK Government's response has been to continue supporting the Saudi forces that are dropping the bombs, and to sell them even more weapons.
Theresa May has previously defended selling arms to Saudi Arabia despite the country facing accusations of war crimes, insisting close ties "keep people on the streets of Britain safe". Labour leader Jeremy Corbyn, however, has called on the Prime Minister to halt the sales because of the "humanitarian devastation" caused by the coalition waging war against rebels in Yemen.
Register for free to continue reading
Registration is a free and easy way to support our truly independent journalism
By registering, you will also enjoy limited access to Premium articles, exclusive newsletters, commenting, and virtual events with our leading journalists
Already have an account? sign in
Join our new commenting forum
Join thought-provoking conversations, follow other Independent readers and see their replies