Theresa May to take three week European holiday while not delegating Prime Ministerial duties
The Prime Minister will be returning to her favoured holiday destination of the last twenty years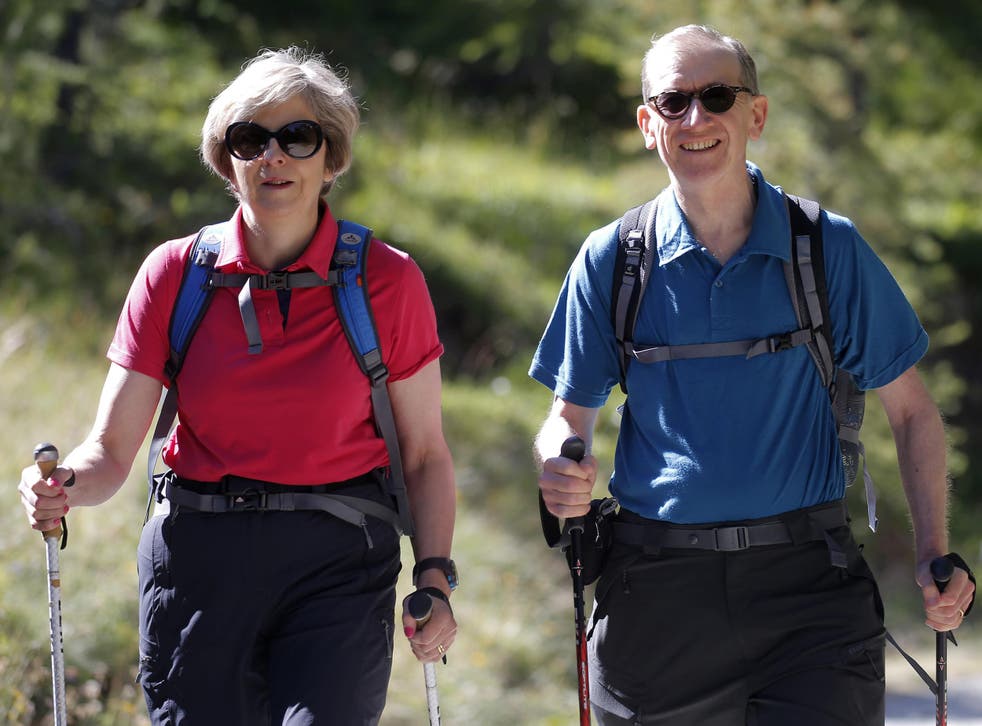 Theresa May will take a three week walking holiday to northern Italy and Switzerland, starting on Monday.
The Prime Minister will travel first to Northern Italy for five days, then return briefly to the UK before travelling to Belgium on the 31st July to attend the centenary commemorations of the Battle of Passchendale.
She will then fly to Switzerland for a two week walking holiday, as she did last year.
A No 10 spokesperson said she will "remain in charge" throughout her absence. Previous Prime Ministers have placed other senior cabinet ministers nominally in charge during their summer holidays. Theresa May will not be doing so.
The spokesperson said: "The Prime Minister will be fully briefed from Downing Street in the usual way."
Ms May and her husband Philip have been taking walking holidays in Switzerland for more than twenty years.
On their most recent walking holiday, in Snowdonia at Easter, the Prime Minister decided to call a snap general election.
Mrs May will represent the UK alongside the Prince of Wales and Duke and Duchess of Cambridge at the ceremony marking the First World War battle of Passchendaele on July 31.
Downing Street gave no details of the exact venues in Switzerland and Italy which the Mays will visit, but said they would be travelling by commercial airlines for their holiday trips.
The spokeswoman said Mrs May was "looking forward to her holiday" after a "productive and busy" week of Government business, including announcements on the extension of the HS2 railway and reforms of the state pension age.
Mr and Mrs May are regular summer visitors to the Alps, and the Prime Minister has named the Swiss regions of Zermatt and the Bernese Oberland as two of her favourite destinations because they are both "fantastic for walking".
Their choice of mountain resorts make a strong contrast with the beach breaks favoured by her predecessor David Cameron and his wife Samantha.
She joked on Wednesday that fellow Conservatives may be relieved that she is not returning to Wales, where she made the fateful decision to call a snap election while walking in Snowdonia with husband Philip at Easter.
"I think there are many people who are grateful I'm going to the Alps and not to Wales again," she told LBC radio.
Unlike some of her predecessors, Mrs May has not named a minister who will take charge of the business of government while she is away.
The Number 10 spokeswoman said that "various ministers will be on duty over the period", while Mrs May will be "constantly updated" by Downing Street on developments in her absence.
Register for free to continue reading
Registration is a free and easy way to support our truly independent journalism
By registering, you will also enjoy limited access to Premium articles, exclusive newsletters, commenting, and virtual events with our leading journalists
Already have an account? sign in
Join our new commenting forum
Join thought-provoking conversations, follow other Independent readers and see their replies