Theresa May urged to raise human rights concerns in talks with Turkish President Recep Tayyip Erdogan
'President Erdogan has jailed more journalists than any other country. He has locked up teachers, professors and policemen without any due process, yet our Government is point-blank refusing to call him out on these egregious crimes'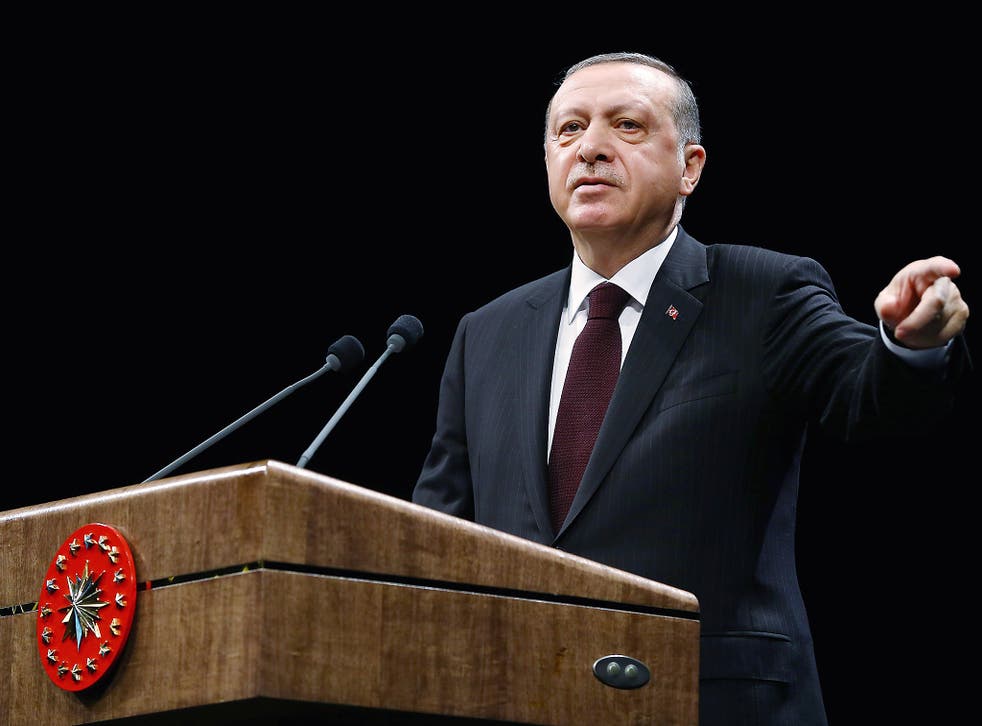 Theresa May has been urged to raise growing concerns over human rights in Turkey when she holds talks with President Recep Tayyip Erdogan in the country later this week.
It comes as Downing Street revealed the Prime Minister will use her brief visit to Ankara to discuss trade, defence and security and "reflect the fact that Turkey is indispensable partner and a close ally for the UK on many issues of global importance".
But ahead of her visit on Saturday, which will directly follow her trip to Washington to meet President Donald Trump, Ms May is being pressed to use the "vital opportunity" to address growing concerns over human rights in the country.
Her visit comes after Mr Erdogan declared a state of emergency following last summer's coup attempt, which was followed by a wave of arrests, the closure of numerous media outlets and the removal of thousands of public officials – including judges, teachers and university academics – from their jobs.
According to Amnesty International the human rights situation in the country has "deteriorated markedly" since this event and that cases of excessive use of force by police and ill treatment in detention continued.
Kate Allen, the UK director of the organisation, said the upcoming visit is a "vital opportunity" for Ms May to ask "some probing questions over Turkey's human rights crackdown following last year's bloody coup attempt".
"Human rights abuses during the attempted coup absolutely must be investigated and their perpetrators brought to justice, but this can't be done at the expense of fundamental rights," she added.
"We've gathered disturbing evidence of widespread torture in the immediate aftermath of the would-be coup, and the rights of detainees have also been severely curtailed in a series of executive decrees. More than 40,000 people have been remanded in pre-trial detention since the coup attempt, and more than 90,000 civil servants have been summarily suspended or dismissed from their jobs.
"More than 100 journalists and media workers have been imprisoned - some for months - in punitive lengthy pre-trial detention, and hundreds of media outlets have been shut down as part of a massive crackdown on freedom of expression.
"Ms May should call for journalists held in pre-trial detention in Turkey to be released, for an end to torture in detention and for due process and the rule of law in Turkey to prevail."
Asked whether Ms May will raise concerns over the clampdown during her talks with Mr Erdogan and Prime Minister Binali Yildirim, a Number 10 spokesman said: "We have been clear in our support for Turkey's democracy and institutions since the coup last summer.
"The PM will take this opportunity to reiterate our support for that, but we've also been clear that Turkey's response to that must be proportionate and of course we will continue to raise those issues."
Pressed on whether the UK regarded the response so far as having been "proportionate", the spokesman replied: "We are a close friend of Turkey. We've been very clear that we support Turkey's rights in support of its democracy and its institutions.
He added: "The visit will reflect the fact that Turkey is an indispensable partner and a close ally for the UK on many issues of global importance, including trade, security and defence.
"We will be looking at future relationships which we may be looking to explore with Turkey once we have left the EU."
In pictures: Turkey coup attempt

Show all 17
However, the Liberal Democrat foreign affairs spokesman Tom Brake said: "From Erdogan to Trump, Theresa May seems to see her natural allies as the populist bullies of the world. This is a deeply alarming sign of her priorities for diplomacy in post-Brexit Britain.
"Erdogan has jailed more journalists than any other country. He has locked up teachers, professors and policemen without any due process, yet our Government is point-blank refusing to call him out on these egregious crimes.
"The Prime Minister has a responsibility to defend freedom of speech worldwide instead of cosying up to bullying regimes."
Andrew Smith from the Campaign Against the Arms Trade (CAAT) is also calling on the Prime Minister to raise the human rights concerns in the country and halt the sales of arms to Ankara. "If May is concerned for those being repressed by the Turkish authorities then she must stop the arms sales and use her influence to call for positive and meaningful change," he added.
"Turkey has moved in an increasingly authoritarian direction under President Erdogan, particularly following last summer's crackdown. There have been major attacks on press freedom and serious allegations of torture."
Join our new commenting forum
Join thought-provoking conversations, follow other Independent readers and see their replies