Theresa May will not allow an 'industry of vexatious allegations' against British troops over claims of abuse in Iraq
But the PM refused to bow to pressure and dismantle the Iraq Historic Allegations Team
Ashley Cowburn
Political Correspondent
Wednesday 21 September 2016 08:58 Comments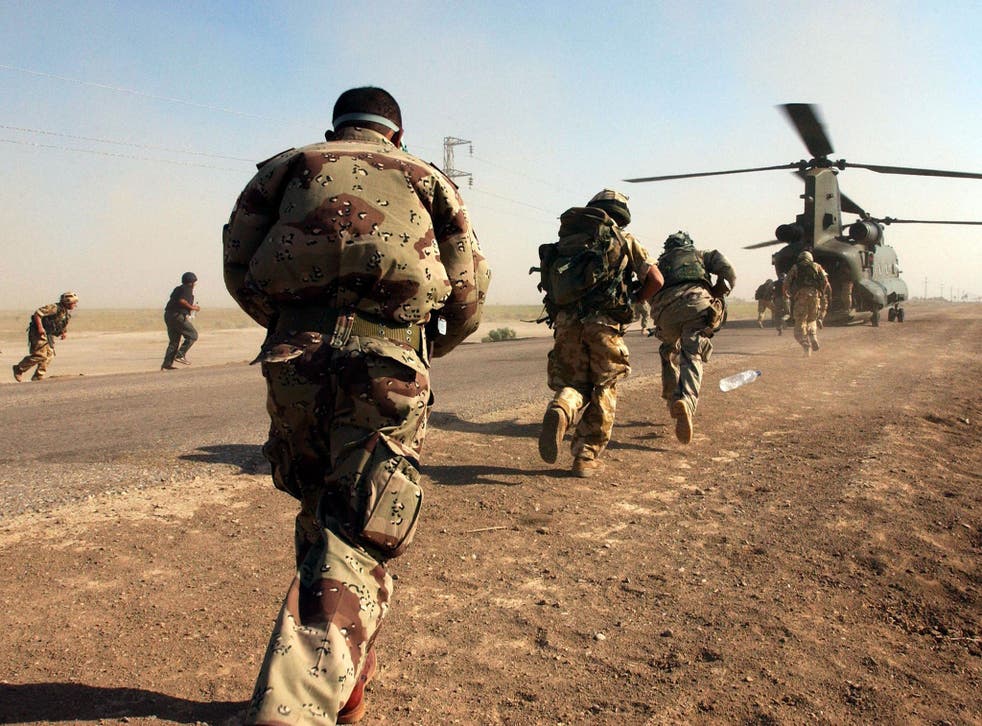 Theresa May has made clear she will not allow an "industry of vexatious allegations" against British troops over claims of abuse in Iraq.
But the Prime Minister refused to bow to pressure and dismantle the Government body, the Iraq Historic Allegations Team (IHAT), which is handling approximately 1,500 allegations of murder, abuse and torture carried out by British soldiers.
It was reported earlier this week that the former Prime Minister David Cameron had attempted to shut down the investigations but was overruled by government lawyers. Johnny Mercer MP, a Conservative member of the Commons defence committee and a former army officer, said the Mr Cameron told him he wanted to shut down IHAT but the move was vetoed by the attorney general.
Speaking to reporters travelling with her to New York, Ms May said: "We should be absolutely proud of the fact that we have in our armed forces men and women who are willing to put themselves on the line for our safety and do things that most of us would not contemplate being willing to do in terms of our own safety. They put themselves on the line.
"We can be proud also of the disciplined way in which our armed forces operate.
"But what is important is, if there are allegations - proper allegations - of criminal activity, those need to be investigated."
Concerns have been raised over the "industrial scale" of claims lodged with IHAT supported by the legal aid system. Ms May insisted that action had been taken to address false claims and IHAT's work would be completed by the end of 2019, after a review of the system by former director of public prosecutions Sir David Calvert-Smith.
"We should all be proud of our armed forces," Ms May added. "Our armed forces do a fantastic job for the United Kingdom in defending the UK, but also in the work that they do around the world in peacekeeping initiatives, on issues like Ebola - the way our armed forces went out and helped there.
How the British media covered the Iraq War

Show all 6
"But what we do need to make sure is that there isn't an industry of vexatious allegations coming forward. I think measures have been taken.
"The review of IHAT has said that they will be able to focus on cases where there may be questions of allegations which are not the vexatious ones and report within the timescale."
IHAT's caseload of allegations of ill-treatment or unlawful killing by British forces in Iraq between 2003 and 2009 has risen tenfold since it was established. In 2010, it was dealing with cases involving 152 victims. It is now dealing with more than 1,500 victims, according to IHAT's latest quarterly update. Of these, 280 are victims of alleged unlawful killing by British forces in Iraq, but more than 200 of these cases have yet to be investigated, with just 25 under investigation.
Of 1,235 alleged cases of ill-treatment, including accusations of rape and torture, only 45 are under investigation.
Register for free to continue reading
Registration is a free and easy way to support our truly independent journalism
By registering, you will also enjoy limited access to Premium articles, exclusive newsletters, commenting, and virtual events with our leading journalists
Already have an account? sign in
Join our new commenting forum
Join thought-provoking conversations, follow other Independent readers and see their replies