Theresa May accuses Jeremy Corbyn of failing to condemn intimidation of Tory candidates during general election
Accusation will infuriate Mr Corbyn, who has repeatedly criticised abusive behaviour by Labour activists in the past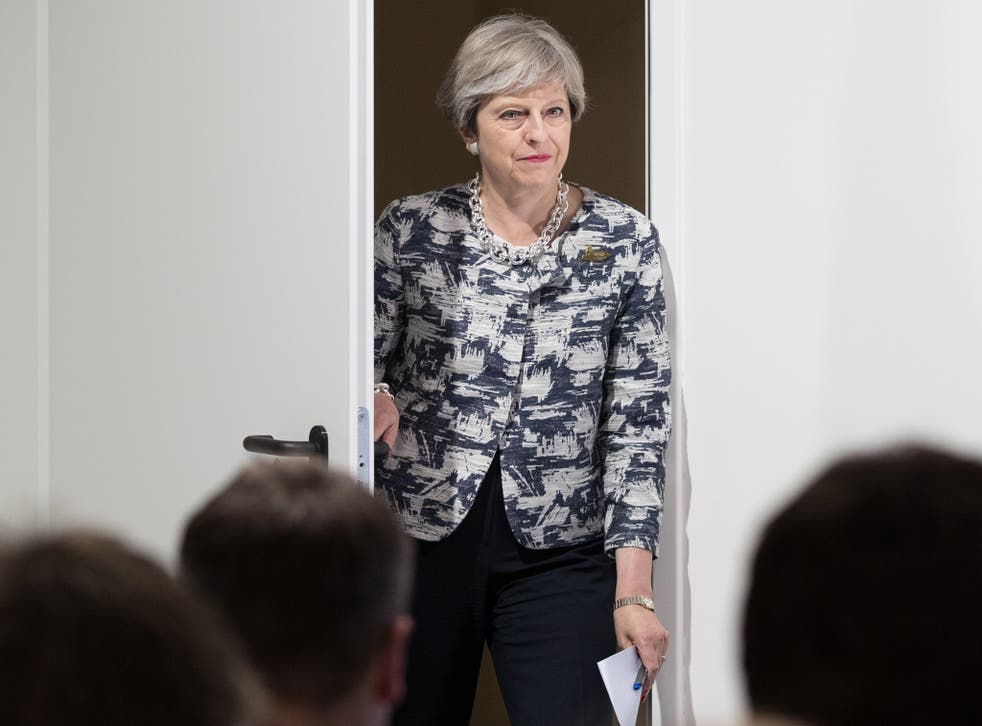 Theresa May has accused Jeremy Corbyn of failing to condemn threats against Conservative election candidates – just minutes after asking for his help to stamp it out.
The Prime Minister said she was "surprised" that the Labour leader had not spoken out in the days since the shocking intimidation on the campaign trail was revealed.
The accusation is certain to infuriate Mr Corbyn, who has repeatedly condemned abusive behaviour by Labour activists in the past.
It risks further bad blood between the two leaders, even as an enfeebled Ms May appeals for the parties to work together to confront the "big challenges" facing Britain.
Ironically, only today, the Prime Minister listed new sanctions to curb threats or intimidation of prospective MPs as an area where cross-party working was needed.
Downing Street is to hold a review of criminal and election law, after Tory MPs including Sarah Wollaston and Sheryll Murray revealed the abuse they had suffered.
But, minutes later, at a Downing Street press conference, Ms May was asked if she was concerned that "Jeremy Corbyn has failed to condemn the actions of some of his supporters".
She replied: "On the issue of bullying and harassment that has taken place of candidates and MPs, I call on all party leaders to condemn that.
"There is no place for that activity in our democracy. I'm surprised at any party leader who is not willing to condemn that. Frankly, we should stand together on this."
Speaking alongside the Australian Prime Minister, Malcolm Turnbull, the Prime Minister added: "People should be able to stand for election, we should be able to conduct elections without people fearing as to what is going to happen to them."
In the Commons last week, Ms Murray revealed that opponents had carved swastikas into her campaign posters and urinated on her office door.
Ms Wollaston, the chairwoman of the Commons Health Select Committee in the last Parliament, said a masked man had covered her office with graffitied insults in an attempt to "force me out of town".
Earlier, Ms May claimed her past record showed she could work effectively with other parties and achieve the "broadest possible consensus".
"I did it as Home Secretary on counter-terrorism measures, like the Investigatory Powers Act, working with other political parties to ensure that we got that legislation right.
"I did it on the Modern Slavery Act, working with other parties to ensure that that went on to the statute book."
The claim will be strongly disputed – and the Prime Minister ducked a question about whether Brexit was an issue on which she was willing to compromise. The Prime Minister also sidestepped a question about whether she favoured lifting the public sector pay cap.
Alongside her, Mr Turnbull said Australia wanted to seal a free trade agreement with the UK "as soon as possible" after Brexit was completed.
"As Britain moves to completing its exit from the EU, we stand ready to enter into a free trade agreement with the UK as soon as the UK is able to do so," he said.
"Once Brexit is achieved, we look forward to speedily concluding a free trade agreement. At the same time, we are looking forward to the early conclusion of a free trade agreement with the EU."
Mr Turnbull said he hoped the EU deal could be finalised before the expected date of Brexit in March 2019.
Join our new commenting forum
Join thought-provoking conversations, follow other Independent readers and see their replies