Tory MPs attack Theresa May after she reaches out to Labour for policy ideas
Prime Minister faces backlash for what one backbencher calls 'this new lovefest with the benches opposite'
Rob Merrick
Deputy Political Editor
Monday 10 July 2017 18:14 Comments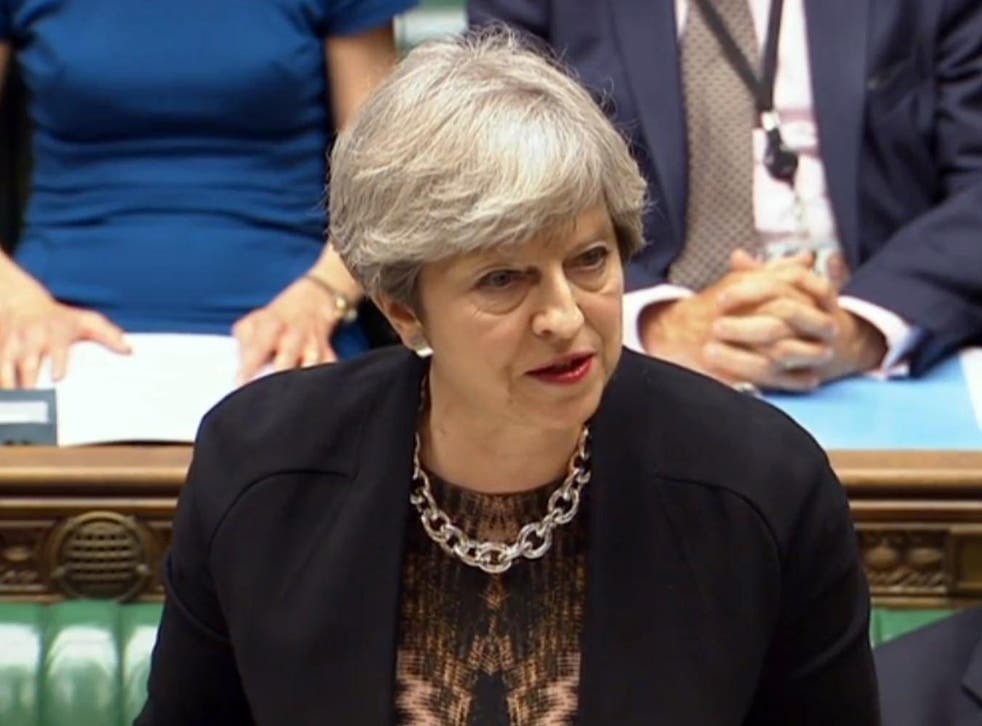 Angry backbench Conservative MPs have hit out at Theresa May over her extraordinary appeal to Labour and other parties to help her govern.
Desmond Swayne, a former minister, criticised "this new lovefest with the benches opposite" – urging the Prime Minister to approach Jeremy Corbyn with "a very long spoon".
And Edward Leigh, a senior backbencher, called on her to listen to ideas put forward by fellow Conservatives, not to "useless Socialist" proposals.
The backlash came as Ms May prepares to relaunch her beleaguered premiership to face what she will call the new "reality" as a prime minister without a Commons majority.
In a speech on Tuesday, she will appeal for cross-party unity to drive through big changes in social care and to tackle abuses of workers' rights in the so-called gig economy,
The Prime Minister will also appeal to Labour and other parties to "come forward" with their own ideas for policy and to "contribute, not just criticise".
It marks a stunning change of tack from before the election, when a much stronger Ms May accused her opponents of trying to sabotage Brexit and vowed to crush them.
It has been prompted by growing talk of an attempt by Tory MPs to force her out of office over the summer, thought to be led by supporters of David Davis, the Brexit Secretary.
In the Commons, Ms May's appeal for help was ridiculed and roundly rejected by Mr Corbyn, who hailed it as proof that she had "run out of steam".
"The Government is apparently now asking other parties for their policy ideas," the Labour leader said.
"If you would like it, I'm very happy to furnish you with a copy of our manifesto or better still, an early election so the people in this county can decide."
Later, Mr Swayne said: "About this new lovefest with the benches opposite. Given the record of the leader of the opposition on the Counter Terrorism and Security Act, does she possess a very long spoon?"
Intervening in the statement on the G20 summit, Mr Leigh asked why Ms May was seeking ideas "from a man who tried to remove her from office".
"Will she be prepared to take an idea from a friend who stood on a platform to keep her in office – and wants her to stay in office?"
In reply to Mr Swayne, Ms May suggested she did not expect support from Mr Corbyn when it comes to providing new powers to fight terrorism.
But she said: "I look forward to Labour MPs, and indeed others on the benches opposite in this House, coming forward and supporting those counter-terrorism measures."
Earlier, at a press conference with Australian Prime Minister Malcolm Turnbull, Ms May declined to say if her appeal for cross-party help would extend to Brexit.
The Prime Minister also sought to face down a looming Conservative revolt over her plans to leave the European civil nuclear regulator, insisting she wanted a close relationship.
Euratom is not formally part of the EU but is under the jurisdiction of the European Court of Justice (ECJ) – which Ms May has vowed will end with Brexit.
She insisted: "Membership of Euratom is inextricably linked with membership of the European Union."
But the Government wanted to "ensure that we can maintain those relationships, that cooperation with Euratom, which enables the exchange of scientists, the exchange of material".
Register for free to continue reading
Registration is a free and easy way to support our truly independent journalism
By registering, you will also enjoy limited access to Premium articles, exclusive newsletters, commenting, and virtual events with our leading journalists
Already have an account? sign in
Join our new commenting forum
Join thought-provoking conversations, follow other Independent readers and see their replies