And then there was one: Theresa May is the last candidate standing in race for PM
May will become Britain's second female Prime Minister
Andy McSmith
Tuesday 12 July 2016 09:36 Comments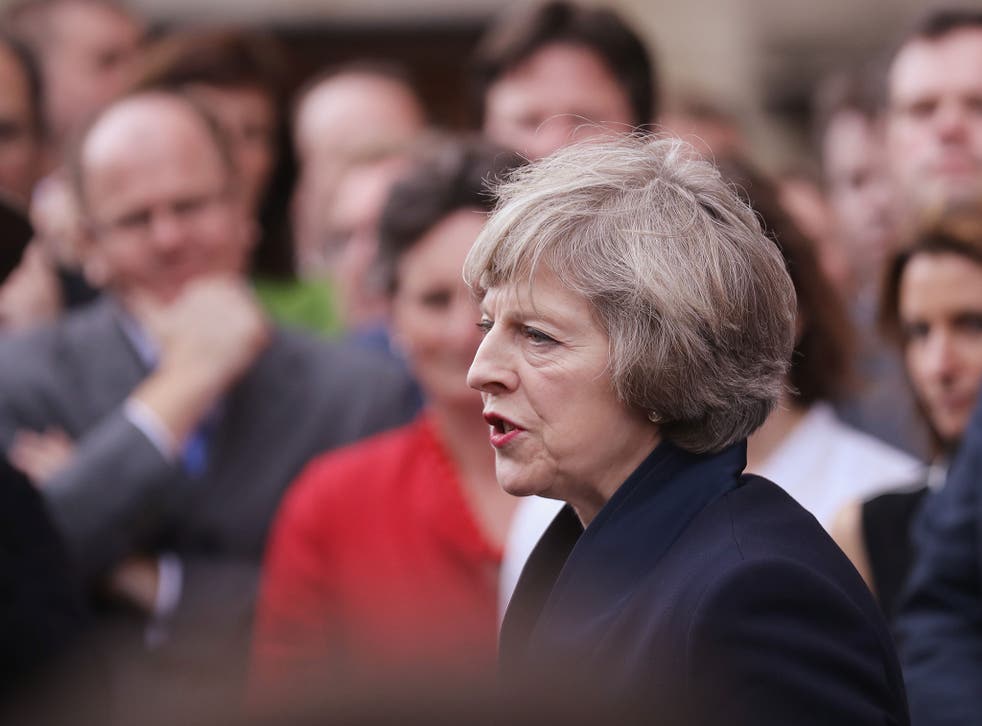 And then there was one. Theresa May will walk into 10 Downing Street on Wednesday evening, unchallenged and unelected – the only player left standing in a ruthless political game after the hopes and careers of David Cameron, George Osborne, Boris Johnson, Michael Gove and Andrea Leadsom came crashing down.
While opposition parties clamoured for an early general election, the new Conservative leader, who will take office after David Cameron has taken Prime Minister's Questions in the Commons for the last time, has firmly ruled out bringing forward the day of the next election, set for May 2020.
"No one in the Conservative Party is calling for it, and it isn't going to happen," one of her closest supporters said. "The markets don't want it. Look at the recovery that has begun when the uncertainty ended - why put that at risk? Theresa has said very firmly that it won't happen."
The new Prime Minister – only the second woman in Britain to hold that position – started her day thinking that she still had more than eight weeks gruelling campaigning ahead of her, to persuade paid up members of the Conservative Party to vote for her despite the fact that she supported the 'Remain' camp in last month's referendum.
To reassure those who suspected she would be half-hearted about negotiating Britain's exit from the European Union, she announced categorically: "Brexit means Brexit, and we're going to make a success of it."
At the very moment she stood up to speak, the team backing her rival, Andrea Leadsom, was gathering in a house in Cowley Street, close to Parliament, to plan how to move her leadership campaign on after a bad weekend dominated by Ms Leadsom's grossly misjudged comment in which she implied that she was better qualified to be prime minister because she has children, whereas Ms May has not.
Theresa May to become UK prime minister on Wednesday
But as the meeting started, Ms Leadsom dropped a bombshell. After the weekend's hostile media scrutiny, and the reactions of some Tory MPs to the possibility that she might win, she had decided to pull out.
The news leaked out of the room within quarter of an hour. At 12.15, Andrea Leadsom stepped outside to face a forest of cameras, reporters and curious onlookers, and read out the letter she had written to Graham Brady announcing that she was withdrawing from the race, giving Theresa May a walkover. The letter avoided saying that she had realised she could not take the heat of a leadership contest, but professed that she was quitting because the country, and the markets, needed a quick resolution, and because she had complete confidence in Theresa May.
As she finished speaking, someone in the crowd shouted: "Another Brexiteer leaves the scene of the crime!"
Taken by surprise, Ms May had to rush back from Birmingham, and make hurried arrangements with David Cameron, and with the Palace, because the Queen would need to be in London so that she could be formally told the name of the 13th prime minister of her long reign Mr Cameron announced that the formalities would be complete by early Wednesday evening.
Prime Minister May now faces a stack of unresolved problems the biggest of which is the new trade arrangements that her government will have to strike up with the EU, and with other nations around the globe. One of her first major decisions, therefore, will be when to invoke Article 50 of the 2007 Lisbon Treaty to set that process in motion. She has said in the past that she should not hurry: she needs to be clear about Britain's negotiating position first, including where she stands over the highly charge question of immigration.
The 6 most important issues Theresa May needs to address

Show all 6
She will also have make clear what she means by the radical programme of social reform that she promised in her Birmingham speech, and how she is going to give employees a bigger stake in the future of the firms that employ them.
As MP for Maidenhead, a short drive from Heathrow, she has expressed concern about proposals to expand that airport. She will now have to consider the same issue from the point of view of the national interest.
Her first task, though, before deciding on policy, will be to put a Cabinet together, in which she will undoubtedly promote a number of leading Brexit campaigners, such as Chris Grayling, Priti Patel and Liam Fox as a means of unifying her party. The tricky decisions are what job to offer Boris Johnson, and whether to offer the Chancellor, George Osborne, any job at all.
Her rise to the highest job in government in an extraordinary success for the vicar's daughter from Eastbourne in East Sussex. Unlike most others who reached that height, she has come up without forming a tightly knit group of acolytes and hangers on.
Her tendency to keep herself to herself was once seen as a political weakness but should now work in her favour because she is not seen as the creature of any of the contending groups and factions in the modern Conservative Party.
Register for free to continue reading
Registration is a free and easy way to support our truly independent journalism
By registering, you will also enjoy limited access to Premium articles, exclusive newsletters, commenting, and virtual events with our leading journalists
Already have an account? sign in
Register for free to continue reading
Registration is a free and easy way to support our truly independent journalism
By registering, you will also enjoy limited access to Premium articles, exclusive newsletters, commenting, and virtual events with our leading journalists
Already have an account? sign in
Join our new commenting forum
Join thought-provoking conversations, follow other Independent readers and see their replies