Theresa May told she has 10 days to save her leadership as hard Brexit supporters warn of challenge
'If she weakened on Brexit... all hell would break loose'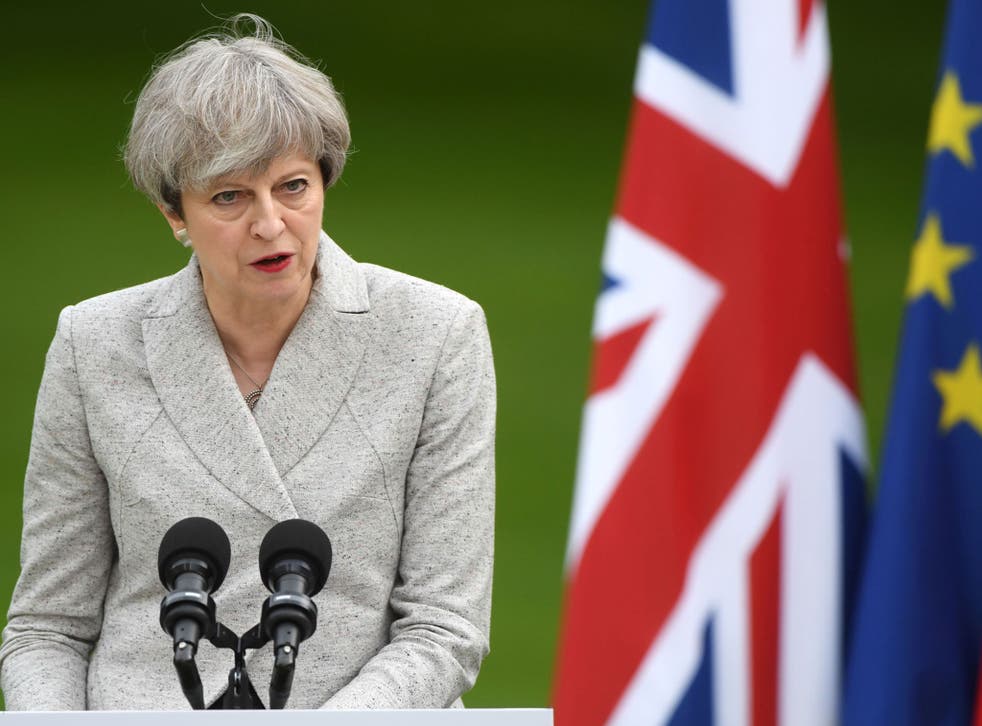 Theresa May has got about 10 days to put together a Queen's Speech that will satisfy enough supporters of hard and soft Brexit alike or she will face a leadership challenge, a former minister has warned.
After her fateful decision to call a snap election saw the Conservatives lose their narrow majority, the Prime Minister has come under fire for her lacklustre response to the Grenfell Tower disaster.
Ms May is now caught between both sides of the Brexit debate.
Conservative Eurosceptics warned any "backsliding" on hard Brexit would result in a leadership challenge, but Ms May's new "friends" in the Democratic Unionist Party (DUP) may require a softer departure from the EU if they are to supply the parliamentary votes needed for the Queen's Speech to pass.
Boris Johnson, the Foreign Secretary, and David Davis, the Brexit Secretary, are being touted as potential Tory leaders in the hard Brexit mould, while Amber Rudd, the Home Secretary, has emerged as the champion of a softer approach.
The Queen's Speech should decide whether Ms May can remain as Prime Minister, according to a former minister who spoke anonymously to The Sunday Times.
"She's going to have to go sooner rather than later. The critical moment is June 28 and 29, when there are votes on the Queen's speech," the politician said.
"If it looks like they will be lost, you have to strike."
A cabinet minister questioned whether Ms May still had the will for the fight ahead, reportedly telling friends he was "worried about her state of mind".
A senior backbencher also spoke of coming under pressure to back a vote of no confidence in Ms May's leadership.
"I've got serious members in my constituency texting me saying: 'You've got to get rid of her quickly, because every time she appears she's making the party more toxic'," the MP told The Times.
Brexit Concerns

Show all 26
Eurosceptics will scrutinise the Queen's Speech for any suggestion Ms May is heeding calls from business leaders and people within her own party to strike a deal with the EU that still means the UK has access to the single market – which would almost certainly mean freedom of movement is retained and that Britain would have to abide by European court rulings.
Two former ministers told The Sunday Telegraph this would cause chaos in the party and threaten her leadership.
"If we had a strong signal that she were backsliding, I think she would be in major difficulty," one said.
The other added: "If she weakened on Brexit, the world would fall in... all hell would break loose."
The paper said a hard Brexit "stalking horse" candidate could make the first challenge in an attempt to force Ms May to resign, allowing the more serious contenders to avoid ousting a sitting Prime Minister in person.
However, there is serious concern in Northern Ireland that a hard Brexit could lead to a hard border between Ulster and the Irish Republic and potentially risk the Good Friday peace agreement.
Arlene Foster, the leader of the DUP, has said she wants a "sensible Brexit" that works for the UK and Ireland.
Reuters contributed to this report
Join our new commenting forum
Join thought-provoking conversations, follow other Independent readers and see their replies