Theresa May says India has to 'take back' its nationals from Britain before it is given more visas
On her visit to India, the Prime Minister insists on a deal before any relaxation of Britain's visa restrictions - despite warnings of a threat to a post-Brexit trade deal.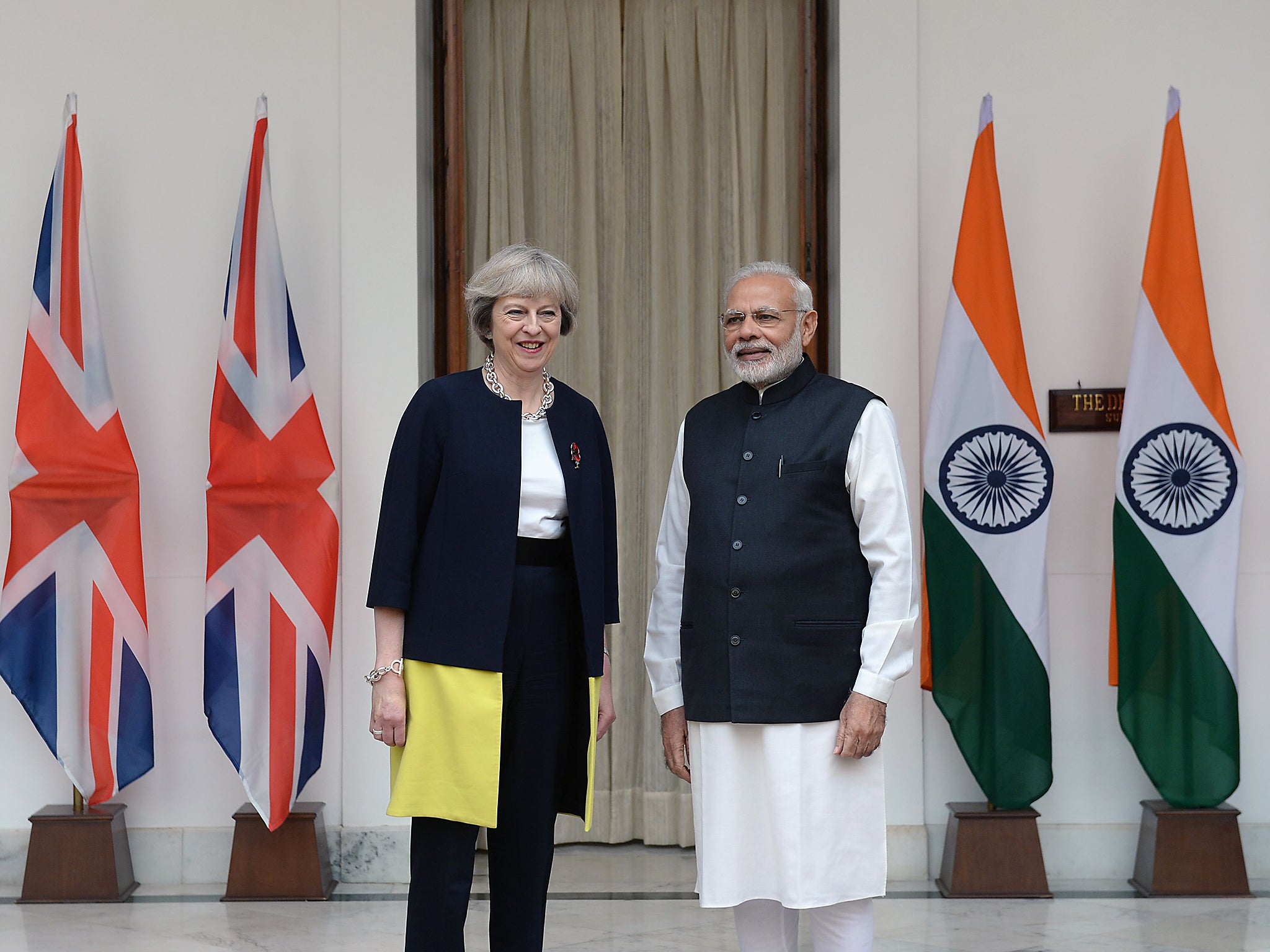 India must take back more of its nationals who have overstayed in Britain before it will be offered any more visas, Theresa May has said.
On her visit to India, the Prime Minister stuck to her a tough line on the vexed issue of Britain's visa restrictions, despite warnings it will threaten hopes of a post-Brexit trade deal.
In a 90-minute private discussion, India's Prime Minister Narendra Modi pressed her to liberalise the system, after Indian government sources said it wanted Britain to be "responsive".
India blames visa changes, introduced by Ms May as Home Secretary to prevent students from working in Britain after graduation, for a decline from 40,000 to 20,000 in young Indians enrolling in UK universities.
But, following talks at Hyderabad House in New Delhi – the centrepiece of her three-day trade mission to the country – the Prime Minister refused to budge without action by India in return.
Ms May said: "The UK will consider further improvements to our visa offer if, at the same time, we can step up the speed and volume of returns of Indians with no right to remain in the UK.
"And the UK will continue to welcome the brightest and best Indian students, with the latest figures showing that nine out of 10 applications are granted."
Britain is ready to consider changes such as cutting the cost of visas, speeding up the process or increasing the number of locations where applications can be submitted.
However, aides stressed the offer did not include any relaxation of eligibility criteria - and no estimates are being made of the number of extra visitors that might result.
Plans were also announced for the London listing of a second wave of Indian rupee-denominated "masala bonds" - a "vote of confidence" in the UK financial services sector, Ms May said.
The announcement comes after the issuing of more than £900 million worth of masala bonds in London since the successful launch, in July, of the world's first Indian offshore bond in the City.
The four new rupee-denominated bonds, worth around £600 million, are expected to be listed in London within the next three months, with the aim of raising finance for investments in India's highway, rail and energy infrastructure.
Officials expect a global offshore masala bond market, with bonds issued by Indian government-backed corporates, to be worth around £81 billion by 2020.
The Prime Minister added: "This is another vote of confidence in our world-leading financial services and further proof that Britain is open for business.
"Alongside this, the UK has agreed to invest £120 million in a joint fund that will lever private sector investment from the City of London to finance Indian infrastructure."
Brexit supporters have championed India and other Commonwealth countries as the obvious target for Britain as it seeks to boost trade after leaving the European Union.
But Vince Cable, the former Liberal Democrat Business Secretary said it was Ms May's refusal to relax immigration rules which "screwed up" efforts to forge a trade deal with India during the Coalition.
Join our commenting forum
Join thought-provoking conversations, follow other Independent readers and see their replies