Theresa May condemns Tory council leader who said police should clear Windsor streets of homeless people before royal wedding
Prime Minister says she disagrees with Simon Dudley, who complained of rough sleepers 'exploiting' residents and tourists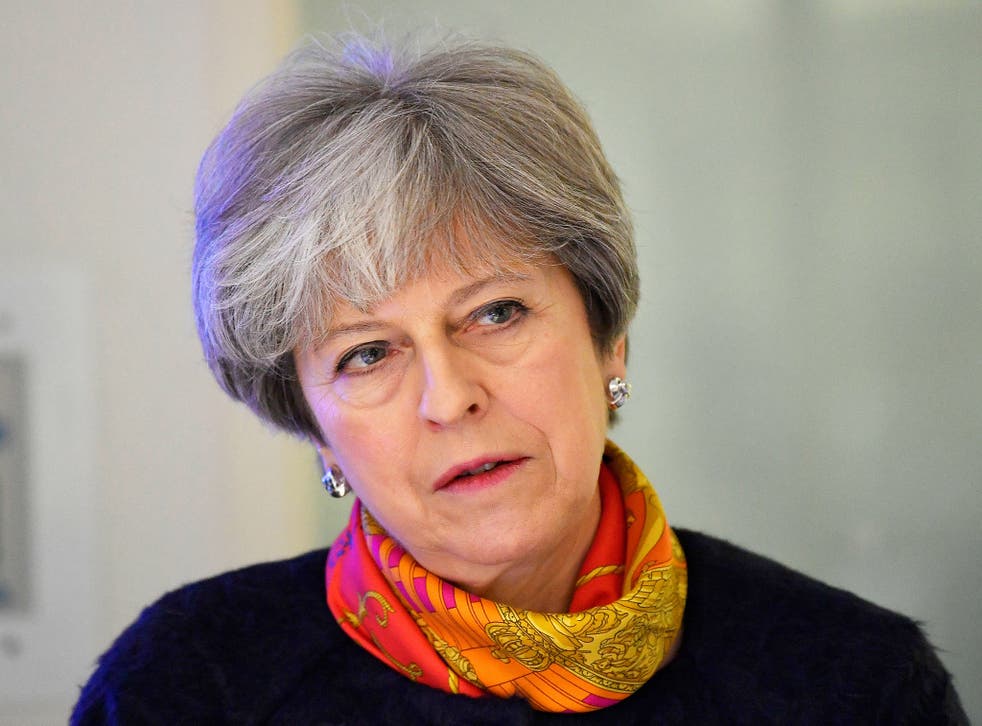 Theresa May has slapped down the Conservative leader of her own local council after he demanded police clear the streets of homeless people before the royal wedding in May.
The Prime Minister said she "did not agree" with Simon Dudley, the leader of the Royal Borough of Windsor and Maidenhead, who triggered an angry backlash earlier in the week by calling for legal powers to be used to remove rough sleepers and their "detritus" from Windsor's streets. Prince Harry is due to marry the actor Meghan Markle at Windsor Castle on 19 May.
In a letter to Thames Valley Police, Mr Dudley asked officers to take action against "aggressive begging and intimidation" and stop "bags and detritus" accumulating on the streets.
He accused some rough sleepers of having made a "voluntary choice" to be homeless and said they could present Windsor in a "sadly unfavourable light" when thousands of members of the public, along with the world's media, descend on the town for the royal wedding.
Writing on Twitter last week, the council leader also complained of "an epidemic of rough sleeping and vagrancy in Windsor" and said: "Residents have had enough of this exploitation of residents."
Mr Dudley promised to ask Thames Valley Police to "focus on dealing with this before the royal wedding".
After the remarks provoked widespread criticism, Ms May, whose Maidenhead constituency falls within the Royal Borough, told reporters during a visit to a Surrey hospital: "I don't agree with the comments that the leader of the council has made."
She added: "I think it is important that councils work hard to ensure that they are providing accommodation for those people who are homeless.
"Where there are issues of people who are aggressively begging on the streets then it's important that councils work with the police to deal with that aggressive begging."
UK news in pictures

Show all 50
Mr Dudley's letter was copied to Ms May, Home Secretary Amber Rudd and Culture Secretary Karen Bradley.
In it, he wrote: "This is creating a concerning and hostile atmosphere for our residents and the seven million tourists who come to Windsor each year.
"It is becoming increasingly concerning to see the quantities of bags and detritus that those begging are accumulating and leaving on our pavements, at times unattended, thus presenting a security risk.
"Obviously, the level of tourist interest is set to multiply with the royal wedding in May 2018, and there are increased concerns from our residents about their safety. The whole situation also presents a beautiful town in a sadly unfavourable light. As leader of the Royal Borough this situation is totally unacceptable to me and my fellow councillors."
Mr Dudley said the police should use legal powers to move rough sleepers and also suggested courts could give homeless people Criminal Behaviour Orders, which are used to tackle serious anti-social behaviour.
In his previous comments on Twitter, the council leader wrote: "This is not voluntary homelessness. It is commercial life choice praying [sic] on residents and tourists. It's been going on and getting worse for months. Enough is enough."
PMQs: Corbyn calls on May to pledge a reduction in homelessness in 2018
His remarks were strongly condemned by homelessness charities.
Murphy James, of Windsor Homeless Project, said: "It's absolutely abhorrent that anybody has got these views in this day and age, especially a lead councillor of the borough.
"If somebody is sleeping out on the street they are not there by choice, they are there because something has gone wrong."
He added: "This shouldn't be a situation that's hit the headlines because of a royal wedding. This is a situation that should have hit the headlines because there's people sleeping in bus shelters."
Register for free to continue reading
Registration is a free and easy way to support our truly independent journalism
By registering, you will also enjoy limited access to Premium articles, exclusive newsletters, commenting, and virtual events with our leading journalists
Already have an account? sign in
Register for free to continue reading
Registration is a free and easy way to support our truly independent journalism
By registering, you will also enjoy limited access to Premium articles, exclusive newsletters, commenting, and virtual events with our leading journalists
Already have an account? sign in
Join our new commenting forum
Join thought-provoking conversations, follow other Independent readers and see their replies