Threat of terrorism in Northern Ireland 'will last for years'
Theresa Villiers says dissident republican groups will continue to plan attacks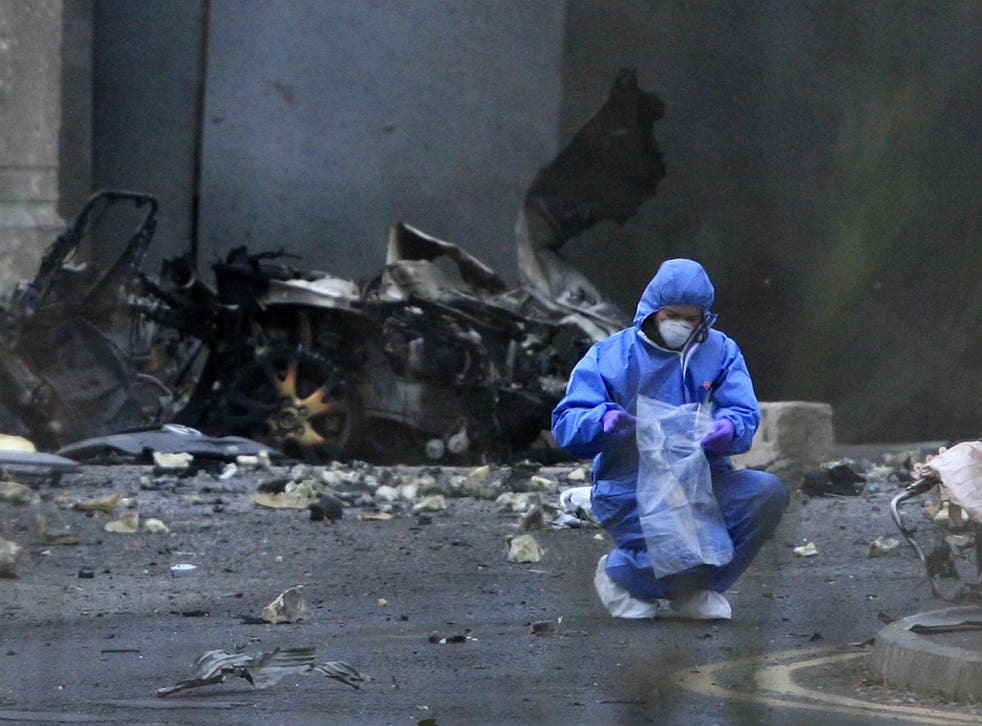 Dissident republican groups are likely to pose a severe threat of violence for years to come, despite recent security successes, Northern Ireland Secretary Theresa Villiers has warned.
In an interview with The Independent, Ms Villiers issued a sobering forecast about the continued ability of splinter groups to stage terror attacks.
The Secretary of State said that while she was optimistic about Northern Ireland's general prospects, she was concerned about the looming Orange marching season, when disturbances often break out. She described Loyalist protests about flags in recent months as "hugely worrying".
Asked about the activities of small but persistent republican terror cells, Ms Villiers said: "The threat is severe and is likely to continue to be so in the years to come. I'm afraid to say there isn't an imminent prospect of these terrorist attacks coming to an end.
"It is a tragedy that still police and prison officers and members of the military are at constant risk because of the targeting activities of dissident republicans."
There has been an upsurge in attacks on security services in recent months, including an attempted pipe bombing of two police officers last week, which dissident republican splinter group Oglaigh na hEireann claimed responsibility. In November 2012 prison officer David Black was ambushed and shot dead.
Ms Villiers, the Treasury, MI5 and PSNI Chief Constable Matt Baggott are discussing providing more resources to deal with both the terrorist threat and outbreaks of Loyalist rioting.
More immediately, 3,600 extra police from Britain will be in place for this month's G8 summit, which will bring Vladimir Putin, Barack Obama and other world leaders to the province.
Ms Villiers said the occasion would help spotlight Northern Ireland's positive features. "It will be a great opportunity to demonstrate all that's great about modern Northern Ireland. It's a great place to invest in and a fantastic place to come as a tourist," she said.
The Northern Ireland Secretary sits on various Whitehall committees dealing with national security so will have input into the response to terrorist incidents in Britain.
"I certainly think that in responding to the Woolwich atrocity it's important to reflect on experience here in Northern Ireland," she said.
But the minister said she had not reached a view on recent speculation about the introduction of a broadcasting ban of the type which kept Sinn Fein off the airwaves in the 1980s.
"I'm open-minded on this," she said. "I think there is something pretty repellent about people being given airtime to propagate the kind of hatred we've seen in some interviews. But there are pitfalls with things like broadcasting bans and the Government will carefully balance the different issues."
David Cameron has said he found it "personally quite painful" to sit around a table with Sinn Fein's Martin McGuinness. Asked how she felt, she admitted: "I've found that it took some getting used to, given all the history. But I just thought that if the range of political parties in Northern Ireland have found a way to work together, then I should be able to do that too."
She is insistent that the problems of sectarianism and community divisions require urgent attention. How did she feel when she visited Belfast's notorious peacelines recently?
"The perception is that this is part of the past and it's almost a shock to see the reality of it," she said. "My primary emotion was sadness that there is still a part of the United Kingdom which has these very serious physical divisions which actually reflect continuing deep-seated social divisions."
Does she regard Belfast's political institutions as stable or fragile? "The institutions are probably more stable that at any time in the past 30 years," she replied. "But we should never take it for granted. I'm not sure if fragile is the word, but a significant shock could have a destabilising effect. But on the whole I've been impressed by the resilience – given the circumstances I think it does operate in a remarkably stable way."
We've swotted up on the world leaders, says G8 venue boss
The general manager of the Lough Erne Estate in Fermanagh, the venue for this month's G8 summit, says he is "working every hour God sends" to make the event a success.
"It's been an incredibly busy time, stressful as well, but we're enjoying every minute of it," said Ferghal Purcell. "I'll be honest with you, we weren't all particularly up on it beforehand," he confessed. "We put up posters of each leader, with a biography, learned it all off by heart, and tested one another endlessly."
But then, in the new year, Japan elected a new prime minister and the Italian PM resigned. "We had to take their posters down, and start over," he said.
They will not be restocking the bar. "I believe there will be little or no drinking. They are here on business, after all," said Mr Purcell.
So, who gets the venue's two deluxe suites? "The Prime Minister and his team will determine who stays where," he says. "It could get awkward."
Nick Duerden
Join our new commenting forum
Join thought-provoking conversations, follow other Independent readers and see their replies