Liberal Democrats leader Tim Farron calls on David Cameron to resettle 3,000 refugee children
'Ignoring the desperation these vulnerable children find themselves in will only allow the situation to get worse'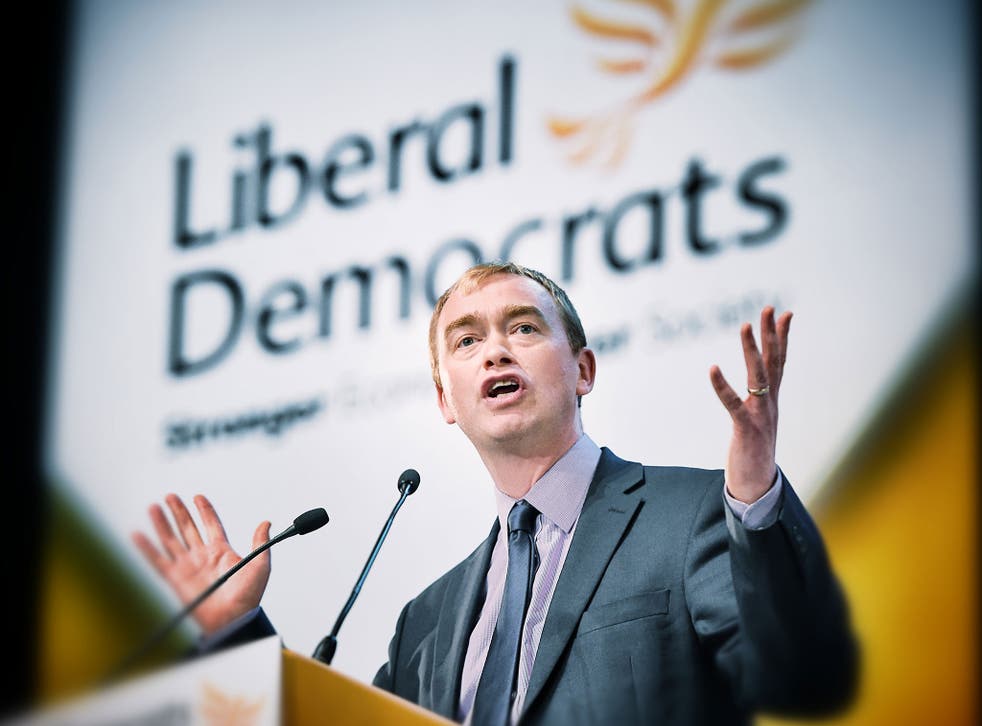 Liberal Democrat leader Tim Farron has urged David Cameron to offer a "crucial lifeline" to unaccompanied refugee children. In a letter to the Prime Minister published below, he called on the government to resettle 3,000 unaccompanied refugee children who had "made treacherous journeys" from war torn countries on their own, or who had lost their parents en route.
He said that this figure "amounts to just five children per parliamentary constituency" and representing less than a third of the number that Britain took in during the Kindertransport, a series of rescue efforts that brought thousands of refugee Jewish children to Britain from Nazi Germany.
Mr Farron told the Independent: "Ignoring the desperation these vulnerable children find themselves in will only allow the situation to get worse, and the longer or government pretends this is not their problem the more these orphans lose hope at finding a home, securing an education and living a stable and peaceful life."
Mr Farron's letter follows an intervention by Labour's shadow immigration minister Keir Starmer QC who has also urged home secretary Theresa May to prioritise action on the unaccompanied child refugees currently stranded in northern France.
The UK has taken 1,000 refugees so far as part of a 20,000 five-year target, but campaigners fear lone child risk being forced into prostitution or the drugs trade unless they are urgently given sanctuary.
Calls from politicians follows months of demands from refugee charities for action. Stephen Hale, Chief Executive for Refugee Action, said: "The current rules have already resulted in the tragic loss of one young life this year. The government must act quickly to meet their legal obligations and ensure that more young people can be reunited with their families.
"We have been campaigning since the refugee crisis began for safer and legal routes across Europe. Families who have already suffered conflict and violence must be able to reach safety."
Earlier this month the influential International Development Committee said it backed calls from charities for the UK to accept more unaccompanied minors as a matter of "utmost urgency".
Tim Farron's letter to David Cameron
Allow me first to extend my best wishes for the year ahead.
Last year I introduced a Ten Minute Rule Bill entitled Asylum (Unaccompanied Children Displaced by Conflict). This Bill, if enacted, would make provision for the award of asylum-seeker status in the United Kingdom to certain unaccompanied children from Syria, Iraq, Afghanistan, and Eritrea displaced by conflict and present within the European Union.
This could act as a crucial lifeline to the thousands of unaccompanied refugee children who have made treacherous journeys from war torn countries either alone from the start or who have lost parents and guardians en route. Those who have made it to European shores now face cold winters, harsh conditions are vulnerable to traffickers and those who want to exploit them. You will know that in 2014 alone the Italian authorities alone suggested that up to 4,000 children had simply disappeared off their radar since arriving. We do not yet have comparable numbers for 2015, but given the rise refugees this year, we can expect a much higher number of disappeared children too.
I have been supporting Save the Children's call for the UK to take 3,000 unaccompanied children because I strongly believe that this is the right thing to do. The International Development Committee has now added its weight to this call and I am certain that pressure for the UK Government to do more will continue to mount.
I sincerely believe that 3,000 children is a number we can handle. It amounts to just five children per parliamentary constituency and is less than a third of the children we took in during the kinderstransport, a programme very similar to this proposal. What we need now is decisive leadership and for that we look to you. The pictures of Aylan Kurdi put you and your government on the wrong side of the tide so I would urge you not to be caught in the current again.
I commend the work the government is doing to find a peaceful solution to the war in Syria, provide humanitarian assistance and aid to the region and the leadership our country has shown in fighting Daesh. But, as a country we can and must do more, I do not pretend that taking in 3,000 will solve everything but it is a start.
I look forward to receiving your response, Tim
Join our new commenting forum
Join thought-provoking conversations, follow other Independent readers and see their replies