Titchmarsh: PM wrong to scorn gardening skills
Cameron criticised for comparing horticulture to purely manual labour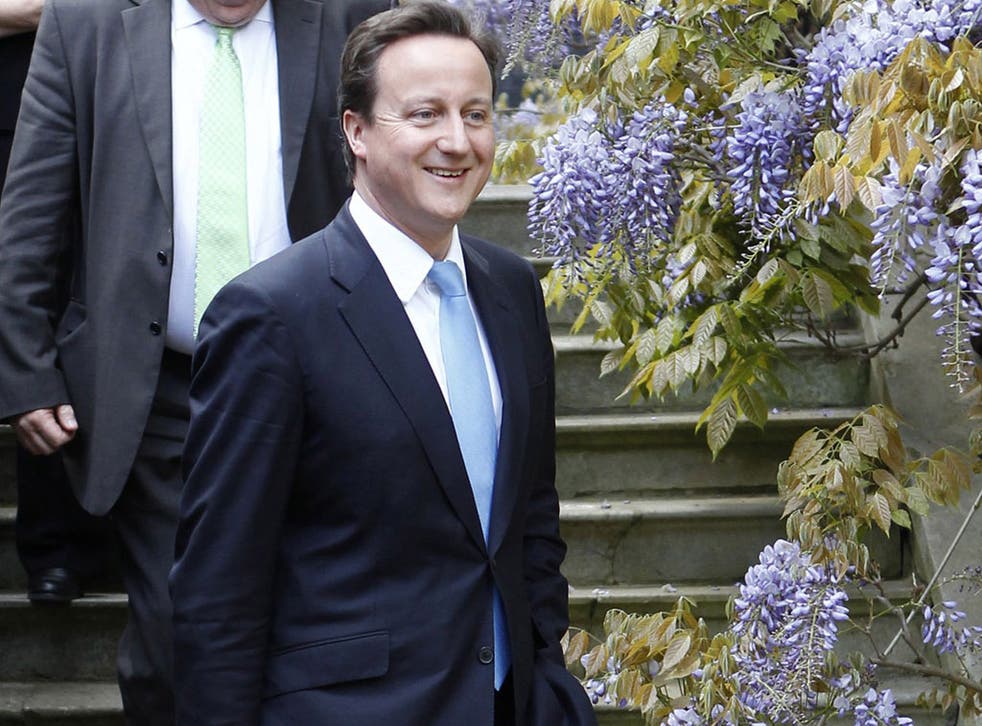 Britain's best-known gardener, Alan Titchmarsh, has criticised David Cameron for comparing gardening with unskilled activities such as litter-picking.
Titchmarsh, the vice-president of the Royal Horticultural Society who began his career in horticulture as a 15-year-old apprentice at a nursery, said it was "not particularly useful" for the Prime Minister to suggest it was not a valued or skilled job.
The television presenter made the comments ahead of National Gardening Week, which begins on 16 April, as he called for more apprenticeships in horticulture paying a "decent wage".
"We need to encourage young people to make horticulture their career," Titchmarsh writes in this month's issue of the RHS magazine, The Garden. "How? By considering that it is a career."
He adds: "In a 2011 speech about the coalition government's plans to allocate community work to the long-term unemployed, David Cameron grouped gardening as an unskilled activity along with litter-picking. Not a particularly useful statement, is it?
"And that's the problem – many perceive gardening as 'tidying up'. The sort of thing that you do to your sock drawer once a year. But, as many of us know, it is so much more than that.
"The Prime Minister, and others, should consider just what part gardening can play in society. It impacts on those political hot potatoes, law and order, education and health."
His criticism is all the more pointed because Mr Cameron has in the past declared that he is a keen gardener and still grows his own vegetables at his constituency home in Oxfordshire. The Camerons also have a vegetable patch in the Downing Street garden, although this is tended by a staff gardener. In 2009, as part of the publication of MPs' expenses, it was revealed that Mr Cameron claimed £680 from the taxpayer for clearing wisteria from his chimney at his constituency home. He later repaid the bill.
Last year, Mr Cameron unveiled the Government's Welfare Reform Bill, which, at the time, included plans to force the long-term unemployed to do unpaid work placements involving manual labour, including litter-picking and gardening, or face cuts to their benefits. The work-placement plans sparked controversy earlier this year, forcing ministers to admit that they would be voluntary and focus on more skilled work.
However, in his article, Titchmarsh says it remains a concern that the Government is not putting enough emphasis on promoting horticulture apprenticeships to school-leavers.
Titchmarsh, who left school at 15 with a single O-level in art, says he hopes that the raising of university tuition fees could have a "beneficial side-effect" by forcing teenagers to realise that having a degree is not the "be-all and end-all in life".
He says: "Learning how things grow, from an early age... gives children a greater understanding of the wider environment, and a greater responsibility for it. They will grow up with some affinity with the countryside, rather than living a life glued to mobile phones and computers."
Despite the popularity of gardening in the UK, there is a declining interest in studying botany at university, with the final single-degree course in the subject closing next year. Industry insiders have blamed this state of affairs on the poor teaching of plant biology at school.
An individual studying for a horticulture apprenticeship can, once qualified, expect to start their career with a salary between £11,000 and £15,000.
As part of National Gardening Week, Titchmarsh is spearheading a campaign for more people to go into gardening with a series of talks and workshops on "Horticulture, a Career to Be Proud Of."
Downing Street last night declined to comment, but a No 10 source said: "The PM does still grow vegetables at his constituency home, which the kids enjoy doing with him."
Ready, steady, garden: Growing trends for 2012
This weekend is the busiest of the year for garden centres as Britons get planting and weeding for the summer ahead. With that in mind, The IoS has put together a guide to 2012's top gardening trends.
Wild flowers
Native plants are hardy and useful when you can't hose them down morning and night. They also attract bees and butterflies, whose populations need helping.
Starting from scratch
While quick-fix potted plants and seedlings have been popular for saving time and transferring straight into flower beds, there is a renewed fashion for starting from basics – seeds and bulbs. It saves money and is more environmentally friendly.
Vertical gardening
With restricted budgets, what better way to save money than growing vegetables on your roof? Urban gardening is on the up, with people finding more and more unusual places to plant in the city.
Topiary
Get out your shears: creative hedges are in vogue and the weirder the shape the better. They can give your garden a controlled look without harming the environment.
Nostalgia vegetables
Victorian favourites are making a comeback in cookery books: join the Heritage Seed Library to get some unusual varieties for your allotment.
Power your garden the green way
If your garden is shady, wind- and solar-powered lights are making it cheaper and greener to dispel the gloom. You can even get solar-powered irrigation that links up to your water butt and put an end to lugging a watering can around.
Grow your own wine
Well, grapes, anyway. Making your own wine from home-grown grapes is increasingly popular in gardens large enough to accommodate sizable vines.
And ... the big eco no-nos
Sprinkling the grass – there's a drought on; peat – other composts are just as good and don't involve destroying wild habitats; pesticides – anything that kills insects or plant life has the potential to cause wider damage to the environment.
Join our new commenting forum
Join thought-provoking conversations, follow other Independent readers and see their replies