Tony Blair hints at return to UK politics: 'It's an open question'
Former Prime Minister says he feels compelled to intervene in the 'tragedy' of a 'one-party state'
Rachael Revesz
Friday 07 October 2016 01:52 Comments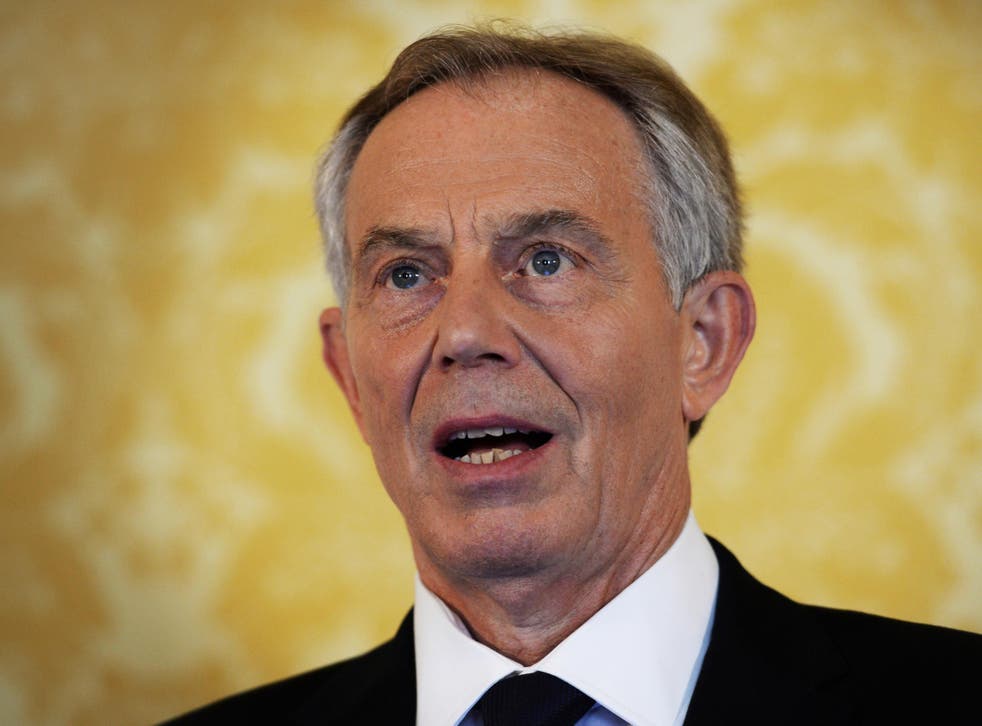 Tony Blair has suggested he might return to politics in order to battle the Conservative Party's vision of Brexit Britain.
In an interview with Esquire magazine, the former Prime Minister said the Tories had created a "one-party state" in the face of a weak Labour Party.
He said his future role was "an open question".
"I don't know if there's a role for me ... There's a limit to what I want to say about my own position at this moment," he said.
"All I can say is that this is where politics is at. Do I feel strongly about it? Yes, I do. Am I very motivated by that? Yes. Where do I go from here? What exactly do I do? That's an open question."
The former Labour leader announced in September that he was winding down his business consultancy and donating the reserves to charity. He said at the time that he would spend 80 per cent of his time on charitable causes.
His promise sparked speculation that he was clearing the path for a political comeback.
Blair says Britain can still avoid Brexit
Asked if there was room in the UK for a centre ground party, he replied: "There's been a huge reaction against the politics I represent.
"But I think it's too soon to say the centre has been defeated. Ultimately I don't think it will. I think it will succeed again. The centre ground is in retreat. This is our challenge. We've got to rise to that challenge."
Labour leader Jeremy Corbyn was re-elected in September by the party membership and has reshuffled his shadow Cabinet, forcing his critics to step back in line.
Mr Blair denounced current Labour as advocating "ultra-left policies" that hark back to the 1960s.
"This is not about Jeremy Corbyn," he told Esquire. "It's about two different cultures in one organism.
I have no regrets says defiant Blair

Show all 25
"One culture is the culture of the Labour Party as a party of government. And that, historically, is why Labour was formed: to win representation in Parliament and ultimately to influence and to be the government of the country. The other culture is the ultra-left, which believes that the action on the street is as important as the action in Parliament.
"That culture has now taken the leadership of the Labour Party. It's a huge problem because they live in a world that is very, very remote from the way that broad mass of people really think."
Mr Blair added that Mr Corbyn would not be elected prime minister because his policies "don't work" and were "wrong".
"They're actually a form of Conservatism. This is the point about them. What they are offering is a mixture of fantasy and error."
Mr Blair's road back to politics would be paved with hurdles. He has become very unpopular since this summer's Chilcot Report, which slated his decision to go to war in Iraq.
He was also criticised for working as an adviser to the president of Kazakhstan, dictator Nursultan Nazarbayev, which he said he regretted.
But to his supporters, Mr Blair is still seen as the most popular Labour leader of recent history.
Register for free to continue reading
Registration is a free and easy way to support our truly independent journalism
By registering, you will also enjoy limited access to Premium articles, exclusive newsletters, commenting, and virtual events with our leading journalists
Already have an account? sign in
Register for free to continue reading
Registration is a free and easy way to support our truly independent journalism
By registering, you will also enjoy limited access to Premium articles, exclusive newsletters, commenting, and virtual events with our leading journalists
Already have an account? sign in
Join our new commenting forum
Join thought-provoking conversations, follow other Independent readers and see their replies