Tony Blair denies New Labour paid £1m compensation to Isis suicide bomber released from Guantanamo Bay
Former prime minister attacks 'utter hypocrisy' of critics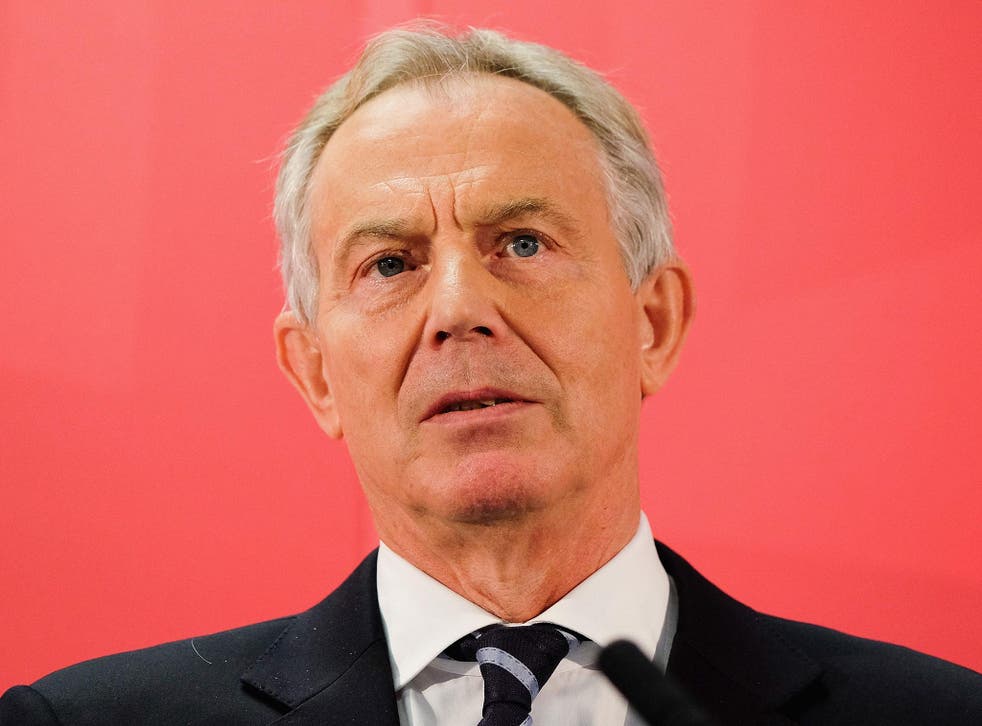 Former Prime Minister Tony Blair has denied his government paid £1m in compensation to a British man who went on to carry out a suicide bombing attack in Iraq for Isis.
Mr Blair said he would "not normally respond to daily stories about events which happened during my time in office" but said he would do so "given the utter hypocrisy with which this story is being covered".
He said it was correct Jamal al-Harith was released from Guantanamo at the request of his Government in 2004, but added the £1m payout was agreed in 2010 by the Conservative-led coalition government.
Earlier this week, Isis said al-Harith, who went by the name Abu Zakariya al-Britani, had blown himself up in an explosives-laden vehicle in a village south of Mosul.
The terror group claimed there had been many casualties, though this has not been officially confirmed, and released a picture of a grinning al-Harith. He was identified as a Muslim convert from Manchester, born Ronald Fiddler.
Mr Blair came under fire for his government's lobbying for the Guantanamo Bay prisoner's release.
The Daily Mail quoted Tory MP Tim Loughton as saying: "So much for Tony Blair's assurances that this extremist did not pose a security threat. He clearly was a risk to Britain and our security all along.
"It adds insult to injury that he was given £1 million in compensation because of Blair's flawed judgement that he was an innocent."
Tony Blair: Brexit is not inevitable
However, Mr Blair said: "When his release was announced in very measured terms in 2004, pointing out the risks which remained with Guantanamo detainees, the Conservative MPs reacted by strongly criticising not the release, but why it had taken so long.
"The fact is that this was always a very difficult situation where any Government would have to balance proper concern for civil liberties with desire to protect our security, and we were likely to be attacked whatever course we took."
He added: "The reason it did take a long time for their release was precisely the anxiety over their true affiliations.
"But those who demanded their release should not be allowed to get away with now telling us that it is a scandal that it happened."
Gitmo: The Movie - Inside Guantánamo Bay

Show all 6
Al-Harith's brother, Leon Jameson, 53, identified him as the man equipped with explosives in the Isis propaganda video.
Mr Jameson told The Times his brother had "wasted his life" and added: "It is him, I can tell by his smile."
A spokesman for Prime Minister Theresa May would not answer questions on her role in al-Harith's release from Guantanamo or compensation paid to him, claiming it was an intelligence matter.
But a senior Labour source told the Press Association detention camps like Guantanamo had been a major recruitment aid for Islamist terror groups over the past 16 years.
"Imprisonment without trial and torture are completely contrary to basic democratic values and human rights and they have also been a significant recruiter for terrorism," the Labour source said.
"That is one of the clear lessons of Guantanamo Bay and other illegal detention camps and torture camps set up in the war on terror. Not only are they wrong, they are ineffective."
The source said it was "impossible to say" whether Fiddler's involvement with Isis was motivated by his experiences in detention, but added: "Democratic values and human rights were clearly violated on a substantial scale, not only in Guantanamo, but in other detention camps and torture camps used in the war on terror."
The source said the campaign for the release of British detainees was backed "across the spectrum" of UK politics.
At the time of his al-Harith's release, then Home Secretary David Blunkett said: "No one who is returned... will actually be a threat to the security of the British people."
The Labour former cabinet minister told BBC Radio 4's The World At One: "There was no process associated with Guantanamo Bay by which the guilt or innocence of the people incarcerated there could be assessed - one of the failings of the US administration there.
"So we were in a bind and you can't just keep people locked up forever on the basis of suspicion.
"We wanted them returned, where the evidence we had was that they posed no serious and immediate threat — there was never a guarantee that these people would not in the future become more active in terrorism."
Around 850 individuals of national security concern have travelled to join the conflict, according to figures published by the Government last year.
Of those, just under half have returned to the UK and approximately 15 per cent are dead.
Join our new commenting forum
Join thought-provoking conversations, follow other Independent readers and see their replies