Tories target state pension in battle to balance books
Mandelson accepts need to 'prioritise and economise'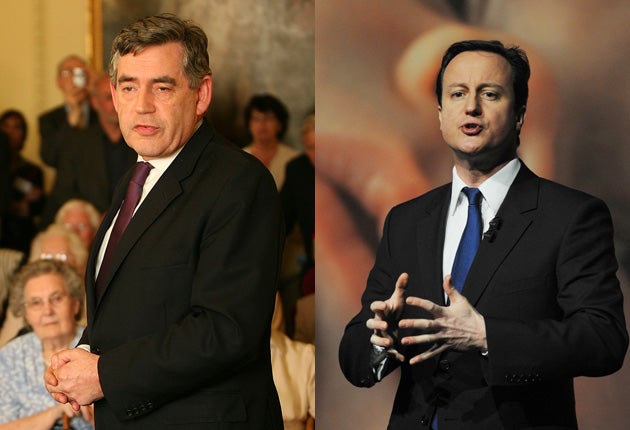 Plans to raise the basic state pension are expected to be delayed by an incoming Conservative government as it seeks to reduce the huge deficit in the public finances.
While Labour yesterday reaffirmed its intention to restore the link between state old age pension and earnings in 2012, Tory sources told the Independent that the party could postpone the start of the bigger annual rises until 2015. But they promised that the move would still be implemented before the general election-after-next.
The Tories insisted their policy is "no different" from Labour's, because the Government left itself wriggle room by pledging to link pensions to earnings by 2012 if that were affordable or by 2015 "in any event". However, the Tories look likely to take advantage of this flexibility, while Labour plans to go ahead on schedule in 2012.
Since Margaret Thatcher ended the link between the state pension and earnings in 1980, it has risen in line with inflation, which goes up more slowly than wages. Its value has fallen from 21 per cent of average earnings in 1980 to under 15 per cent today.
The full state pension is £95.25 a week for a single person and £152.30 a week for a couple. Pensioners' groupsreckon the single-person rate will fall in real terms to £79 by 2012.
Ministers have promised to announce their decision on pensions soon after the next election if Labour retains power, and to lay an order in parliament before April 2011.
Any delay on the 2012 start date would be controversial because many of the poorest pensioners do not claim means-tested top-up benefits and would miss out on the higher automatic payments for up to three years.
Introduction in 2012 was part of a trade-off in a 2006 White Paper after a review of pensions policy chaired by Lord Turner of Ecchinswell, which included plans to raise the retirement age at which people can start to draw the pension from 65 to 68 by 2046.
Campaign groups for pensioners would accuse the Government of reneging on its side of the bargain. But delay would save significant amounts of money. Restoring the link would cost £600m a year in 2012, rising to £1.9bn annually by the end of the next parliament and £4.2bn a year by 2050.
The need to restrict state spending moved to the top of the political agenda yesterday when Lord Mandelson said Labour recognised the need to "prioritise and economise". He confirmed that the Government was reviewing its identity cards scheme and the £25bn renewal of the Trident nuclear missile system and that such big-ticket items could be delayed or dropped. But he said the actual savings were sometimes less than those estimated.
Lord Mandelson said all services would be examined as Labour sought to be "wise spenders, not big spenders" and he hinted at a "far-reaching" sell-off of public assets.
Addressing the Labour modernisers' group Progress, the Business Secretary mapped out election battleground by claiming the Tories were "foaming with excitement" at the prospect of spending less on public services.He stressed the difference between Labour's progressive reform and the ideologically driven retrenchment and deep cuts offered by the Tories.
The Cabinet agreed yesterday to maintain public spending toprotect the economic recovery, invest in the future, and reduce the deficit by cutting spending. Gordon Brown said Labour needed to make it a "big choice election".
Ministers were told that David Cameron's position is more "fragile" than the opinion polls suggest. Labour strategists said his Achilles heel is that he is "two-faced".
Today Mr Brown is expected to warn the TUC conference in Liverpool that hard choices lie ahead on public spending. He will warn that the immediate cuts sought by the Tories would put economic revival at risk and will unveil Labour's new campaign theme: "Don't wreck the recovery."
But George Osborne, the shadow Chancellor, will accuse Mr Brown of being "weak and desperate" in the face of trade union opposition to cuts and of "putting fixing the finances of his party ahead of fixing the finances of the country".
If Mr Brown is re-elected, Mr Osborne will claim, the national debt would spiral further out of control: "In the end a Labour Government will be forced by a combination of mounting interest bills at home, and a loss of international confidence abroad, to hike up taxes and impose across-the-board cuts in frontline public services.
"We have been there before with Labour in the 1970s. We will be there again with Labour if, by some chance, they cling on."
The axe-ometer: How the deficit in public finances may be closed
HEALTH
The Conservatives have pledged to raise spending each year by more than inflation, but admit it would grow more slowly than in recent years. Would seek savings in the £1.2bn NHS computer project. Labour has not yet matched the Tory promise of annual rises in real terms.
EDUCATION
Tories have dropped their promise to match Labour spending, and may have to squeeze other areas to finance new state schools free from local authority control. Labour seeks ways to preserve spending as an "investment", but the budget's tight. A rise in university fees after an election is inevitable, whoever wins.
LAW AND ORDER
Tories would scrap a national identity card scheme. Some Labour ministers want a rethink, but others say this would save relatively little. Tories committed to prison building programme, but it may be difficult to fund in current climate. Backroom police operations face squeeze under either party.
DEFENCE
Both main parties want to maintain Britain's independent nuclear deterrent but are looking hard at the £25bn renewal programme for Trident. An order for two Navy aircraft carriers is vulnerable to further delay. The Conservatives will not announce any decisions until after a wide-ranging review following the election.
PAY AND PENSIONS
Public sector pay will cost £158bn this year, a quarter of total spending. A one-year pay freeze would save more than £6bn but a recruitment freeze is more likely. The Tories have pledged to tackle the "pensions apartheid" between public and private sectors. Labour is more likely to curb pay of the highest-paid bosses.
WELFARE
Tories likely to unwind Gordon Brown's flagship tax credits scheme, and review payment-by-results contracts for private firms to get the jobless back to work. Labour may eye £6bn cost of higher tax relief on private pension contributions, which trade unions and the Liberal Democrats want to scrap.
CHILDREN
Labour's flagship £1.4bn Sure Start programme could be in the Tories' sights to balance the education budget. Child trust funds are also vulnerable. Child benefit is under scrutiny in both main parties. Labour's pledge to abolish child poverty by 2020 is unlikely to be met, whoever is in power.
OVERSEAS AID
Both main parties will raise spending to 0.7 per cent of national income by 2013. Apart from the NHS, aid is the only budget ring-fenced by the Tories, but they may have some wriggle room by switching defence or climate change projects to the Department for International Development.
LOCAL GOVERNMENT
Tories have pledged to freeze council tax bills for two years. Councils are bound to come under pressure to make cuts because central government can cap council tax increases. Job cuts, as well as an extension of "user charges" for services, are likely under either Tories or Labour.
TRANSPORT
Contracts binding the Government to struggling rail firms have stretched the budget. Money has been squeezed from road-building by using the cheaper option of hard shoulder-use on motorways. With both parties tied to developing high-speed rail, savings will only come with a policy U-turn.
PUBLIC BODIES
The Conservatives have quangos in their sights, claiming the number of these non-departmental public bodies has spiralled under Labour. Savings are harder to quantify since work would have to be done elsewhere. Expect a squeeze on the BBC; Tories want to freeze the licence fee for five years.
TAX INCREASES
The elephant in the room. Tories say the "principal way" they would reduce deficit is with spending cuts, but do not rule out higher taxes. Increasing VAT by 2.5 per cent raises £12bn. Upping green taxes by 25 per cent on top of inflation would raise £1bn. Labour may go for income tax rises for high earners.
Join our commenting forum
Join thought-provoking conversations, follow other Independent readers and see their replies