Tories think they are born to rule, says Nick Clegg deputy Simon Hughes
Clegg and Cameron will today reaffirm their commitment to the project – but behind the scenes their parties are at war
Andrew Grice
Tuesday 08 May 2012 17:20 Comments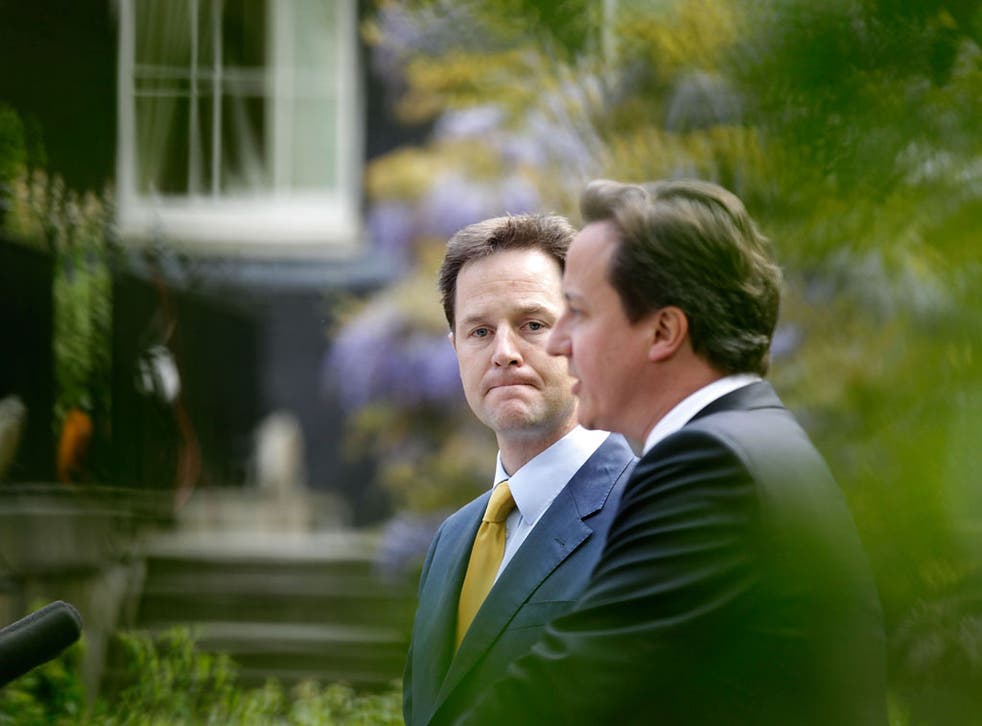 A joint effort by David Cameron and Nick Clegg to draw a line under the Coalition's troubles today is in danger of being overshadowed by infighting between their parties.
Yesterday Simon Hughes, the Liberal Democrats' deputy leader, accused Conservative MPs who oppose the Coalition of believing they were "born to rule".
His counter-attack came after the MPs demanded a traditional Tory agenda and urged Mr Cameron to stop giving in to Mr Clegg, claiming the Liberal Democrat tail was wagging the Coalition dog.
Today the Prime Minister and his deputy will put on a show of unity in an attempt to convince voters the Coalition has not lost sight of its core mission to clear the nation's deficit. They are expected to visit a factory, in a stark contrast to their joint press conference in the Downing Street rose garden two years ago when the Coalition was formed.
Mr Hughes laid bare the simmering tensions between the two parties by blaming their poor local election results last week on George Osborne's insistence on cutting the 50p top rate of tax on incomes over £150,000. He even claimed the Chancellor now probably realised it was a "mistake" because it overshadowed the Liberal Democrats' policy to raise tax thresholds for 24 million people.
About 20 Tory MPs defied Mr Cameron by issuing an alternative programme for government – part of a campaign to urge the Prime Minister to make fewer policy concessions to the Liberal Democrats. But Mr Hughes reminded Tory rebels that their party had failed to win a majority at the 2010 election.
"It may be uncomfortable for the Tories, some of whom think they're born to rule but, unfortunately, the electorate didn't agree with them," he told BBC Radio 4's World At One. He also suggested that the Liberal Democrats had been more united and disciplined than the Tories since last week's election drubbing for both Coalition parties.
Such tensions threaten to eclipse a joint appearance today by Mr Cameron and Mr Clegg, being seen as a renewal of the Coalition vows they took two years ago. The two leaders are expected to visit a manufacturing firm in Essex as they pledge to get on with repairing the nation's broken economy.
The Prime Minister and his deputy are united in resisting calls for a lurch to the right or left, and will stress their commitment to govern from the centre ground.
Mr Cameron is reassuring his party that he wants a majority Tory government rather than a continuing Coalition after the next election.
Today he will stress that he has heard the voters' message in last week's elections. "I'm listening. I'm leading. I get it," he will say. "There are no closed minds, no closed doors in Downing Street."
Insisting that his government is about growth as well as cuts, he will say that there "can be no going back on our carefully judged strategy for restoring the public finances".
While backing the deficit-reduction strategy, Mr Clegg will declare his determination to block any "lurch to the right". He will say: "We are taking the tough choices not because we want to, but because we have to – any government would have to do the same. And when our critics say we are driven by a sort of ideological obsession with shrinking the state, that is plain nonsense."
Mr Clegg will hint at his support for tougher policies to ensure banks lend to business and a further boost to infrastructure spending to get the economy moving.
Liberal Democrats rebuffed Tory calls for Mr Clegg's plan for an elected House of Lords to be dropped from tomorrow's Queen's Speech. Lord Oakeshott, a senior Liberal Democrat peer, said: "There's no conflict between making our economy and our democracy grow. All three main parties promised Lords reform in their manifestos, so our government is getting on with it in the Queen's Speech. If the dinosaurs really want to focus on the economy, they should do just that instead of obsessing about Lords reform."
The alternative programme, published on the ConservativeHome website, includes: a referendum on Britain's relationship with the European Union; an expansion of grammar schools; new trade union laws to make it harder to call strikes; a British Bill of Rights; capital gains tax reduced from 28 to 20 per cent; and taking more workers out of the 40p tax band.
David Davis, the former shadow Home Secretary, dismissed Lords reform as a "distraction". He said Boris Johnson, the re-elected London Mayor, had "demonstrated clearly that a strong Tory message will deliver in London, and yet London is not a Conservative heartland of the country".
Politicians' buzz-words
David Cameron coined his latest political catchphrase this weekend. He's not the only one in Westminster to trade on the power of buzzwords ...
"Battlers and strivers", 2012: Mr Cameron tried to get down with the punters yesterday by invoking the "strivers, the battlers". "Battler" is a term borrowed from Lynton Crosby, an Australian conservative political strategist .
"Squeezed middle", 2011: Ed Miliband rode into battle on behalf of this bunch last year – and to critical acclaim. The Oxford English Dictionary declared the phrase its "word of the year".
"Alarm-clock Britain", 2010: Nick Clegg's team came up with this way to express affinity with basic-rate taxpayers. The Economist accused him of lifting it from Nicolas Sarkozy, who declared himself on the side of "La France qui se lève tôt ("early-rising France") en route to the Elysée.
"Mondeo Man", 1996: Tony Blair's way of encapsulating New Labour's target voter. The phrase arose from a conversation with a disgruntled Labour voter washing his Sierra.
Cahal Milmo
Register for free to continue reading
Registration is a free and easy way to support our truly independent journalism
By registering, you will also enjoy limited access to Premium articles, exclusive newsletters, commenting, and virtual events with our leading journalists
Already have an account? sign in
Join our new commenting forum
Join thought-provoking conversations, follow other Independent readers and see their replies