Tory Eurosceptics threaten 'all-out war' over Brussels
David Cameron's promise of a referendum in 2015 would come too late to placate his MPs and MEPs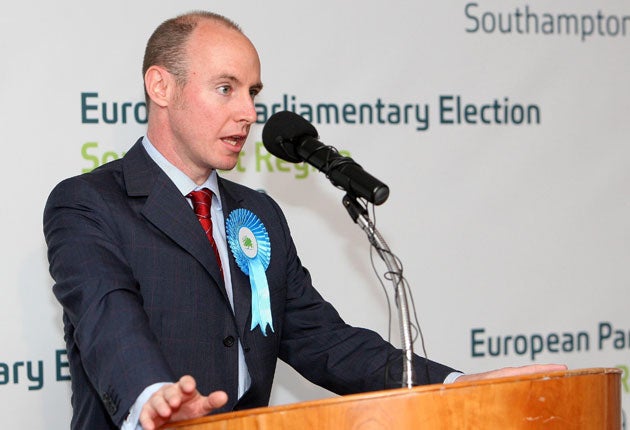 David Cameron has been given an 18-month deadline by a powerful band of Eurosceptic Tory MPs to renegotiate Britain's relationship with Brussels or face an "all-out war" for a referendum, it emerged yesterday.
The Conservative leader last week tried to buy more time from the Eurosceptic wing of his party by promising that the Tories' 2015 election manifesto would contain a promise for a referendum should the EU "move in the wrong direction".
Mr Cameron unveiled a list of proposals to assert Britain's sovereignty over Brussels and repatriate certain powers during the next Parliament, if the Tories win the 2010 election.
The shopping list was an attempt to placate his MPs and MEPs after he dropped a pledge to hold a referendum on the Lisbon Treaty.
But a senior Tory MP said yesterday that Mr Cameron would have to move quickly in the first year and a half of his premiership – and had to show "real progress" on his promises.
The MP said: "I don't think a promise of a referendum on Britain's relationship with the EU in more than five years will sit very well. He [Cameron] needs to make progress, within the first 18 months of his premiership. If he does, it will be his crowning glory, but if he doesn't, it will be a thorn in his side."
Another Eurosceptic backbencher said: "We have agreed to keep quiet on this before the election, but if things do not start happening in the first year or so, there will be all-out war for a referendum."
The warning from the band of Conservative MPs steps up the pressure on the Tory leader after the resignation of two Tory MEPs, Daniel Hannan and Roger Helmer, from the party's frontbench in the European Parliament. The issue threatens to spoil Mr Cameron's honeymoon as Prime Minister if he wins next spring.
Some 47 Tory MPs, including a handful of shadow ministers, signed a Commons motion last month that "insists that the Prime Minister rejects the [Lisbon] Reform Treaty ... and holds a referendum before or after ratification". Mr Helmer and Mr Hannan are both members of the Better Off Out group which wants the UK to withdraw from the EU. There are also five Tory MPs and eight Conservative peers who are members of the group.
The early-day motion was signed before the Czech government finally signed the treaty last week, triggering EU-wide ratification. The next day, Mr Cameron announced he could not hold a referendum on a treaty that had become enshrined in law. He won over many MPs who signed the motion by pledging a UK Sovereignty Bill and a "referendum lock" on a future treaty that ceded further powers to Brussels. But many Eurosceptic Tories have made it clear that the issue will not go away early in the next Parliament.
In a fresh development yesterday, Mr Helmer renewed his attack on the Tory leader's EU policy. He wrote that Mr Cameron's EU policy was "confused", adding: "We have said that now that the Lisbon Treaty is EU law, we are not in a position to repudiate it. Yet we have made a series of proposals which repudiate significant parts of it, and run counter to EU law. But as we all know, the supremacy of EU law is explicit in the Lisbon Treaty. If we accept Lisbon, we accept the supremacy of EU law." He added: "A 'referendum lock' will not work, because we have already thrown away the key. Our policy fails to recognise the self-amending nature of Lisbon."
Mr Helmer said he would campaign for a Tory victory in 2010, but added: "I can neither justify nor support our new EU policy. You can only defy the will of the people for so long."
But Tory MP Mark Pritchard, who had been critical of Mr Cameron, said yesterday: "I support the new policy. I hope it works. If it does not work I will work towards a referendum in the first term of any Conservative administration."
Join our commenting forum
Join thought-provoking conversations, follow other Independent readers and see their replies