Tory leadership race: George Osborne 'blocked Andrea Leadsom from Cabinet after she told him to say sorry'
Exclusive: The leadership contender is said to have angered the Chancellor when she was a member of Commons Treasury committee
Andy McSmith
Sunday 03 July 2016 09:24 Comments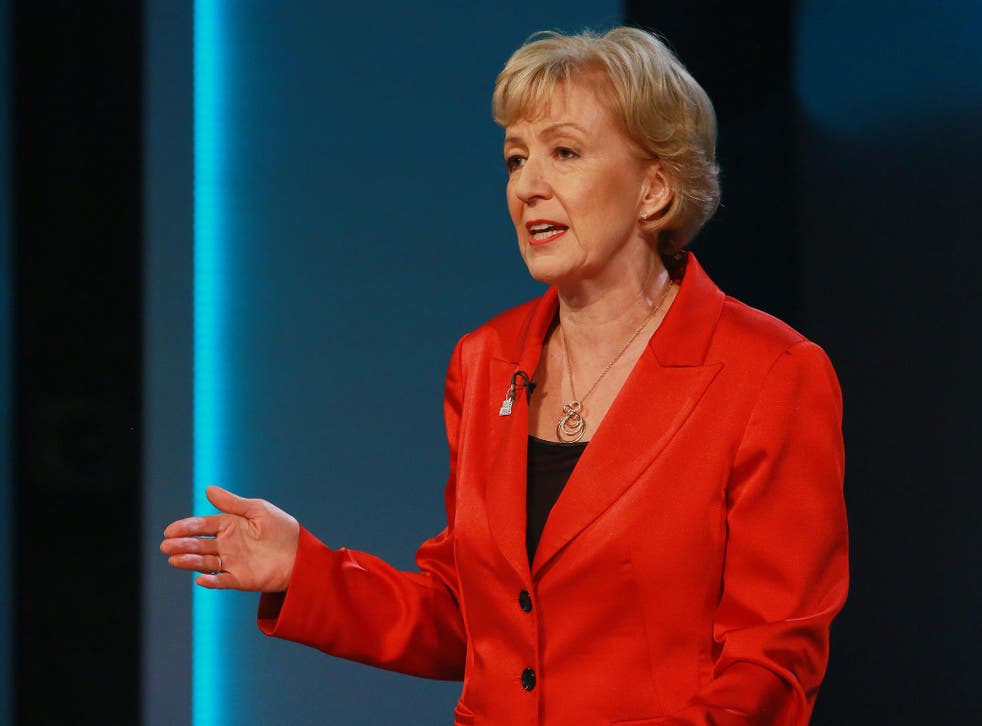 Andrea Leadsom, who is emerging as a challenger to Theresa May in the Conservative leadership election, sacrificed her chance of a place in David Cameron's Cabinet on the day she told George Osborne he should say sorry, according to one of her backers.
Ms Leadsom, a junior energy minister, is said to have earned the Chancellor's enmity four years ago when she was a member of Commons Treasury committee.
Mr Osborne was under fire because he had implied "people around Gordon Brown" had given Barclays bank the green light to manipulate its interbank lending rate at the height of the 2008 crisis. This was taken to be an attack on Ed Balls, who at the time was shadow Chancellor.
The 5 contenders for Prime Minister
The manipulation of the so-called Libor rate blew up into a major banking scandal in 2012, but the suggestion that Ed Balls might be implicated was squashed when Paul Tucker, the Deputy Governor of the Bank of England, gave evidence to the Treasury committee.
Mr Osborne never apologised for his comments, although after hearing Mr Tucker's evidence, Ms Leadsom said he should. She told the BBC: "Obviously he made a mistake and I think he should apologise."
One of her supporters said: "She was someone of real principle, and she paid the price. She was stacks ahead of other people who were promoted to the Cabinet. She had 25 years of city experience and financial experience, and rose to be one of the top 120 people in banking. You don't achieve that unless you are a really serious person. The only reason she wasn't in the Cabinet was that she had offended George Osborne."
Ms May, the Home Secretary, is so far ahead of all the other four contenders in the number of MPs who have declared their support for her that her place in the final two is a near certainty. Under Conservative Party rules, MPs whittle the list of would-be contenders down to two names in an exhaustive ballot. Party members then choose between the final two.
Ms May supported the Remain campaign during the referendum, so Brexit supporters say that her challenger ought to be an MP who supported Leave. Three former brexiteers, Michael Gove, Ms Leadsom and Liam Fox have entered the the race.
Answering questions from the Daily Telegraph, all five candidates have ruled out the idea of a second referendum, saying that the outcome was final. All say that they will seek to restrict immigration to Britain from the EU, and all have ruled out calling a snap general election.
The early signs are that Mr Fox is a long way behind the other two former Brexit supporters. Paul Goodman, a former Tory MP who edits the influential Conservative Home website, wrote that the momentum is with Ms Leadsom, whose campaign was boosted by support from former Work and Pensions Secretary Iain Duncan Smith. If that is correct, the UK will soon have its second woman Prime Minister.
The favourites in the Tory leadership race

Show all 5
Another Leadsom backer, the senior Tory MP Bernard Jenkin, said: "She has steel, grit and self-possession, and commands the room. She doesn't let herself be pushed around and made to say things she will later regret."
A spokesman for her rival, Mr Gove, admitted that the "unconventional" circumstances of his entry into the race meant that he was off to a slow start. Mr Gove has often declared that he had no wish to be Prime Minister and was expected to back Boris Johnson until he unexpectedly announced that he did not think Mr Johnson had the steadiness of character to be prime minister.
His spokesman added: "He has got more experience than Andrea, and people will want that experience. We're ahead of her, and there will be more people coming for Michael in the next few days. I'm confident he will be in the final two."
Mr Osborne's spokesman denied that he had prevented Ms Leadsom being promoted to the Cabinet, saying: "I don't recognise that at all."
Register for free to continue reading
Registration is a free and easy way to support our truly independent journalism
By registering, you will also enjoy limited access to Premium articles, exclusive newsletters, commenting, and virtual events with our leading journalists
Already have an account? sign in
Join our new commenting forum
Join thought-provoking conversations, follow other Independent readers and see their replies