Tory leadership: Theresa May's replacement must not be a current minister, says Brexiteer MP
The Prime Minister was seeking cabinet approval for her latest Brexit package
Andrew Woodcock
Political Editor
Tuesday 21 May 2019 10:05 Comments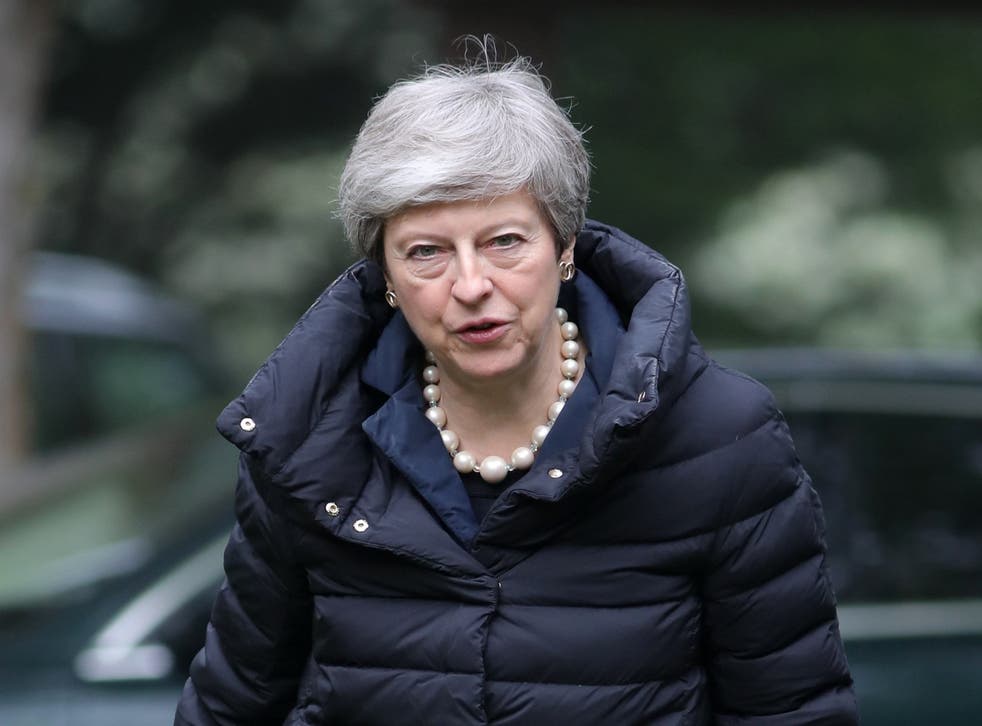 None of the current members of Theresa May's administration should be picked to succeed her as Conservative leader, because of their failure to deliver Brexit, a former cabinet minister has said.
As cabinet met to consider the prime minister's latest EU withdrawal proposals, ex-international development secretary Priti Patel accused the government of "dishonesty" and said Ms May's Withdrawal Agreement Bill was "not Brexit and not what the public voted for".
Today's meeting represented a last-ditch effort by Ms May to secure her legacy as the PM who took Britain out of the EU, by persuading her cabinet to sign up to a new Brexit package filled with concessions to win over MPs from all sides of the Commons.
Downing Street aides were reportedly braced for possible resignations, with Brexit-backing ministers uneasy about proposals to enshrine EU-style workers' rights and environmental protection in UK law to woo Labour leavers. The bill is also thought to include promises to find a technological solution to the Irish border issue, in a bid to win over critics from the DUP and the Tory European Research Group.
Labour was dismissive of the expected compromises, described by shadow foreign secretary Emily Thornberry as "a piece of political theatre" after six weeks of cross-party talks came to nothing.
With Ms May promising to set out a timetable for her departure if her WAB is rejected by the Commons in the first week of June, Jeremy Corbyn's party is acutely aware that the PM's Brexit stance could be overthrown by a new leader coming into office over the summer.
Despite scepticism in Westminster about the Bill's chances of success, leader of the Commons Andrea Leadsom insisted it was an "attractive" package.
But Ms Leadsom – who has said she may stand in the coming leadership contest – told the BBC's Today programme that a no-deal departure on October 31 must remain an option because leaving the EU was "the most important thing of all".
Former international development secretary Priti Patel said that the Tories need "a new generation of leadership".Asked who the leader should be, Ms Patel told TalkRadio: "I don't think anyone from the current government ... people that have been complicit with this dishonesty around Brexit and failed to deliver it."
Ms Patel, who did not rule out standing herself, said voters want "full-fat Brexit, they don't want Brexit-lite", and said Ms May's WAB package was "not Brexit and not what the public voted for".
Chancellor Philip Hammond was firing a warning shot at leadership frontrunner Boris Johnson in a speech to the CBI in which he will warn of a "real risk" that if Brexit is not resolved within the next few weeks, a new prime minister will shift to a "damaging" no-deal outcome for ideological reasons.
Insisting that there is no mandate for a no-deal withdrawal from the EU, he will say: "The 2016 Leave campaign was clear that we would leave with a deal. So to advocate for no deal is to hijack the result of the referendum, and in doing so, knowingly to inflict damage on our economy and our living standards."
Brexit secretary Stephen Barclay refuses to rule out standing for leader of party four times in TV interview
Mr Hammond's Labour shadow John McDonnell said his comments were "more evidence of the irreconcilable divisions within the Conservative Party, which render it incapable of stable government and which are so deep they will clearly not be resolved even by a leadership election".
"We need a change of government, not just a change of Tory leader," said Mr McDonnell.
Register for free to continue reading
Registration is a free and easy way to support our truly independent journalism
By registering, you will also enjoy limited access to Premium articles, exclusive newsletters, commenting, and virtual events with our leading journalists
Already have an account? sign in
Join our new commenting forum
Join thought-provoking conversations, follow other Independent readers and see their replies