Who will replace David Cameron as Prime Minister? The full rundown of the Tory contenders
Theresa May, Michael Gove, Stephen Crabb, Andrea Leadsom and Liam Fox are running for leader
Ashley Cowburn
,
Charlie Cooper
Thursday 30 June 2016 18:13 Comments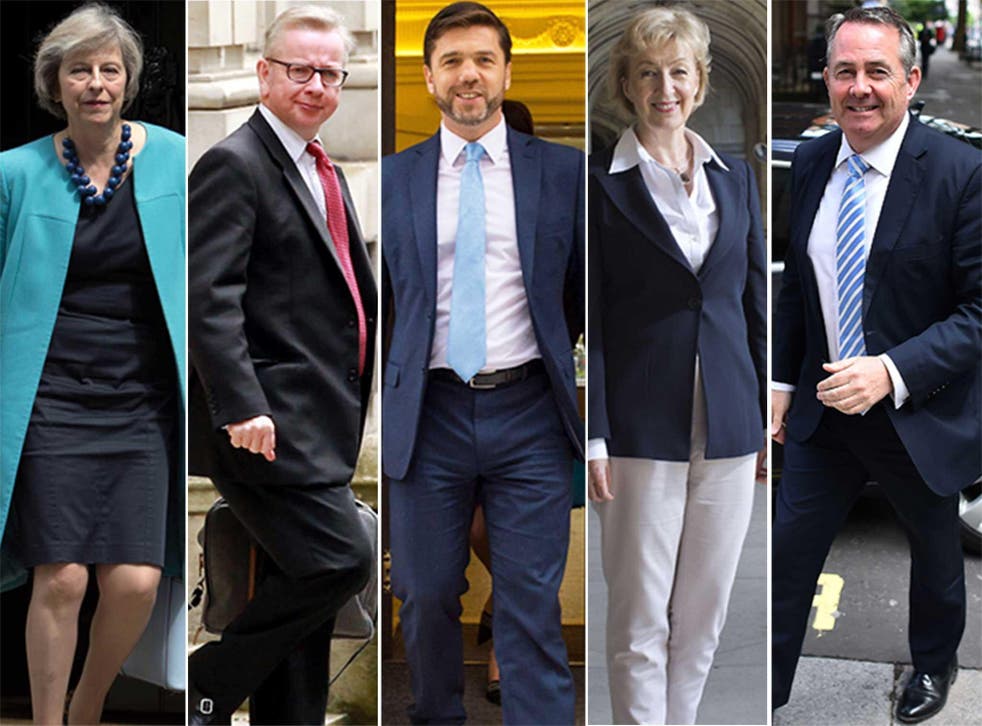 The starting gun has been fired in the first race to be Conservative leader for more than a decade – and the first since 1990 to bring with it the keys to 10 Downing Street.
It comes after Graham Brady, chairman of the 1922 Committee of backbench Conservative MPs, announced the official list of contenders on Thursday. Mr Brady said the first set of voting will take place on Tuesday as the party's MPs narrow down the field of five candidates to two.
With the least successful contender eliminated at each round, further ballots will be held on Thursday, then successive Tuesdays and Thursdays until two front-runners emerge to be put forward to the party membership in the country for a final decision. Mr Brady said the committee wants a winner to be chosen by September 9.
To the shock of many of his colleagues Boris Johnson, the former London mayor and leading Leave campaigner, ruled himself out of the race. Mr Johnson, who was considered in some circles to be the obvious favourite to succeed David Cameron, said: "Having consulted colleagues and in view of the circumstances in Parliament, I have concluded that person cannot be me."
Here The Independent runs through the official contenders for Tory leader:
Theresa May
The longest-serving Home Secretary in 100 years took a back seat in the referendum campaign. While backing Remain, she did not hit the campaign trail and delivered only a handful of speeches and interviews, and was critical of many aspects of the EU, particularly the European Convention on Human Rights. Hedging her bets allows her to now emerge as a 'unity' candidate, and she is said to have been building up her back-room staff in preparation for a leadership bid.
She has the significant advantage of having served in one of the great offices of state, in a steady and competent manner that has won her many admirers within party and the civil service. At a time of great instability, it may be that she is viewed as steady hand on the tiller. Ms May does, however, lack the 'star quality' and party members may doubt her ability to connect with ordinary voters.
Announcing her candidacy Ms May said she was "ready and able to do the job from day one".
Odds according to Ladbrokes: 4/6
Michael Gove
The Justice Secretary may be able to set himself up as 'the thinking Tory's Brexit candidate'. He made an enormous political and personal decision to back Leave, taking on his old friend David Cameron. He performed well during the TV debates, and will be an admired figure among Eurosceptic Conservatives. He could, however, be hindered because he led a very divisive campaign characterised by 'blue-on-blue' attacks.
Before Mr Johnson ruled himself out of the race it was widely believed he would run on the same ticket as his fellow Leave campaigner, possibly settling for Chancellor. But in a shock announcement Mr Gove said he would be running for Number 10.
His campaign could also be hindered further by previous statements on the top job. On the day of his announcement Sky News, for example, was running footage of him saying: "I don't want to be Prime Minister…having seen close up how he [David Cameron] does the job I know that I couldn't do it."
In another video, recorded by the BBC, he said: "I think there are lots of other folk, including in the Cabinet, who could easily be Prime Minister. I'm not one of them. I could not be Prime Minister. I am not equipped to be Prime Minister. I don't want to be Prime Minister".
Odds according to Ladbrokes: 3/1
Stephen Crabb
The highly-rated Work and Pensions Secretary, raised on a council estate, could reach out to non-traditional working class Tory voters. John Major won an election in 1992 with a campaign that made a great virtue of his own working-class roots. One poster proclaimed: "What does the Conservative Party offer a working class kid from Brixton? They made him Prime Minister." Mr Crabb could reproduce the same message, swapping Brixton for West Wales.
He has also moved up the party's ranks with impressive speed and at the moment he is in a contest against Ms May and Mr Gove. But the party has form in not going for the obvious candidate, and the support of heavyweights such as Sajid Javid and the Attorney General Jeremy Wright counts for something.
Making his bid for leader of the party he said: "I had a fabulous education at a really good comprehensive school across the road from the council house where I lived. I had an amazing role model in a mother who overcame massive difficulties and worked incredibly hard for us; she took us to the public library every Saturday where I soaked up books and learning. I worked every day from the age of 12 – starting at the local corner shop, graduating to the Tesco shop floor, and paid my way through university working on building sites in various parts of the country."
Mr Crabb's campaign could face setbacks on the issue of gay marriage – something Mrs May emphasised in her candidacy speech and paid tribute to Mr Cameron for. Starting his campaign he was forced to defend a previous opposition and appearing to have past links with a 'gay cure' organisation. At a press conference on Wednesday, when asked if he is prejudiced, he responded: "No, absolutely not. We had that debate in the last parliament about gay marriage. I voted that way I did, but I'm very happy with the outcome."
Odds according to Ladbrokes: 20/1
Andrea Leadsom
An assured performance in the televised EU referendum debates by the energy minister for the Brexit campaign won Ms Leadsom praise and she was seen to have performed well. Announcing her decision to run, the former banker and fund manager said: "Let's make the most of the Brexit opportunities."
"I see a huge opportunity from the result of the referendum," Ms Leadsom added in a video declaring her leadership ambitions. "Britain, the United Kingdom, can be so much better in the world. The future for our children and grandchildren will be so great but what we have to do now is all pull together and make that opportunity a reality."
Compared to Mr Gove and Ms May she is relatively inexperienced in high office and only became an MP for South Northamptonshire in May 2010. However, she has served on both public accounts committee and the influential treasury select committee in Westminster. Her outsider status could also win her some backers.
Odds according to Ladbrokes: 9/2
Liam Fox
Dr Fox – who unsuccessfully sought the top job in 2005 – was the first to confirm he was considering a fresh bid. An outspoken supporter of Brexit, he is pinning his hopes on winning over the right of the party.
Announcing his candidacy he said the vote for Brexit "ushered in a new dawn for our country". The former defence secretary said the events of last week had left the country "bruised and uncertain", but added politicians must fully implement the decision made by the British people to "fully heal" the divisions it has created.
He resigned in disgrace from the frontbench in 2011 after allowing his friend and best man Adam Werritty to take on an unofficial and undeclared role as his adviser.
Odds according to Ladbrokes: 40/1
Register for free to continue reading
Registration is a free and easy way to support our truly independent journalism
By registering, you will also enjoy limited access to Premium articles, exclusive newsletters, commenting, and virtual events with our leading journalists
Already have an account? sign in
Join our new commenting forum
Join thought-provoking conversations, follow other Independent readers and see their replies