'Draconian' Trade Union Bill passes second reading in Commons
Earlier, Tory MP David Davis had warned that other Conservatives could rebel unless measures which could damage civil liberties were dropped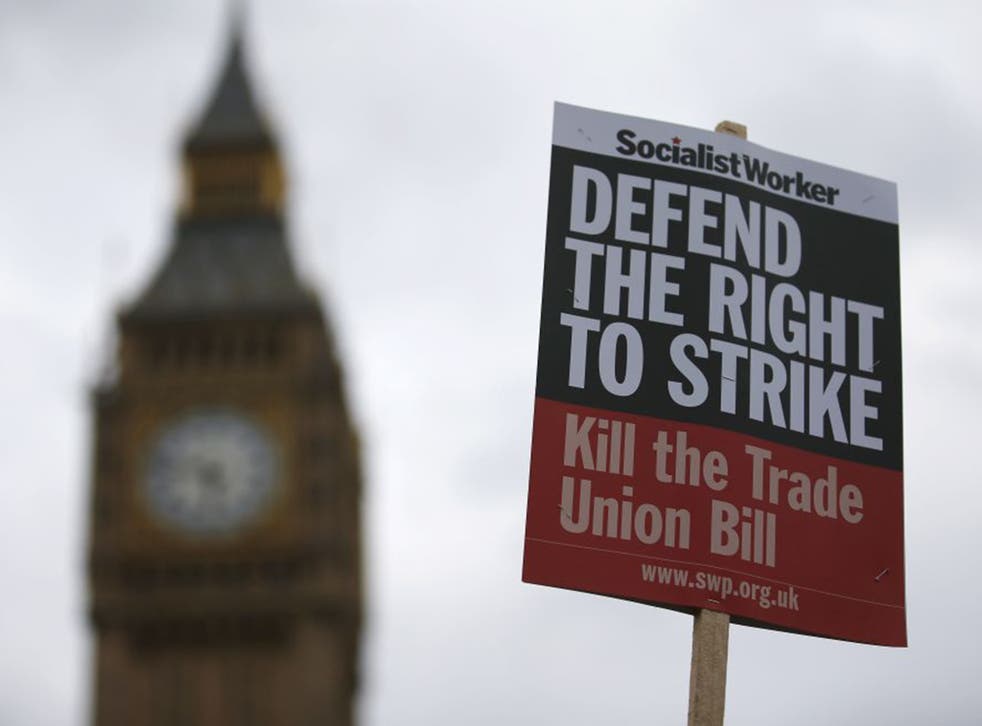 The Government's controversial Trade Union Bill has passed its second reading in the House of Commons despite furious complaints from Jeremy Corbyn's new Shadow Cabinet and criticism from some Conservative MPs.
The bill will tighten rules on strike action by creating minimum turnout thresholds for strike ballots to lead to industrial action. In public services, at least 40 per cent of eligible union members would need to back a strike. This has been attacked by opponents of the bill as effectively counting some abstentions as no votes.
The second reading passed by 317 vote to 284, a majority of 33, following more than six hours of debate.
Diane Abbott, shadow International Development Secretary, tweeted that "the wretched Trade Union Bill" was "an attack on the rights of working people across the UK". "The campaign goes on," she added.
In her first speech in the Commons as shadow Business Secretary, Angela Eagle, accused the Tories of pushing through an ideological attack on unions as Mr Corbyn sat silently listening to the debate.
She called on ministers to work in partnership with unions to increase economic productivity rather than saddling them with "draconian" restrictions, noting that the days lost to strike action had fallen by 90 per cent in two decades.
"I am a lifelong and proud trade unionist, I believe in social partnership at work, I believe that the right of trade unions to exist and represent members at work is a key liberty in any democracy," she said.
"I am dismayed that we have a Government which believes in attacking trade unions rather than working with them in the spirit of social partnership to improve efficiency, economic efficiency and productivity in our country."
And Conservative MP David Davis, who campaigns on human rights issues, warned the Government could face a rebellion by Tories unhappy by some elements of the bill.
The Haltemprice and Howden MP said the move on giving names to the police violated the principle of freedom of association and could lead to a "slippery slope".
He told the Commons: "I particularly am offended by the idea that a picket organiser needs to give his name to the police. This to me is a serious restriction of freedom of association.
"It's not on the same basis as let's say getting the organiser of a big demonstration to give his name to the workforce, there's all the difference in the world between half a million people clogging up London and half a dozen pickets standing around a brazier shivering whilst they are trying to maintain a strike.
"It seems to me this is an incredibly important issue and is one that we don't want to get on a slippery slope with and I say to the minister that I will be seeking, and I'm not alone, to alter that during the progress of this Bill."
However, Sajid Javid, the Business Secretary, defended the reforms, which will also force union members to opt in to paying into political funds, rather than opting out, a move bound to hit Labour Party funding.
Mr Javid said it was about ensuring union members were giving money to political parties with their "eyes wide open".
"That money belongs to hard working people and they should know exactly what is being done with it and that is at the heart of this proposal," he said.
Unions had "helped deliver a fairer society", Mr Javid said, by getting higher wages, safer work places and stronger employee rights.
"Unions helped my father when he first worked on the cotton mills and they helped him again when a whites-only policy threatened to block him from becoming a bus driver," he said.
"And just as the workplace has evolved over that time, so have the trade unions and the laws that govern them. In 2015, no one would argue for the return of the closed shop, I hope. The show of hands vote in a dimly lit car park or the wildcat walkout enforced by a handful of heavies.
"Now it is time for Britain's unions to take that next step and this Bill will help do just that."
The Press Association contributed to this report.
Join our new commenting forum
Join thought-provoking conversations, follow other Independent readers and see their replies