Trident debate: MPs vote to renew UK's nuclear deterrent system
MPs voted 472 to 117 in favour of renewing Trident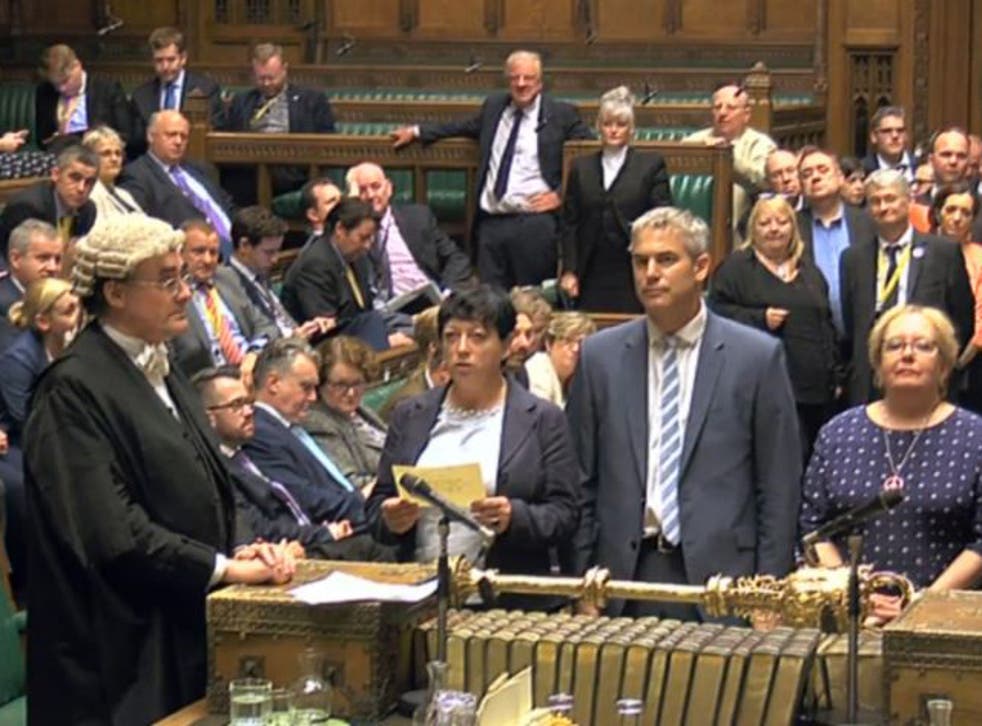 MPs have overwhelmingly backed the renewal of Britain's Trident nuclear weapons system, voting 472 to 117 in favour of the motion.
The vote, supported with a majority of 355, supports the government's plans to replace the four Vanguard class submarines with four Successor submarines.
Renewal of the continuous-at-sea deterrent is predicted to cost £31 billion, with a £10 billion contingency fund also set aside.
The vote was predicted to pass, with nearly all Conservatives backing the motion and the Labour Party divided on the issue.
Labour MPs were subject to a free vote, with leader Jeremy Corbyn declaring he would oppose the motion - a stance which led to strong criticism from some of his backbenchers.
Labour sources have said they believe 138 Labour MPs voted for the motion, 48 against, with 45 not present, meaning around 60 per cent of all Labour MPs voted with the government for Trident renewal.
It is understood 58 of Parliament's 59 Scottish MPs voted against Trident renewal. The SNP is now calling for the withdrawal of Nuclear weapons from Scotland.
A statement from Angus Robertson the SNP's Parliamentary Group Leader and spokesperson on the Constitution in the House of Commons said: "The UK government must respect Scotland's clear decision against Trident renewal and remove these nuclear weapons of mass destruction from the Clyde.
"It would be democratically unacceptable if in the face of this clear opposition the UK government were to impose Trident nuclear weapons on the Clyde against Scotland's wishes.
A debate on Monday lasting almost six hours saw Theresa May made her first despatch box appearance as Prime Minister in which she said it would be a "an act of gross irresponsibility" for the UK to scrap its nuclear weapons and accused opponents of the UK's Trident missile system of being "the first to defend the country's enemies".
Which countries have nuclear weapons?

Show all 14
Despite former Prime Ministers avoiding answering the hypothetical question of whether they would ever press the nuclear button, Ms May declared without hesitation in the debate that she would order a nuclear strike to kill hundreds of thousands of people if she thought it was necessary.
Ms May was challenged by the SNP's George Kerevan, who asked: "Are you prepared to authorise a nuclear strike that could kill hundreds of thousands of men, women and children?"
Ms May replied with one word: "Yes."
Mr Corbyn questioned if the "weapons of mass destruction" act as a credible deterrent to the threats faced by the UK, adding he would not take a decision that "kills millions of innocent people" - a nod to his stance that he would not authorise the use of nuclear weapons.
However, Mr Corbyn's opposition was labelled "juvenile" and "narcissistic" by Jamie Reed, Labour MP for Copeland, who said shadow cabinet members who voted against Trident should resign and return to the backbenches because they would be voting against Labour Party policy.
Officially, Parliament was being asked to agree to spend up to around £30 billion renewing the four Trident submarines that are equipped with nuclear missiles and warheads. Every hour of the day or night, there is always one submarine patrolling the sea.
Trident was originally bought from the USA by Margaret Thatcher as a last ditch defence in case the armies of the former Warsaw Pact, which was disbanded in 1989, overran Europe.
Additional reporting from agencies
Register for free to continue reading
Registration is a free and easy way to support our truly independent journalism
By registering, you will also enjoy limited access to Premium articles, exclusive newsletters, commenting, and virtual events with our leading journalists
Already have an account? sign in
Register for free to continue reading
Registration is a free and easy way to support our truly independent journalism
By registering, you will also enjoy limited access to Premium articles, exclusive newsletters, commenting, and virtual events with our leading journalists
Already have an account? sign in
Join our new commenting forum
Join thought-provoking conversations, follow other Independent readers and see their replies