Michael Gove forced to apologise to Theresa May after feud over Islamic extremism schools row
Jane Merrick reports on the cabinet ministers' bitter fallout over Islamic extremism in schools
Jane Merrick
Sunday 08 June 2014 11:58 Comments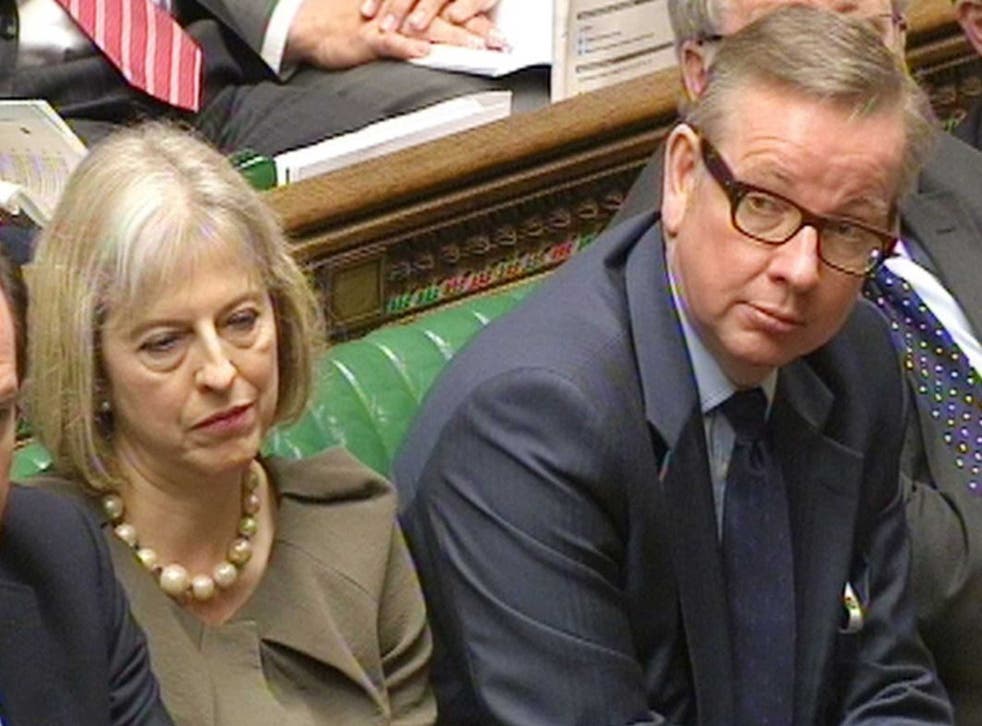 The battle between two of David Cameron's most senior cabinet ministers over "Trojan horse" extremism in schools came to a bitter climax last night as Theresa May's closest aide resigned and Michael Gove was ordered to apologise to the Prime Minister.
The Education Secretary was forced to admit that it was wrong to brief The Times against the Home Secretary and her intelligence chief, Charles Farr. Downing Street said Mr Gove had written letters of apology to Mr Cameron and Mr Farr "in acknowledgement of his role" in claiming that the Home Office had failed to "drain the swamp" of Islamic extremism. Fiona Cunningham, the Home Secretary's special adviser and trusted aide, who is in a relationship with Mr Farr, resigned over her "improper release" of a retaliatory letter from Mrs May that criticised Mr Gove over extremism.
The Prime Minister ordered the moves after an investigation into the row by the Cabinet Secretary, Sir Jeremy Heywood. The developments are deeply embarrassing to Mr Gove, who had initially failed to apologise for his comments last week, and Mrs May, who fought for Ms Cunningham to stay. An Ofsted report into allegations of Islamic infiltration of schools in Birmingham will be published tomorrow.
A Downing Street spokesman said: "The Prime Minister has been deeply concerned by the allegations made about extremism and a number of Birmingham schools. The PM is taking a specific interest in ensuring this serious matter is being dealt with effectively. In acknowledgement of his role, today, the Secretary of State for Education has written separately to Charles Farr and the Prime Minister, apologising for the original comments made to The Times newspaper. In addition, in relation to further comments to The Times, Fiona Cunningham has today resigned."
Whitehall sources acknowledged that it was a "pretty unusual event" for a cabinet minister to apologise to a senior official. But Mrs May will be seen as the greater loser of the two ministers because she has lost her special adviser. Sources declined to say if there had been any resistance by Mr Gove and Mrs May to the instructions, only that they agreed to it – "that is all that matters".
Earlier yesterday, Mr Gove told reporters he would not resign over the row. Mr Cameron was known to be furious that the row between the two ministers was being fought in public and had overshadowed the Queen's Speech. After the report in The Times emerged last Tuesday evening, based on comments Mr Gove had made to the newspaper, Ms Cunningham released a letter from Mrs May in which she questioned whether Mr Gove's department was warned about the allegations in 2010, asking: "If so, why did nobody act?" In a bid to quell the row, Mrs May and Mr Gove issued a joint statement of unity on Wednesday, but it was not enough. No 10 refused to say whether Mrs May had authorised Ms Cunningham to release the letter or whether her aide was freelancing. However, a source suggested that it was the latter because it was the adviser who had resigned.
The Ofsted report into the Trojan horse allegations is likely to cause further embarrassment for the Government, with all parties likely to face criticism. Yesterday, however, at a London education conference organised by the Policy Exchange think tank, Mr Gove answered "no" when asked if the Government had been damaged by his dispute with Mrs May, and whether he had "considered his position".
Outside the conference chamber, he ignored further questions. He was shielded by aides who swiftly ushered him into a waiting car, claiming that he would not speak ahead of the Ofsted report and had "a busy schedule". Labour's education spokesman, Tristram Hunt, launched a blistering attack on Mr Gove's handling of the affair, claiming that the Education Secretary had failed to act on warnings of Islamist extremists targeting Birmingham schools. Mr Hunt said: "When ministers try to cover their backs, when they brief against each other and use intemperate language and unleash special advisers against each other, they know they have been caught out."
The shadow Home Secretary, Yvette Cooper, tweeted: "Did the Home Secretary authorise the 'improper release of correspondence between ministers' that the No 10 statement refers to?"
Register for free to continue reading
Registration is a free and easy way to support our truly independent journalism
By registering, you will also enjoy limited access to Premium articles, exclusive newsletters, commenting, and virtual events with our leading journalists
Already have an account? sign in
Join our new commenting forum
Join thought-provoking conversations, follow other Independent readers and see their replies