UK demands British goods be sold in EU at no extra cost after Brexit
The Government says products already cleared for EU standards should not need costly extra certification after Brexit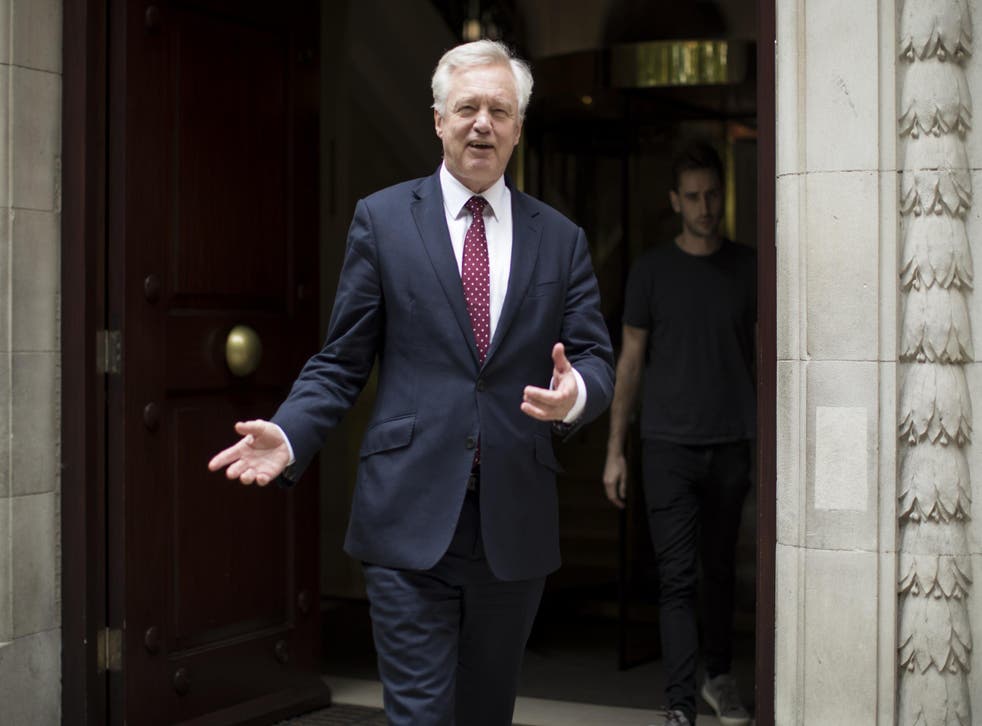 The Government is demanding that UK firms producing goods to European standards before Brexit be allowed to sell them in the EU at no extra cost, even after Britain has quit the bloc.
The demand published on Monday would help British firms avoid millions of pounds in potential compliance costs, but directly contradicts the EU's current position.
It means Brexit Secretary David Davis and his team of UK negotiators are on a collision course with their EU counterparts, whom they are due to meet in Brussels for a fresh round of talks next week.
It also comes after an EU leader warned slow progress in negotiations means the UK will not be able to begin discussions on a lucrative new trade deal in October, as planned by Theresa May.
Proposals set out in the Government's latest positioning paper relating to "the availability of goods" flesh out those already laid down in a broader paper relating to the EU customs union last week.
Today's document says it should be an objective that "goods placed on the single market before exit should continue to circulate freely in the UK and the EU, without additional requirements or restrictions".
The paper then argues that where firms have already undertaken compliance activities prior to exit, they should not be required to duplicate them to place goods on the UK and the EU market after Brexit.
Mr Davis said: "These papers will help give businesses and consumers certainty and confidence in the UK's status as an economic powerhouse after we have left the EU."
UK news in pictures

Show all 50
But there is a significant gap between the plan and the EU's current position, which is that products approved to Brussels standards by UK regulators before Brexit may not be legal for sale after the UK leaves without further certification.
For example, currently every new model of car made in the UK undergoes stringent testing by the Bristol-based Vehicle Certification Agency before it can be sold – costing up to £500,000.
That approval is automatically valid for the whole of the EU because of the UK's membership.
But under the EU's negotiating position a UK-made car put on the market for sale one day after Brexit would not be legal in Europe, regardless of whether it has passed the VCA's tests.
Instead UK car companies would have to secure new licenses from EU approval agencies for all models currently in production – adding significant extra costs.
John Foster, campaigns director for the Confederation of British Industry, said: "The only way to provide companies with the reassurance they need is through the urgent agreement of interim arrangements.
"This would ensure that goods and services can still flow freely giving companies the certainty they need to invest.
Brexit Secretary: UK wants temporary EU customs deal
"The simplest way to achieve that is for the UK to stay in the single market and a customs union until a comprehensive new deal is in force."
The UK Government also published a paper on Monday recommending a reciprocal agreement to ensure continued confidentiality for official documents shared with EU partners while a member state.
The publications come ahead of the third round of Brexit talks in Brussels next week, and are due to be followed in the coming days by papers setting out the UK's position on civil judicial cooperation, enforcement, dispute resolution and data protection.
European Commission spokesman Alexander Winterstein said: "The fact that these papers are coming out is, as such, welcome because we see this as a positive step towards now really starting the process of negotiations.
Conservatives will never win power again after Brexit 'disaster', former Tory government adviser says
"But as Michel Barnier has said time and again, we have to have sufficient progress first on the three areas of citizens' rights, financial settlement and Ireland, and only then can we move forwards to discussing the future relationship.
"The important thing is to realise that the clock is ticking, that we have no time to lose and that we need to get on with it."
Leaders of the other 27 EU member states are due to decide whether "sufficient progress" has been made on the "divorce deal" part of negotiations for discussions to move on to post-Brexit trading, which the UK wishes to focus on.
Slovenian Prime Minister Miro Cerar said: "I think that the process will definitely take more time than we expected at the start of the negotiations.
"There are so many difficult topics on the table, difficult issues there, that one cannot expect all those issues will be solved according to the schedule made in the first place."
But a Downing Street spokeswoman said: "We are confident that we will have made sufficient progress by October to be able to advance talks to the next phase.
"That is our aim and we are confident that we are working at a pace to be able to get to that point."
Register for free to continue reading
Registration is a free and easy way to support our truly independent journalism
By registering, you will also enjoy limited access to Premium articles, exclusive newsletters, commenting, and virtual events with our leading journalists
Already have an account? sign in
Register for free to continue reading
Registration is a free and easy way to support our truly independent journalism
By registering, you will also enjoy limited access to Premium articles, exclusive newsletters, commenting, and virtual events with our leading journalists
Already have an account? sign in
Join our new commenting forum
Join thought-provoking conversations, follow other Independent readers and see their replies