UK approach to Brexit looks so chaotic that some EU countries think it's all part of cunning plan
EU officials quoted as saying the British stance looks too confused to be true, so it must be part of an elaborate bluff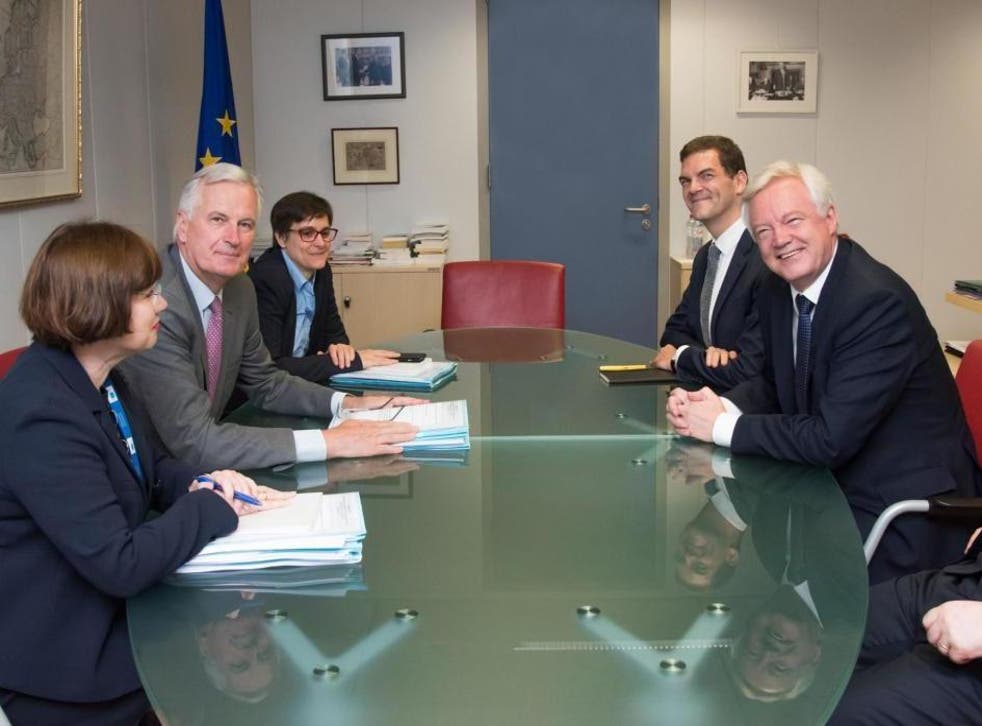 Britain's approach to Brexit looks so chaotic that some EU countries think it must be part of a cunning plan to trick them into thinking Theresa May's government is more shambolic than it actually is, it has been claimed.
Some EU diplomats now allegedly think the Cabinet rifts, contradictions and confusion are too farcical to be true and must be part of an elaborate bluff, a cunning plan to pretend the UK has no plan.
One trade attaché was reported as saying: "I think it's tactics: they are playing for time on purpose under the pretext of chaos in London.
"In September they're going to swamp us with [position] papers on the fault lines — exactly the issues where they know we [the other EU member countries] are divided."
Another attaché, from a southern European country, appeared unable to believe that a country like Britain could really be so disorganised.
"Do they have a strategy?" the attaché told Politico, "Or are they playing a bluff with the European Union? … It could be a strategy because the British are always so organised."
The suspicion that Britain couldn't really be as shambolic as some recent reports might suggest was echoed by Joseph Muscat, the prime minister of Malta, the country which until last month held the six-month rotating presidency of the Council of the EU. He told the Dutch newspaper De Volkskrant: "I have lived in Britain, I know the British mentality.
"People who say the Brits don't know what they are doing are wrong. A non-prepared British government official simply doesn't exist. The problem isn't that London is prepared badly, but that the EU is prepared extremely well."
Other EU diplomats dismissed the idea of a cunning British bluff, with one suggesting that if the apparent chaos really was a ruse to lull everyone else into a false sense of security, it was so "extremely sophisticated" it had fooled even UK negotiators.
Boris Johnson didn't know about the major report into impact of Brexit
This official, who has reportedly been involved in Brexit talks, did however also add: "The only ones who know the truth are the Brits themselves. Are they ready or are they trying to dance some very strange ballet that we don't fully get?"
In pictures: European parliament Brexit discussions

Show all 12
Among incidents that may have suggested Britain wasn't fully prepared for Brexit was David Davis' appearance in Brussels for talks last month, where he sat without any notes, grinning opposite European Commission negotiators armed with thick bundles of briefing papers.
UK officials insisted it had always been the plan for Mr Davis, the Brexit Secretary, to open the talks, engage in a photo opportunity, and then return to London, leaving his aides to thrash out details with their EU counterparts.
Mr Davis' appearance in Brussels, however, coincided with Dominic Cummings, the former campaign director of Vote Leave, describing him as "thick as mince, lazy as a toad and vain as Narcissus".
After days of talks, UK negotiators insisted they had shown they were not ill-prepared, while some EU officials reportedly voiced continued concern that the British remained short on detail.
Apparent cabinet in-fighting over Brexit terms has also led Theresa May's official spokesman to issue a statement that seemed to contradict Chancellor Philip Hammond, who had suggested there would be a transition strategy of retaining free movement of labour until 2022.
There were reports that neither the enthusiastically pro-Brexit International Trade Secretary Liam Fox nor Foreign Secretary Boris Johnson had been pre-briefed about Mr Hammond's comments.
In April, what the UK Government described as a "useful working dinner" for Theresa May and Jean-Claude Juncker was reported to have left the European Commission President with the impression the Prime Minister was poorly briefed and "deluding herself" over Brexit.
A senior UK government official denied that Britain's Brexit stance was chaotic or confused, telling Politico: "This idea that we've been sitting on our hands for the last year is just b*****ks. We have been working extremely hard. What you will start to see over the next couple of months is the government setting out in public what has been happening in private."
Join our new commenting forum
Join thought-provoking conversations, follow other Independent readers and see their replies