UK Government attempting to keep details of secret security pact with Saudi Arabia hidden from public
Exclusive: Theresa May agreed to 'memorandum of understanding' with Crown Prince Muhammad bin Nayef last year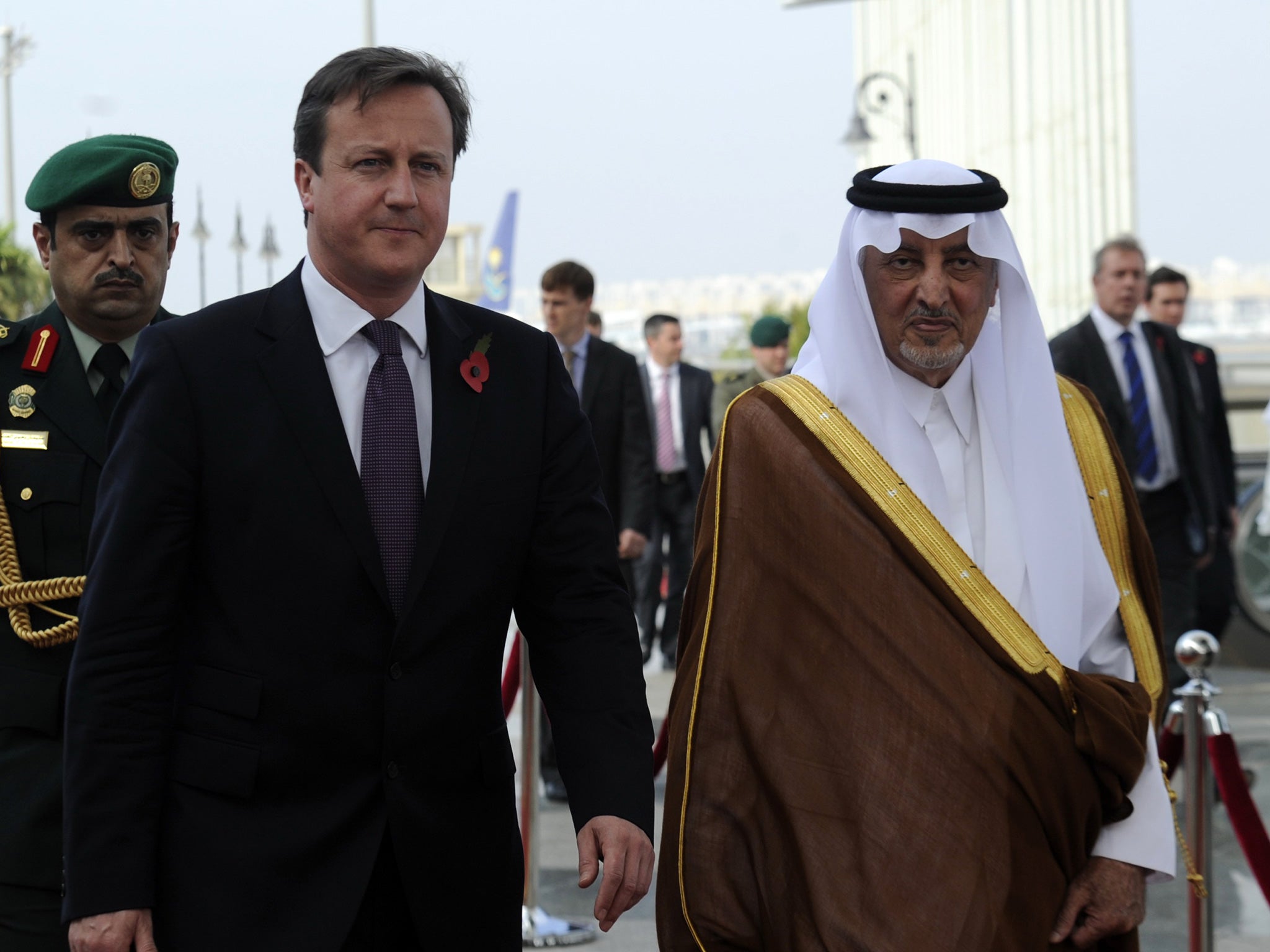 The British Government signed a secret security pact with Saudi Arabia and is now attempting to prevent details of the deal from being made public.
The Home Secretary Theresa May agreed to the so-called 'memorandum of understanding' with her Saudi counter-part Crown Prince Muhammad bin Nayef during a visit to the Kingdom last year.
The Home Office released no details of her trip at the time or announced that the deal had been signed. The only public acknowledgement was a year later in a Foreign Office report which obliquely referenced an agreement to "modernise the Ministry of the Interior".
But now following a Freedom of Information request from the Liberal Democrats, who were in Government at the time, it has emerged that the agreement is far wider than has been acknowledged.
In its grounds for refusing to publish details of the memorandum the Home Office has admitted it "contains information relating to the UK's security co-operation with Saudi Arabia".
Releasing the document it says "would damage the UK's bilateral relationship" with the Kingdom and potentially damage Britain's national security.
Human rights groups have expressed alarm at the secretive nature of the deal with a regime which has been condemned for its human rights record.
In February the Kingdom adopted a new anti-terrorism law that defines terrorism as words or actions deemed by the authorities to be directly or indirectly "disturbing" to public order or "destabilizing the security of society.
In March, a series of decrees promulgated by the Interior Ministry extended Saudi Arabia's extended the definition of further to include "calling for atheist thought" and "contacting any groups or individuals opposed to the Kingdom", as well as "seeking to disrupt national unity" by calling for protests.
The Ministry of the Interior is also responsible for carrying out executions such as the threatened beheading of Ali Mohammed Baqir al-Nimr for taking part in anti-government protests and allegedly attacking security forces when he was 17. Mr Ali al-Nimr supporters claim he was tortured while detention.
Both Liberal Democrats and Labour have called for Mrs May to provide details of the deal to Parliament and expressed concern that such an agreement should be done behind closed doors without any public scrutiny.
"Deals with nations like Saudi Arabia should not be done in secret," said the Liberal Democrat leader Tim Farron.
"Parliament should be able to hold ministers to account. It is time to shine a light onto the shady corners of our relationship with Saudi Arabia."
"It is time we stood up for civil liberties, human rights and not turn a blind eye because the House of Saud are our 'allies'".
The emergence of the agreement comes after the Justice Secretary Michael Gove announced he was cancelling a £5.9 million contract to provide a training programme for prisons in the Saudi Arabia.
The contract had attracted widespread criticism but when the cancellation was announced it led to a diplomatic row with the Saudi leadership who threatened to withdraw Saudi ambassador in London pending a review of relations with the UK.
In an attempt to placate the Saudi's David Cameron sent a personal message to King Salman bin Abdul Aziz bin Saud, while the Foreign Secretary Philip Hammond was dispatched to Riyadh to rebuild bridges.
Juveniles on death row in Saudi Arabia
Show all 8
Labour's Shadow Foreign Secretary Hilary Benn said that while Saudi Arabia had undoubtedly provided assistance to Britain in dealing with threats in recent years it had also clamped down on fundamental freedoms, such as free speech.
"Any assistance to their interior ministry needs to be in line with our commitment to human rights worldwide," he said.
"Given the UK Government's recent decision to pull out of a deal with the Saudi Ministry of Justice on prisons, it is imperative that the FCO and the Home Office provide details on what this MOU with the Saudis involves so Parliament and the public can be assured that it is compliant with our treaty obligations and British values. Ministers should not hide behind the cloak of national security and should instead be open about the nature of this arrangement.
Amnesty International UK Director Kate Allen described the memorandum as a "murky deal".
"We'd like to know what efforts are being made by UK officials to challenge and prevent abuses in Saudi Arabia's highly abusive justice system?" she said.
"This murky MoU deal was set up shortly after the Saudi Interior Ministry was granted draconian new powers to hold and interrogate terrorism suspects without a lawyer for 90 days. Have Theresa May's officials ever asked their counterparts to scale back on these excessive powers?
"The UK already has a track record of selling vast quantities of arms to Saudi Arabia while remaining markedly reluctant to publicly criticise Riyadh for its atrocious human rights record.
"With people like the blogger Raif Badawi still languishing in jail and the teenage protester Ali al-Nimr still facing a possible execution, secret deals between the UK and Saudi leave a very bad taste."
A Home Office spokesman said they could not comment on the memorandum.
Join our commenting forum
Join thought-provoking conversations, follow other Independent readers and see their replies