As it happened
ended
1516730012
Westminster today - as it happened: Theresa May moves to shut down Cabinet revolt
All the latest updates from Westminster, as they happened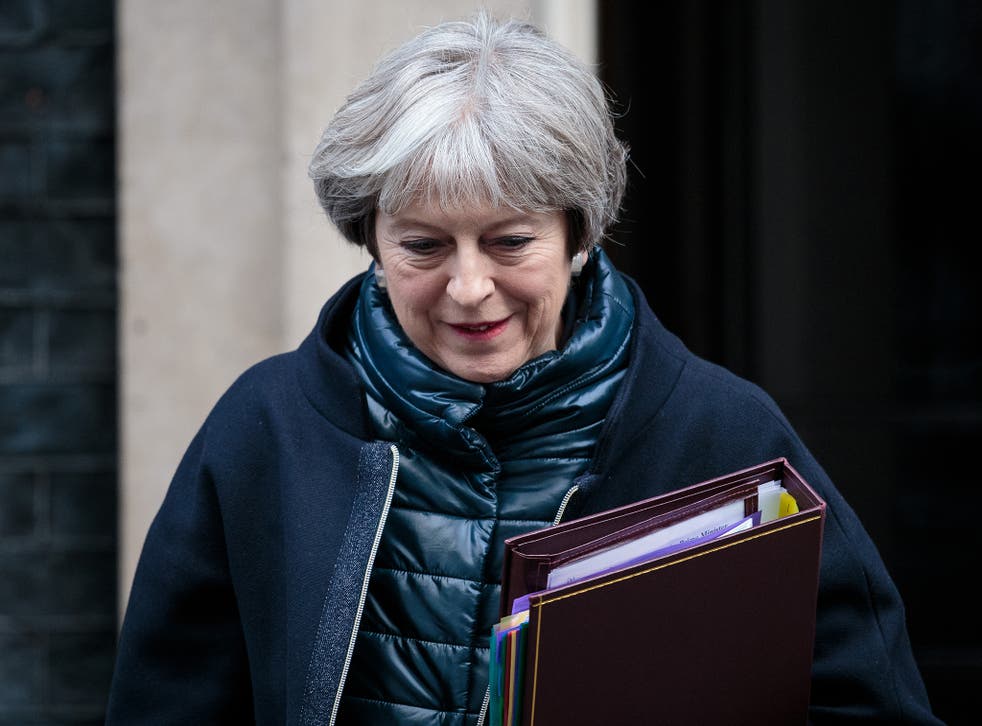 Theresa May has faced down a revolt over the NHS from Boris Johnson after his allies briefed newspapers that he would lobby the Prime Minister for a £100m-a-week funding increase for the health service.
The Prime Minister and other members of her top team made clear to the Foreign Secretary that policy discussions should take place behind closed doors, during a weekly Cabinet meeting.
Ms May also faced anger from pro-Brexit Tories after senior EU figures told The Independent that the UK has already "agreed in principle" to a Norway-style transition deal, which accepts all EU rules without the power to shape them.
Ukip's Henry Bolton battled on after mass resignations and a vote of no confidence from his party's ruling body. The under-fire leader refused to resign after it emerged that his former girlfriend Jo Marney had sent racist texts about Prince Harry's fiancee Meghan Markle.
1516695518
Welcome to The Independent's political liveblog, where we will be bringing you all the latest updates from Westminster and Brussels throughout the day.
Lizzy Buchan
23 January 2018 08:18
1516696203
The UK has already "agreed in principle" to a Norway-style Brexit transition period in which it accepts all EU rules with no power to shape them, a senior figure in Brussels has told The Independent.
A key member of the European Parliament's Brexit team said British negotiators raised no objections to the plans, which would mean accepting free movement and customs union rules, and falling under the European Court's jurisdiction. 
Lizzy Buchan
23 January 2018 08:30
1516697283
The proposed takeover of Sky by Rupert Murdoch's 21st Century Fox is "not in the public interest", the government's Competition and Markets Authority has concluded.
A statement issued by the watchdog said it had provisionally ruled against Fox taking full control of the British broadcaster due to "media plurality concerns".
Lizzy Buchan
23 January 2018 08:48
1516699148
Boris Johnson is expected to warn Theresa May that Labour will win the next election unless she injects an extra £5bn into the NHS, at a showdown Cabinet meeting this morning.
The Foreign Secretary will spark accusations that he is "on manoeuvres" by seizing centre stage to demand the Prime Minister act on widespread calls for an immediate health service bailout.
Lizzy Buchan
23 January 2018 09:19
1516699595
Boris Johnson's intervention is not going down well with everyone. Tory MP Anna Soubry - one of the party's Brexit rebels - says the Foreign Secretary should be sacked for "longstanding incompetence and disloyalty".
Lizzy Buchan
23 January 2018 09:26
1516700090
Philip Hammond has rebuffed calls for an extra £100m a week for the NHS and pointedly reminded Boris Johnson of his role as Foreign Secretary.
Mr Johnson is expected to use a Cabinet meeting to press for the funding amid Conservative concerns about the performance of Theresa May's government.
Arriving at a European Union meeting in Brussels, the Chancellor said: "Mr Johnson is the Foreign Secretary.
"I gave the Health Secretary an extra £6bn at the recent Budget and we will look at departmental allocations again at the spending review when that takes place."
Lizzy Buchan
23 January 2018 09:34
1516700639
Nigel Farage has handed the embattled Ukip chief Henry Bolton a lifeline, suggesting he could be the party's version of Jeremy Corbyn and have his leadership saved by the rank-and-file members.
Lizzy Buchan
23 January 2018 09:43
1516701757
Theresa May's former chief of staff Nick Timothy is also scathing about Boris Johnson's intervention on NHS funding.
Lizzy Buchan
23 January 2018 10:02
1516701887
Labour MP Chuka Umunna uses his new Independent column to warn that ministers are "deliberately deceiving" the public and "sowing the seeds of fantasy" over Brexit.
Lizzy Buchan
23 January 2018 10:04
1516702611
Downing Street was mocked on social media last night after the guest list for Theresa May's Burns Supper listed the names of three Scottish Tory MPs incorrectly.
West Aberdeenshire and Kincardine MP Andrew Bowie, David Duguid, MP for Banff and Buchan, and Aberdeen South's Ross Thomson all suffered the indignity of having their names misspelt.
Josh Littlejohn - a well-known entrepreneur who founded homelessness charity Social Bite - was incorrectly called John, and the Scotch Whisky Association was termed the 'Scottish' Whisky Association.
Here's the full guest list:
Lizzy Buchan
23 January 2018 10:16
Join our new commenting forum
Join thought-provoking conversations, follow other Independent readers and see their replies