Ukip allows campaigner who claimed Islam is 'evil' to stand as leader
Anne Marie Waters was blocked from standing for the party in the general election over her associations with far-right groups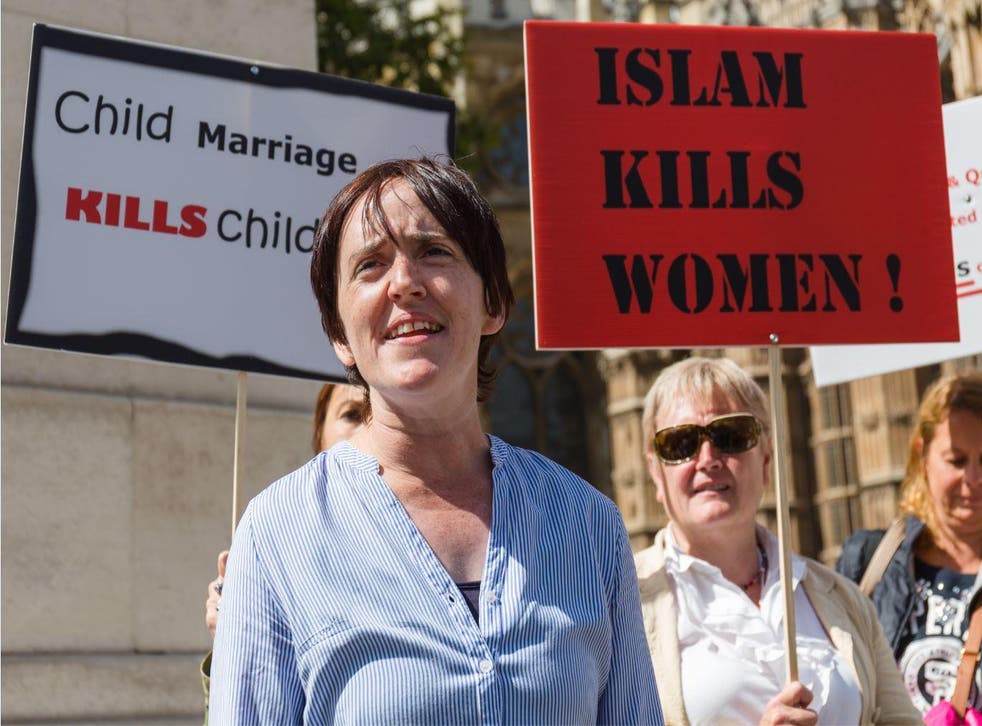 Ukip's ruling body has allowed a candidate who claims Islam is "evil" to stand for the party's leadership.
The party's national executive unanimously approved Anne Marie Waters' bid to stand against 10 other candidates in a ballot of members next month.
She was blocked from standing for the party in the last general election, with then-leader Paul Nuttall saying he was "a bit uncomfortable" with some of her views.
Ms Waters is a director of pressure group Sharia Watch UK, which campaigns against Sharia law, and has said she believes Islam is "evil" and "an expansionist, political, totalitarian and supremacist faith, commanded to world domination".
She co-founded the anti-Islam organisation Pegida UK together with former English Defence League leader Tommy Robinson and Paul Weston, leader of the nationalist Liberty GB party.
Some had predicted the party's ruling body would block her from standing, but party insiders have suggested it was thought better to let her stand and lose – as they expect her to do to favourite Peter Whittle – than to be seen to block her candidacy.
Ukip has been plagued by internal feuding over the past few years, and some observers predict a major rift over the future direction of the party in the event that Ms Waters wins.
Several senior members of the party have said they will resign if she becomes the leader because they believe this would finish Ukip as a mainstream political force and condemn it to the sidelines with fringe parties.
Ms Waters has attracted criticism for her praise of far-right or nationalist politicians, including Marine Le Pen in France and Geert Wilders in the Netherlands.
Jack Buckby, a former member of the British National Party, is reported to be helping Ms Waters with her campaign.
A former Labour activist, she announced her intention to stand after Mr Nuttall stepped down following Ukip's disastrous performance at the general election in June.
Ms Waters intended to launch her campaign in Rotherham but members of the local Ukip branch expressed concerns this was political opportunism, given the high-profile cases of child grooming by gangs of mainly Muslim men in the town.
Key Faces of UKIP

Show all 11
Rotherham football club cancelled the rally she planned to hold in its stadium and the local party chair issued a statement saying: "Ukip councillors wish to make it clear that they do not condone in any way the views Ms Waters has previously expressed, or what she stands for."
She has argued the party could regain the support it has lost if it had the "guts" to be "honest about Islam" and challenge the view that it has "nothing to do" with jihadist violence.
The anti-fascist campaign group Hope Not Hate has labelled Waters a "toxic figure" and urged Ukip to expel her.
From a high in 2015, when it was the third most popular party at the general election, Ukip has seen its fortunes fall dramatically since the Brexit vote and the loss of its most celebrated leader, Nigel Farage.
Although the referendum result was seen as a huge triumph for Ukip, some said it was left a party without a purpose as many of its backers returned to voting either Conservative or Labour at this year's general election.
Diane James was elected leader after Mr Farage quit in 2016, but resigned after just 18 days claiming she did not have the full backing of senior party figures.
Mr Whittle, a London assembly member, has said he intends to reinvent Ukip as a "cultural movement".
A former contender in the London mayoral race, Mr Whittle, who served as Mr Nuttall's deputy, is seen as a possible unifying figure in the party.
Another contender is John Rees-Evans, a former soldier who once claimed that a gay donkey had tried to rape his horse.
Although still a favourite with many members, Mr Farage is not standing this time around.
Other candidates include London Assembly Member David Kurten, former councillors or council candidates Marion Mason, David Allen and Ben Walker and the MEPs David Coburn and Jane Collins.
Ms Collins was ordered to pay more than £160,000 in damages to three Labour MPs after she falsely claimed they knew about the sexual abuse of girls in Rotherham and failed to act.
Voting opens on 1 September with the result to be announced at Ukip's party conference at the end of that month.
Register for free to continue reading
Registration is a free and easy way to support our truly independent journalism
By registering, you will also enjoy limited access to Premium articles, exclusive newsletters, commenting, and virtual events with our leading journalists
Already have an account? sign in
Register for free to continue reading
Registration is a free and easy way to support our truly independent journalism
By registering, you will also enjoy limited access to Premium articles, exclusive newsletters, commenting, and virtual events with our leading journalists
Already have an account? sign in
Join our new commenting forum
Join thought-provoking conversations, follow other Independent readers and see their replies