Ukip insists beekeepers will be exempt from their 'face-coverings ban'
Introducing the event at Marriott County Hall, Mr Nuttall said: 'Today's message will be a message of positivity, it will not be about negativity'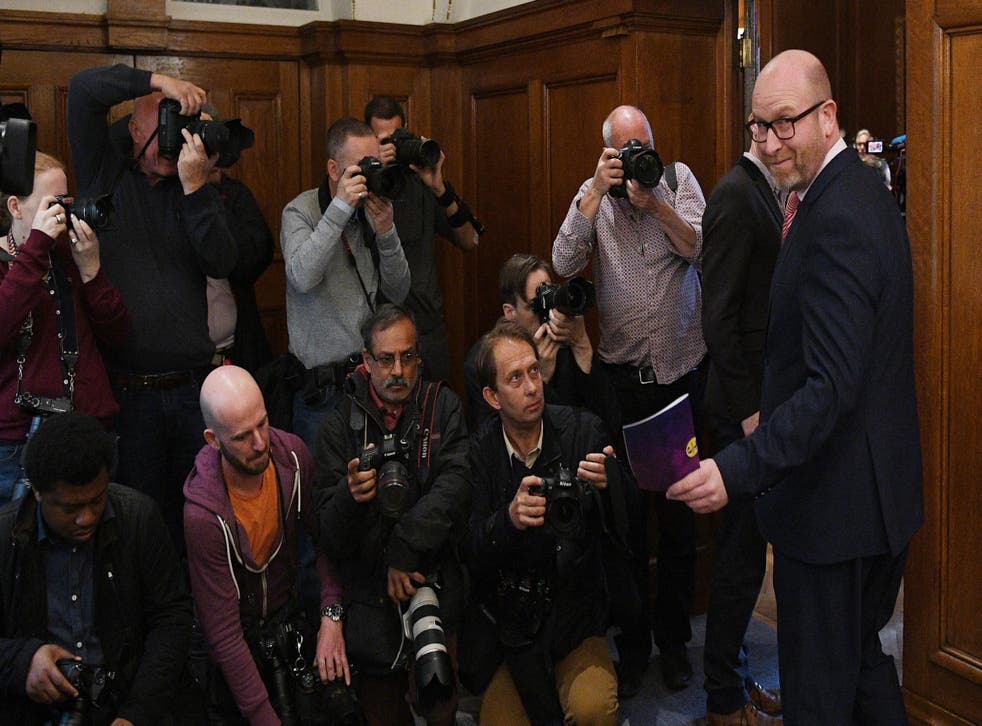 Ukip has insisted beekeepers will be exempt from a controversial proposal to ban the "wearing of face coverings" in public places in Britain.
It came as the party unveiled a string of predominately Islam-focused policies as part of Paul Nuttall's "integration agenda" platform for the general election in six weeks' time.
Introducing the event at the Marriott County Hall, Mr Nuttall said: "Today's message will be a message of positivity, it will not be about negativity."
"What we will say today is not designed to sow the seeds of division. It is about promoting integration in British society," he added.
But when quizzed on the party's proposal to "pass a law against the wearing of face coverings in public places" and whether it would apply to beekeepers, the party's deputy leader Peter Whittle said it was a "ridiculous" suggestion and confirmed it would be focused on the burqa.
"Face coverings are a deliberate barrier to integration and, in many contexts, a security risk too. The time has come to outlaw them. People should show their face in a public place," the party's literature on face coverings adds.
Other proposals included implementing school-based medical checks on girls from "groups at high risk" of suffering from the practice of female genital mutilation (FGM) in Britain. The party suggests the examinations should take place annually and whenever they return from trips overseas.
Women and equalities spokeswoman Margot Parker said medical practitioners should be required to report cases of FGM. A failure to report FGM would also be a criminal offence for any adult who knows it has taken place
"All these measures to combat this despicable crime are already law in France, a country that has a far, far better record than us on FGM," Ms Parker said.
"Not only have they proven effective both in protecting girls in France from FGM, they also help provide essential evidence to mount prosecutions where FGM has taken place. It is time the United Kingdom caught up."
Ukip pledges to ban the burka
Ms Parker also said victims of "grooming gangs" who are from a different ethnic or religious background to the perpetrators should be treated as having suffered a hate crime.
Another proposal, which the party aims to place in their election manifesto, included a "moratorium on new Islamic faith schools until substantial progress has been demonstrated in integrating Muslims into mainstream British society".
Islamophobia", an assault on multiculturalism and an attack on Muslims in the UK.
Key Faces of UKIP

Show all 11
Mr Whittle, however, rejected suggestions that the party was attempting to capitalise on the "BNP vote" and that the suggested policies were racist.
Following the event Mr Nuttall, who failed in his bid to be elected as Stoke-on-Trent Central's MP earlier this year, also evaded reporters' questions on whether he would be standing again in the upcoming election, adding it would be decided by the party's national executive committee later this week.
When he eventually emerged from a room inside the Marriott County Hall in central London, the party leader jokingly added that Ukip leaders "have done quite well outside Parliament" – an apparent reference to his predecessor Nigel Farage and his failed attempts to be elected as an MP.
When asked on Sunday whether he would be standing, Mr Nuttall said he would be having "conversations with branches" about his potential candidacy.
Join our new commenting forum
Join thought-provoking conversations, follow other Independent readers and see their replies