Ukip candidate links flooding caused by Storm Desmond with Syrian refugees
Stephen Poulter mused on whether the arrival of Syrian refugees could have triggered the severe weather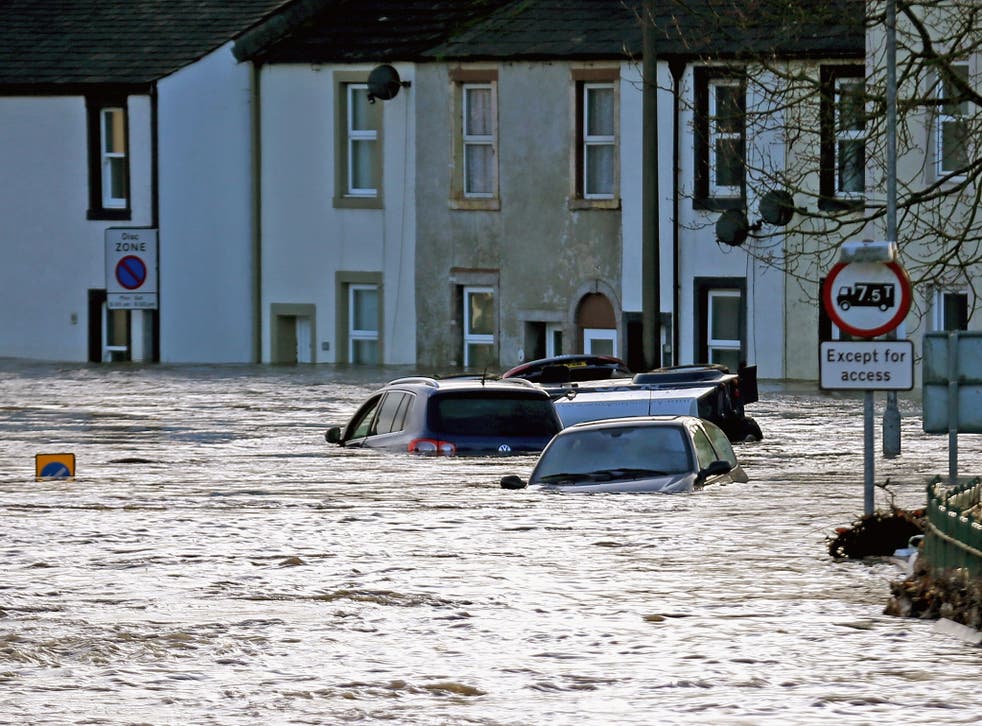 A former Ukip candidate has linked the devastation wreaked by Storm Desmond with the arrival of Syrian refugees in Britain.
Stephen Poulter, who claims to be one of the Eurosceptic party's first members and unsuccessfully stood in this year's local elections in Basingstoke, Hampshire, has a photo with Nigel Farage as his Facebook profile picture.
He had called for support for affected families on the social networking site before musing on the possible cause of flooding in northern England and Scotland.
"Now, I am not religious in any way. But it seems funny that the so called refugees have been sent up north from the Syrian Camps," Mr Poulter wrote on Facebook.
"Is'nt it funny that as soon as they do. The floods start up that way. I wonder????? (sic)"
A spokesperson for Ukip insisted the post was a joke but Mr Poulter has not responded to the Independent's request for a comment or clarified the situation on his page.
The Government has pledged to resettle 20,000 refugees in the UK over the next five years, with around 1,000 expected to have arrived by Christmas.
Families arriving in Glasgow last month were due to move to different areas of Scotland, including southern parts badly affected by gales, heavy rain and flooding caused by Storm Desmond.
One commenter Mr Poulter for his "good point", wondering if the severe weather was an "omen of things to come", but not all of his followers seemed to appreciate his apparent allusion to divine punishment for the arrival of asylum seekers.
"Not in my name Stephen disagree big time," one person said, while another added: "Utterly moronic Facebook post.
"We still have anti-UKIPers posting David Silvester "gay flood" jokes about us. What in the name of bloody hell good do you think this will do?!"
Mr Silvester, then a Ukip councillor for Henley-on-Thames in Oxfordshire, was suspended from the party for making his now infamous comments in 2014.
Having quit the Conservative Party in protest at David Cameron's support for same-sex marriage, he blamed the passage of the law for devastating floods in England.
Storm Desmond in pictures

Show all 12
"I wrote to David Cameron in April 2012 to warn him that disasters would accompany the passage of his same sex marriage Bill," Mr Silvester said.
"But he went ahead despite a 600,000-signature petition by concerned Christians and more than half of his own parliamentary party saying that he should not do so.
"Now, even as Cameron sheds crocodile tears on behalf of destitute flooded homeowners, playing at advocate against the very local councils he has made cash-strapped, it is his fault that large swathes of the nation have been afflicted by storms and floods.
"Since the passage of the Marriage (Same Sex Couples) Act, the nation has been beset by serious storms and floods…is this just global warming or is there something more serious at work?"
A spokesperson for Ukip said Mr Poulter's post was a joke and that he was "taking the mick" out of his own party.
"It's self-deprecation," he told the Independent. "He's not seriously suggesting that Syrian refugees caused the flooding."
The Independent has approached Mr Poulter for a comment.
Register for free to continue reading
Registration is a free and easy way to support our truly independent journalism
By registering, you will also enjoy limited access to Premium articles, exclusive newsletters, commenting, and virtual events with our leading journalists
Already have an account? sign in
Register for free to continue reading
Registration is a free and easy way to support our truly independent journalism
By registering, you will also enjoy limited access to Premium articles, exclusive newsletters, commenting, and virtual events with our leading journalists
Already have an account? sign in
Join our new commenting forum
Join thought-provoking conversations, follow other Independent readers and see their replies