Ukip chairwoman Janice Atkinson who called for protesters who 'hurl abuse' to be arrested caught swearing at anti-racism activists
MEP candidate accuses Green Party of 'harassing public' in Kent and says 'I think my view of them is self-evident'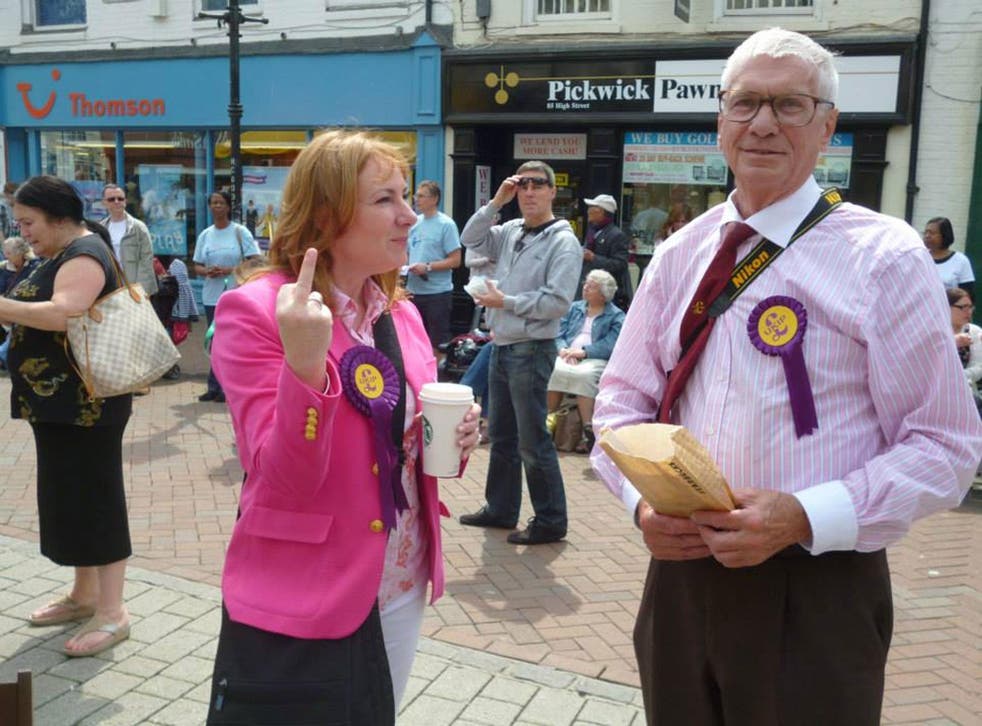 A senior Ukip MEP candidate who last week called for abusive protesters to be arrested by police has been caught on camera swearing at a group of local activists.
Janice Atkinson, who is the party's South East chair and described herself as Nigel Farage's "number two", was pictured raising her middle finger at members of the People's Assembly in Ashford, Kent.
People's Assembly and Green Party member Maria Pizzey said she and a small number of activists held a peaceful protest next to Ms Atkinson and Ukip's Ashford chair Norman Taylor, who Ms Pizzey said seemed "embarrassed" by his colleague's behaviour.
According to the protesters, former Tory candidate Ms Atkinson made "personal comments about [Ms Pizzey's] body size", and said: "I don't care where you f***ing post this, just f**k off!"
Ukip gaffes and controversies

Show all 18
The image has now gone viral, with a post on Facebook describing the confrontation having received more than 30,000 shares.
It comes as the latest in a string of altercations in the South East between Ukip and a number of groups including Unite Against Fascism and the Green Party.
Ms Atkinson, who last week told The Independent that recent protests had made her "fear for her safety", posted a picture of the activists on Twitter yesterday with the caption: "The attractive face of the Greens, apparently."
She said that the protesters had been "harassing the public", resulting in "many complaints, one to police".
But Thom Pizzey, who attended the protest along with Maria, said: "We never shouted. We stood respectfully and quietly to the side of their stall and let people approach us."
He said the group had been "exercising free speech and freedom to protest", and that "the only one who swore or was aggressive" was Ms Atkinson herself.
Last week Ms Atkinson said that the accusations of fascism and Nazism aimed at Ukip by activists were "disgraceful". She said the party had called for any protesters who "call our supporters fascists, hurl other abuse or any physical assault" to be arrested by police.
Speaking to The Independent today, Ms Atkinson accused the activists of being "the Socialist Workers anarchy wing of the Greens" and "masquerading as ordinary voters against Ukip".
She said: "They were intimidating my party workers, women and elderly distinguished gentlemen, calling them racist bigots. That is unacceptable, we are the third party of politics.
"They were also intimidating members of the public who approached me. One young woman who said she was in her 30s and had never voted before, said she was voting for me. The fat Green woman approached her, telling her that I was a racist bigot. She was very upset, she later told me she had complained to the police.
"I think my view of them is self evident. I have nothing else to add."
Join our new commenting forum
Join thought-provoking conversations, follow other Independent readers and see their replies