Ukip civil war deepens as insider alleges Nigel Farage 'never resigned as leader' to avoid leadership contest and potential legal action
Party rules dictate a leadership contest must follow a formal resignation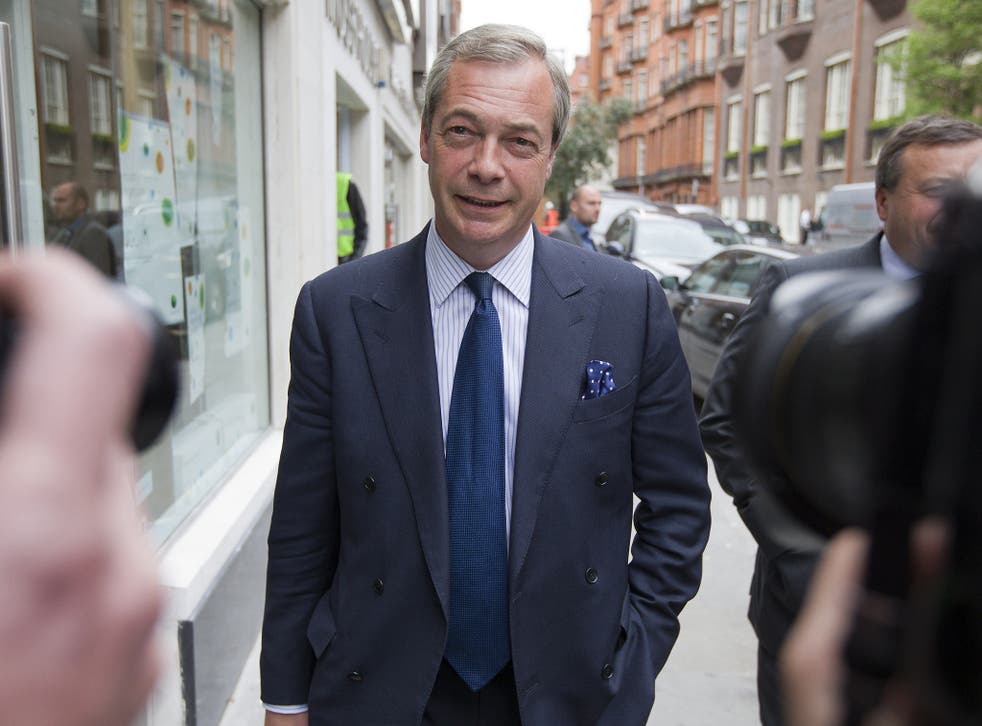 Nigel Farage never formally resigned as Ukip leader to avoid having to stage a leadership contest and potential legal action, according to reports in the Spectator.
This allowed the party to swiftly re-anoint Mr Farage as leader of the party, a source alleged, despite him pledging to stick by his promise to stand down and take the summer off just days before.
It is alleged that the party attempted to bypass a messy leadership contest and potential legal problems by Mr Farage not submitting a formal letter of resignation.
The party's constitution dictates that the leader must write a letter of resignation to the chairman, who must then call an emergency meeting of the party's national executive committee within 28 days. Once a leader resigns, party rules say a leadership contest must be called.
No leadership election was called, which would have broken the rules had Mr Farage submitted an official resignation letter. Breaking the party's rules could have left the party open to legal action.
A party insider told the Spectator that there were "lots of things that are not being done by the book" and said those opposed to the swift re-appointment of Mr Farage were "left with no option".
"We could not challenge something, because there was nothing to challenge," the source said. "It would have been uncomfortable to continue requesting a letter, given we all knew that had we got our hands on the letter, we wouldn't have been able to avoid proceeding to a leadership election."
When the Independent put the claims to Ukip a spokesman insisted Mr Farage had offered a handwritten letter of resignation and had prepared a printed version for NEC members but after "ongoing discussions" NEC members decided to reject Mr Farage's resignation, making the need for his letter redundant.
"By the time he returned with the printed version for all members they had decided not to accept his resignation, so handing out the letter was now moot," a spokesman said.
The latest revelations come after a bruising week for Ukip, in which Patrick O'Flynn, Ukip's campaign manager, said Mr Farage had become a "snarling, thin-skinned, aggressive man".
The remarks were aimed at those around Mr Farage and led to the departure of party secretary Matthew Richardson and senior adviser Raheem Kassam yesterday.
This morning Mr Farage sought to put the bitter row behind him, boasting that support for him from within Ukip was "astonishing" and had "never been greater," rejecting calls on him to resign for the second time in a week.
He pointed the finger of blame at one anonymous figure in Ukip – widely believed to be Ukip's only MP Douglas Carswell – for whipping up a row over his leadership.
Mr Farage accused the individual of cowardice who was "agitating" for change and challenged him to unite behind him as leader or quit the party. He claimed the row was being driven by a Conservative agenda to "destabilise" Ukip in the run up to the referendum on Britain's membership of the European Union.
The major political figures who lost out in the General Election

Show all 16
Join our new commenting forum
Join thought-provoking conversations, follow other Independent readers and see their replies