Police ask blogger to remove legitimate anti-Ukip tweet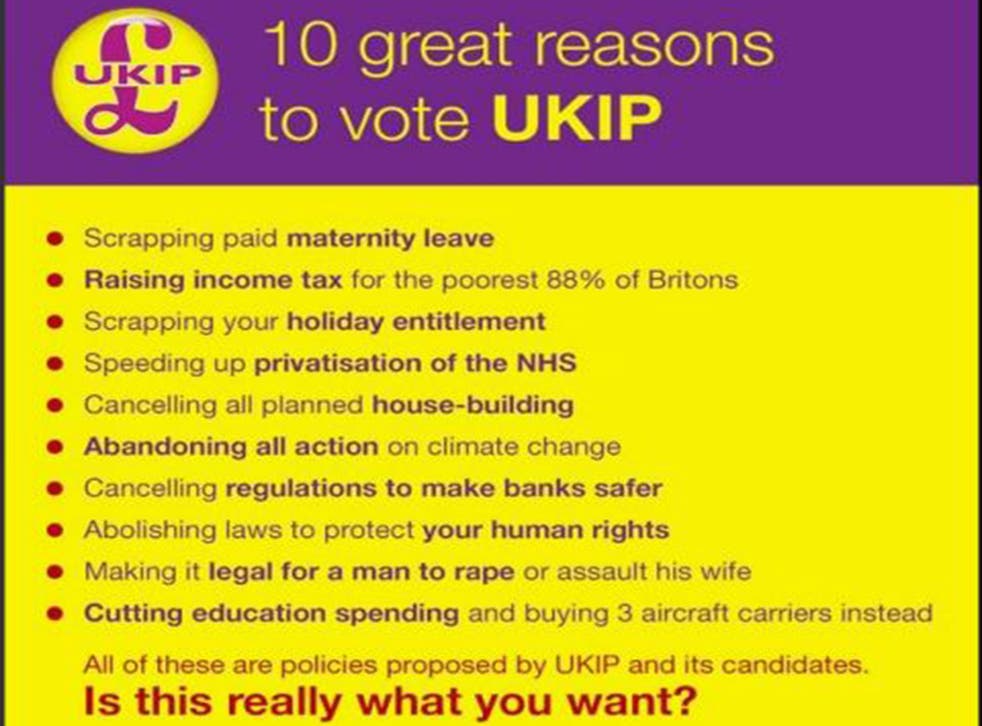 Two police officers turned up at the home of a blogger to interview him about a series of tweets that highlighted Ukip's controversial policies on the NHS, tax and immigration.
Concerns have been raised about freedom of speech after Michael Abberton, a Green Party member, was visited at his home by two Cambridgeshire Police officers on Saturday, having sent a series of tweets in which he claimed to be verifying the truth behind Ukip election claims.
Mr Abberton had posted a "mocked up" Ukip election poster claiming amongst other things that the party would scrap paid maternity leave, cut education spending to buy three new aircraft carriers and make it legal for a man to rape or assault his wife.
All the supposed "pledges" were sourced to public statements by the party, the voting record of MEPs or by comments from senior Ukip figures. But the poster drew the ire of a Ukip councillor who complained to the police. The matter might have ended there but instead two officers were sent to interview Mr Abberton at his home.
The police's decision to question the blogger has led to calls for Theresa May, the Home Secretary, to investigate the matter and Julian Hibbert, the Liberal Democrat MP for Cambridge, described it as "astonishing". He is waiting for a detailed response from the police.
Writing on his blog, Mr Abberton described the incident – and claimed the officers told him that he should not publicise the visit. "They said [the visit] was in relation to a complaint that had been made by a certain political party in relation to tweets I had published about them and one tweet in particular which talked about 10 reasons to vote for them," he said.
"The PC wanted to know if I had made that poster. They asked me to 'take it down' but I said I couldn't do that as it had already been retweeted and copied many times and I no longer had any control of it. They said that they couldn't force me to take it down anyway."
The officers told him that he couldn't tweet about their visit as it might undermine their appearance of impartiality ahead of the upcoming elections.
A Cambridgeshire Police spokesman confirmed the visit but said officers had not told Mr Abberton to delete tweets.
But the Green Party leader Natalie Bennett said the police action was "both disturbing and surprising... That an apparently general complaint from a political party about not liking what was said about them could have led to a police visit... is an extremely serious incident."
Join our new commenting forum
Join thought-provoking conversations, follow other Independent readers and see their replies