Ukip 'exploiting grooming scandal' to secure party's first police chief
Police commissioner election poster refers to Rotherham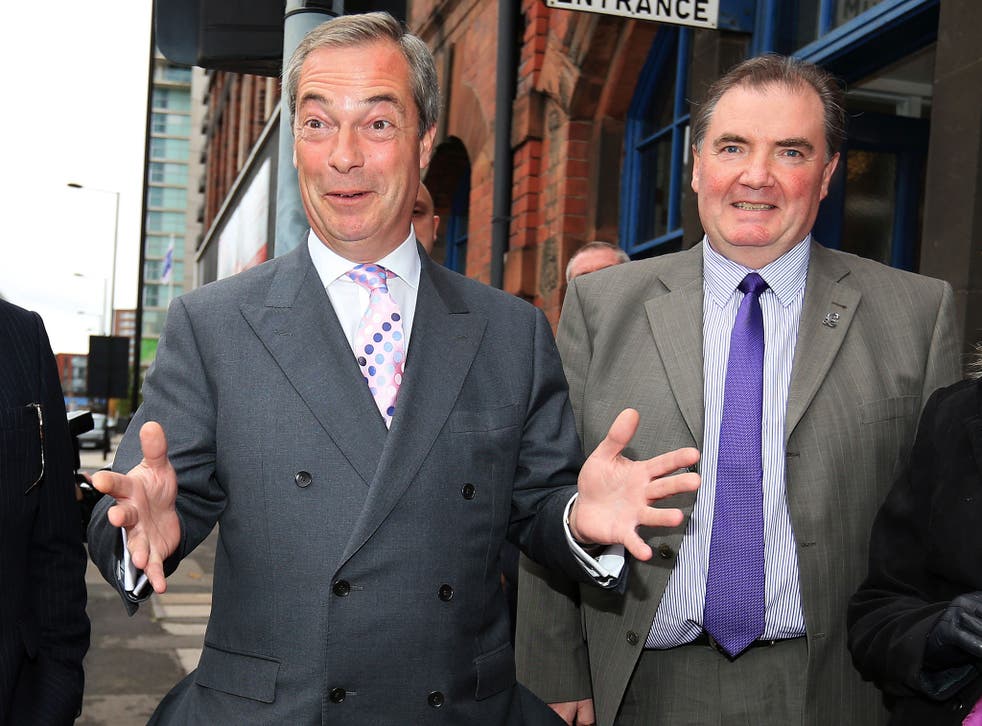 Ukip has been accused of exploiting the misery of Rotherham sex-abuse victims in its determination to win its first police and crime commissioner post.
The anti-EU party is running neck and neck with Labour in the battle in South Yorkshire as it mounts a huge effort to demonstrate its appeal to voters in traditionally left-leaning areas. Ukip has provoked anger from political rivals and widespread condemnation on social media by launching a "1,400 reasons to vote" campaign – a reference to the estimated number of victims of paedophile gangs in Rotherham over a 16-year period. The tactics were also denounced as "disrespectful" on Sunday night by a victim of abuse.
This week's election was prompted by the resignation of the Labour police commissioner Shaun Wright, who was the councillor responsible for children's services in Rotherham from 2005 until 2010.
Ukip's controversial poster features a young woman alongside the message: "There are 1,400 reasons why you should not trust Labour again." It will be displayed across South Yorkshire in the run-up to Thursday's election.
The party is unrepentant about its tactics, insisting it is conveying a "simple truth" about Labour's failure to combat widespread paedophile activity when it ran Rotherham Council.
But one victim of abuse accused Ukip of exploiting pain to get elected. The 25-year-old, who was groomed, raped and passed between a group of older men from the age of 12, said the role of candidates should be to "put Rotherham back together".
She told The Independent: "People shouldn't be making such comments and using it to get themselves into high positions. That's very disrespectful to us victims."
The woman, who said she is yet to decide how to vote, criticised all the main parties for failing to learn from reports into sexual exploitation in Rotherham. "Nothing has really changed," she said. "People feel that nobody is listening."
Simon Danczuk, the Labour MP for Rochdale, who has campaigned to expose child sex abuse, denounced Ukip's tactics as "despicable". He said: "Ukip are clearly more interested in trying to use victims' suffering to win votes than in coming up with solutions. They have never contributed to discussions in terms of child sex abuse. They have decided to create a bandwagon which they are now jumping on."
A spokesman for Nick Clegg, who is a South Yorkshire MP, said the Deputy Prime Minister regretted that "victims of sexual abuse are being turned into a political football".
Ukip gaffes and controversies

Show all 18
A Ukip spokesman acknowledged the party had wavered over whether to produce the poster but said it had been urged to press ahead by local activists who felt "absolute rage" over the events in Rotherham. He said: "This is political and Labour are partly responsible for what's happened. They were told, they were warned and they did nothing." He said he understood why some victims might not want to "revisit the horrors" they experienced, but said Ukip had been contacted by others who wished the party well in challenging a "Labour fiefdom".
Labour has historically been the dominant political force in South Yorkshire, but Ukip has made steady inroads in the area.
The expected low turnout in Thursday's by-election will increase the chances of Ukip's candidate, Jack Clarkson, becoming South Yorkshire's new police commissioner.
Matthew Goodwin, a leading expert in Ukip's rise, said he would not be surprised if the party beats Labour. He said: "It is taking the by-election very seriously. It wants to demonstrate its strength in Labour areas."
The shadow Justice Minister, Dan Jarvis, a South Yorkshire MP, said: "The cynical and deliberate exploitation of victims by Ukip in this poster marks a new and unacceptable low in their recent campaign activity."
Ukip is increasingly optimistic of victory in next month's by-election in the Kent constituency of Rochester and Strood following the defection of the Tory MP Mark Reckless. It received a further boost this weekend when Paul Sykes, its biggest donor, announced he planned to contribute a further £1.5m towards its election campaign.
Profile: Jack Clarkson
Jack Clarkson, Ukip's candidate for Police and Crime Commissioner for South Yorkshire, is an experienced former police officer with a strong track record in the region. He worked for the police for more than 30 years in Sheffield, Rotherham, Ecclesfield, Deepcar, Hillsborough and Doncaster, retiring as an inspector in 2006 before setting up his own security firm. He has also worked in victim support for two years.
Mr Clarkson is currently leader of the Ukip group on Sheffield City Council, as well as a town councillor for Stocksbridge.
He has said: "Only Ukip can guarantee that political correctness will not get in the way of investigating crimes, and only Ukip can promise one law for all."
Join our new commenting forum
Join thought-provoking conversations, follow other Independent readers and see their replies