Paul Nuttall claims spike in hate crimes following Brexit is 'fabricated'
Exclusive: Ukip leader says incidents have been 'overblown' in an attempt to 'rubbish Brexit'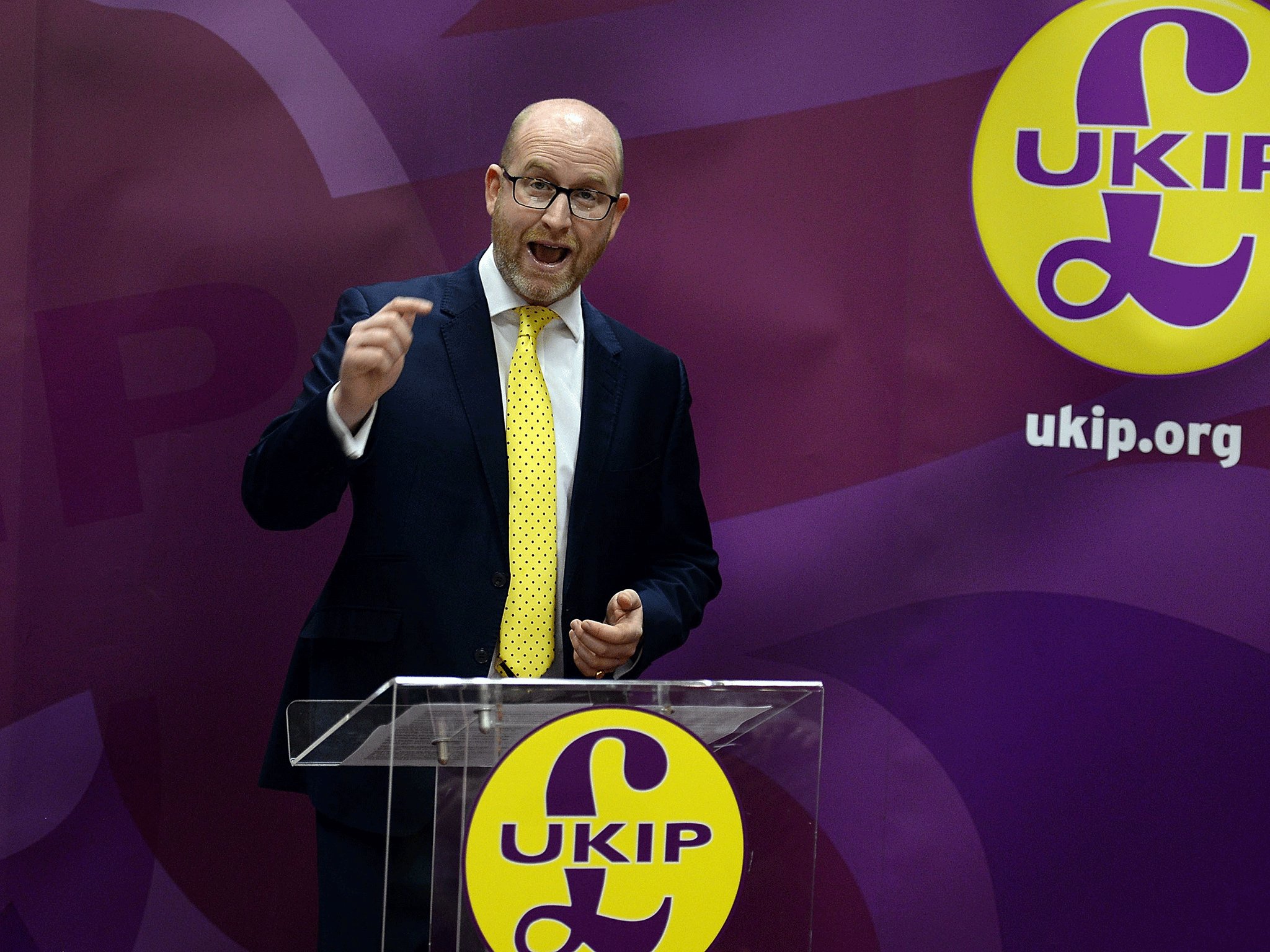 Ukip leader Paul Nuttall has claimed the officially recorded spike in racist attacks following the EU referendum was "fabricated". Despite police figures showing a clear rise in the number of reported hate crimes in the wake of the vote, Mr Nuttall told The Independent that such incidents had been "overblown" in an attempt to tarnish the Leave campaign's victory.
His claims, immediately slammed by anti-racism groups, are also contradicted by new statistics revealing a spike in post-referendum hate crimes. This includes Staffordshire, where Mr Nuttall is now fighting a by-election to become an MP. He is under intense pressure to prove Ukip can take on and beat Labour in its working-class heartlands by winning the crucial vote in Stoke-on-Trent next week.
But his chances have suffered embarrassing blows, including on Tuesday when he was forced to admit he had not lost "close personal friends" in the 1989 Hillsborough disaster – a claim previously made on his own website.
Paul Nuttall admits his website claim of losing a 'close personal friend' at Hillsborough is false
With election day just over a week away, Mr Nuttall's comments on hate crime are now likely to lead to further concern about an increasingly divisive style of British politics.
Speaking to The Independent, he said: "A lot of that [rise in hate crimes] is fabricated. In fact, we've got a paper coming out, specifically focused on London and the hate crime spike.
"What the police said is there tends to be a rise in these types of crime after any national event and then it tails off. I'm not sure I buy into [the rise in hate crimes]."
Within the last week, The Independent has exclusively revealed how police forces across the country are already gearing up for a fresh surge in hate crimes after Theresa May triggers Article 50 to officially launch Brexit talks.
New data from police forces released today show rises in incidents across England and Wales between July and September, with a 6 per cent rise to 237 incidents in Staffordshire – the highest quarterly figure since comparable records began in April 2012.
Official statistics from the Home Office last year had already demonstrated that hate crime soared by 41 per cent in July 2016 compared to the same month of the previous year.
Meanwhile, data from 31 police forces showed that 1,546 racially or religiously aggravated offences were recorded in the two weeks up to and including the day of the referendum, but in the fortnight immediately after the vote the number climbed to 2,241.
Recorded incidents included "F*** off to Poland" letters in Tunbridge Wells, wealthy London diners refusing to be served by foreign waiters, dog excrement shoved through letter boxes in Rugby and racist abuse from children as young as 10.
Mr Nuttall accepted there were some incidents, but said they had been "overblown". "Of course there will be individual instances and people should never be victims of hate crime at all," he added. "I've said this in the chamber in the European Parliament, my heart goes out to those people who have been victims, but I think a lot of this has been overblown specifically to try to rubbish Brexit."
The Stoke-on-Trent Central by-election is being seen as his first big test as leader and a chance to show if Ukip can capitalise as a party on the shock referendum result it fought for in 2016.
In theory a seat in the West Midlands city should be the perfect target. It voted for Brexit on a high turnout (by a margin of more than two to one), has a history of backing the British National Party, has a larger than average white population – among whom Ukip normally win more votes – and official data suggests it is the most working-class city in England.
In addition, the by-election was triggered by the resignation of Tristram Hunt, a middle-class Labour figure parachuted into the area, who for some epitomised the kind of top down Westminster politics Ukip rages against.
But despite the favourable circumstances, Mr Nuttall's bid to land a blow on Jeremy Corbyn's Labour has faltered, with rivals claiming his party is too disorganised to convert its advantages into a win that would give Ukip its second MP.
Hope Not Hate, an advocacy group that campaigns to counter racism and fascism, described Mr Nuttall's comments on hate crimes as "crass in the extreme".
A spokesperson said: "Instead of denying reality, perhaps he should instead be listening to the Community Security Trust, or to Tell Mama, which recorded a 326 per cent rise in anti-Muslim incidents in its latest report, and the National Police Chiefs Council, which revealed a surge in hate crimes post-Brexit.
"We are living in sobering times, with police forces warning that they are preparing for another hate crime spike after Brexit is formally triggered this spring. We call on those such as Mr Nuttall to be part of the solution, rather than the problem, and halt the slew of anti-Muslim and anti-immigrant slurs coming out from his party and its representatives."
Brexit racism and the fightback
Show all 9
Footage of an awkward incident in which Mr Nuttall was forced to admit he had not lost a "close personal friends" in the Hillsborough disaster was published yesterday. A post on his website had read: "We will never get to the bottom of that appalling tragedy when 96 Liverpool fans including close personal friends of mine lost their lives."
After being challenged during a radio interview, he said: "I'm sorry about that. I haven't put that out. That is wrong."
Mr Nuttall also faced police inquiries following reports of an allegation of election fraud, after it emerged that a Stoke home address was put down on his nomination papers before he had actually moved into the property.
The Electoral Commission's guidance for candidates says those standing in Westminster elections must give their current home address.
Ukip still has a considerable chance of winning the by-election, with a national poll earlier this week showing blue-collar voters are now less likely to vote Labour than they are for the Tories or Ukip for the first time in the party's history.
Broad voting intentions in the poll, carried out for The Times, put the Tories on 40 per cent,16 points ahead of Labour on 24 per cent, with Ukip closing the gap to just 10 points behind Labour on 14 per cent.
Join our commenting forum
Join thought-provoking conversations, follow other Independent readers and see their replies