Ukip MEP Tim Aker blames refugee crisis for overgrown grass verges and dirty streets in Essex
Tim Aker also hit out at the hundreds of thousands of people who have posed with 'Refugees Welcome' signs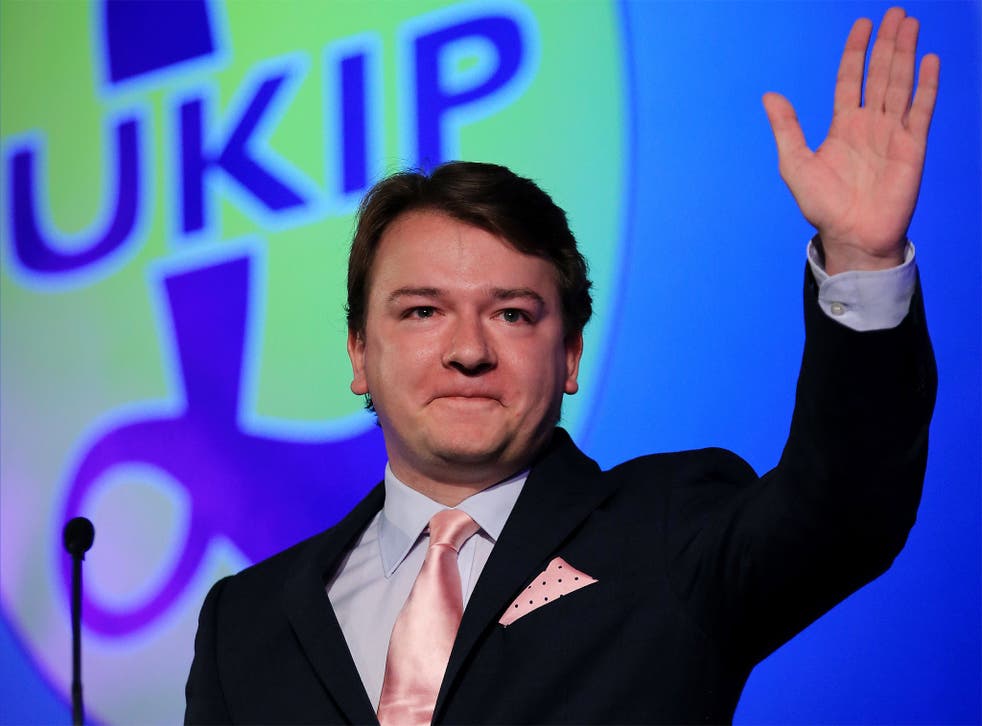 A Ukip MEP has blamed the refugee crisis for overgrown grass verges and uncleaned streets in Essex.
Tim Aker, who represents the South East in the European Parliament, also hit out at the hundreds of thousands of people who have posed with 'Refugees Welcome' banners.
He questioned why they had not held signs welcoming servicemen, pensioners and homeless people as he spoke at a 'Say No to EU' event in Purfleet.
Responding to a question by a resident why Thurrock council had failed to cut the grass on verges, pavements and roads and why the streets had not been cleaned, Mr Aker said money that should be used by the council to deal with such problems was instead being diverted to the EU to resettle refugees at "€6,000 a pop".
The Ukip MEP took the opportunity to attack Jeremy Corbyn for refusing to sing the national anthem at a memorial event on Tuesday. "When I see someone who wouldn't even salute the national anthem for our best and bravest it sickens me," he said.
Nigel Farage, speaking at the same event, praised Mr Aker as someone who "Churchill would look up to".
Mr Aker was asked by one of his constituents: "The state of the grass verges, pavements and roads in Tilbury is disgusting. I pay my council tax so why isn't the grass being cut and what aren't the streets being cleaned?"
He replied: "I just think the question with that is, why are we sending so much to the European Union that we have to ask these questions?
"I mean, when you pay your taxes and you work hard and all sorts, do you pay it for Angela Merkel to throw at the European Union and even today we [Ukip MEPs] voted to stop the fact that the European Union is going to resettle these refugees. €6,000 a pop. Where do you think that's coming from?
"And this is all money, we're told there is austerity, and we're told there's a crisis and so on. The amount of people I speak to who are having to use food banks, who are not getting the services they pay for and they expect.
"I tell you what, complain to Mr Cameron. Complain to Mrs Merkel because it's their priorities that they would rather we were spending more money, more money to the European Union that means we have to answer these questions and the fact is you can actually start spending the money here by saying no the European Union.
"We want to leave and actually put our money to this country and our people where it's meant to go in the first place."
Mr Aker was tipped as one of a handful of Ukip candidates to win a seat in Parliament at the General Election in May, but lost out to the incumbent Conservative MP Jackie Doyle-Price by just 500 votes.
He was scathing about British citizens joining many across Europe in appealing for political leaders to take in war-torn refugees from Syria by holding up 'Refugees Welcome' signs.
Hundreds of thousands of people in the UK signed up to petitions, which finally forced the Government to change its hard-line refusal to take in more than just a few hundred refugees who had fled the four-year civil war in Syria.
But Mr Aker said: "There is something that angered me more than all this about Jeremy Corbyn and the national anthem, it's all these banners saying 'refugees welcome, refugees welcome, refugees welcome'.
"All these people are willing to throw open our doors ever more and ever wider.
"I've got one question to ask them: where were your signs for servicemen welcome? For 'pensioners welcome' - people who go week after week without seeing someone - that finest generation, where was your sign then?
"Why have we got people who are willing to say throw open our doors, throw open everything? We've got 6,500 people, people with hopes, aspirations, dreams, waiting for council accommodation in Thurrock.
"What right does anyone have to say they should wait so that people who threw their passport into the Mediterranean should come over here and get a house before they do."
The refugee crisis - in pictures

Show all 70
Join our new commenting forum
Join thought-provoking conversations, follow other Independent readers and see their replies